GEORGE NUUS - Ofskoon die einde van die inperkingstyd eers aan die einde van die maand aanbreek, het inwoners reeds besluit wat is die eerste dinge wat hulle gaan doen.
Die oud-Springbok en voormalige kaptein van die SWD Arende, Bevin Fortuin, gaan verseker baie tyd met sy seun spandeer. Hy gaan beslis ook 'n braai saam met vriende hou.
Innes Benade, Afrikaanse sanger, predikant en deesdae ook eiendomsagent, het geantwoord: "Kentucky, McDonalds, Pizza Hut, Burger King, Wimpy, Golden Harvest … te veel om op te noem."
Charlotte Clarke, George se waarnemende burgemeester, sê sy sal eers vir familielede gaan kuier - veral die ouer geslag. Sy besef daar gaan egter nie veel tyd vir ander dinge wees nie en daar lê baie werk voor.
Abrie de Swardt, bekende in sport- en kultuurkringe, het gesê hy mis die natuurskoon. "Ofskoon ek in 'n paradys bly, sal ek tog langs die see en in die natuur wil stap of draf, sodra die inperking verby is. En 'n koppie koffie saam met my vriend Wilkie, drink om die vrylating te vier!"
Die Olimpiese atleet Anel Oosthuizen, het gesê sy sien uit na 'n baie lang oefensessie op die ooppad. Dit is natuurlik sover soos haar fiksheid haar sal toelaat na die dae van inperking.
Die Olimpiese atleet Anel Oosthuizen.
Bevin Fortuin, oud-Springbok en sy seun Aaron-James. Foto: Eugene Gunning
Regsgeleerde en prokureur Johannes Jumat, sê hy sal graag sy ma wil vashou na die inperking. "Ek wil haar verseker dat ek baie lief is vir haar. Ons (hy en sy gesin) sal saam met ons vriende 'n braai reël en opmaak vir die verlore tyd."
Sakeman Alewijn Dippenaar, wat die inperkingstyd in Glentana deurbring, het gesê hy is van voorneme om 'n baie lang staptog te onderneem by die Map of Africa in die Wilderness-gebied.
Voorts beplan hy om op die Groot-Brakrivier te gaan roei so ver as wat sy arms hom dit gaan toelaat. Daar hou dit nie op nie. Hy wil ook 'n Skep Moed-musiekkonsert organiseer op Woodifields in Wilderness. Dit sal die tweede Music on the Map wees.
Die keer uit dankbaarheid dat die Skepper van hemel en aarde so genadig is en mense die krag en deursettingsvermoë gee om hierdie tye te kan bestuur en te oorwin.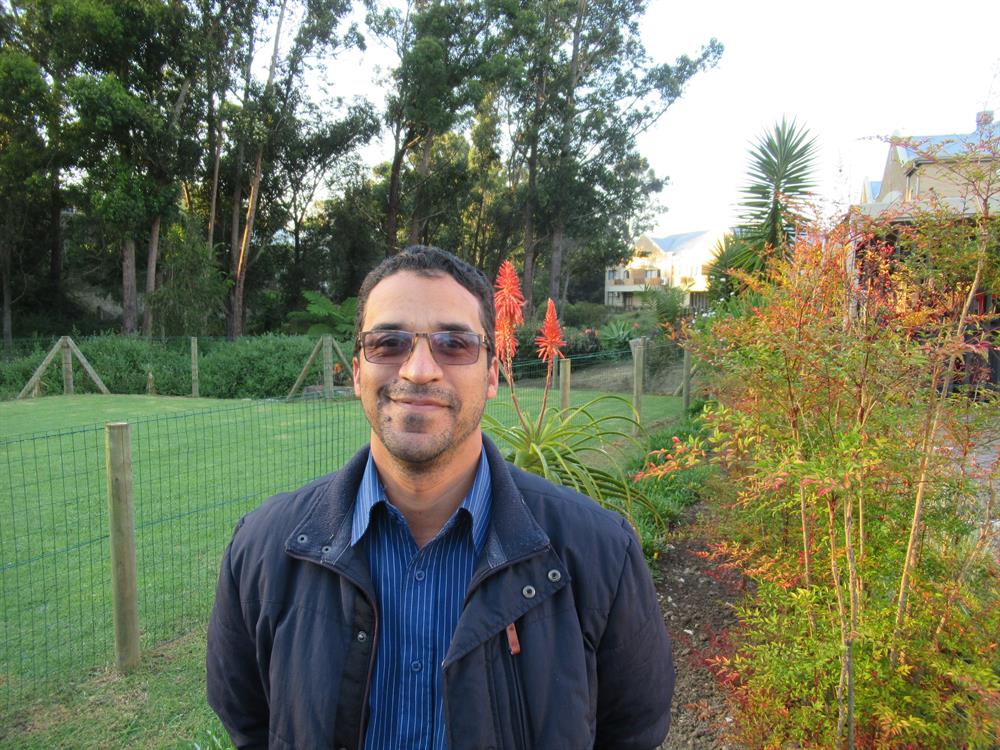 Tertuis Simmers, Wes-Kaapse minister van menslike nedersettings. Foto: Eugene Gunning
Tertuis Simmers, Wes-Kaapse minister van menslike nedersettings, sê hy gaan beslis sy vrou en twee seuntjies na die aarbeiplaas in George neem. "Die seuns soek bietjie plek om te hardloop." Simmers is ook van voorneme om 'n dagstaptog op 'n wandelpad in die natuur aan te durf.
Voorts gaan hulle as gesin as deel van "sosiale herkonneksie" 'n braai saam met familie en vriende hou.
'Ons bring jou die nuutste George, Tuinroete nuus'