WILDERNESS NEWS - The Wilderness Ratepayers and Residents Association started with extensive outreaches to their community during lockdown.
Chairman Pierre Durant said the minute the lockdown was announced, they realised that it would significantly affect their community as the the majority of jobs in the Wilderness area are in the hospitality sector.
"Wilderness is a hub of B&Bs, guesthouses, restaurants and hotels. Other workers include the once-a-week gardeners and domestic helpers, many of whom need to send money 'home' to support their children.
"We realised that local children would no longer receive school lunches and when families are battling to feed themselves, their dogs and cats are the last in line for food," said Durant.
So, living up to their motto, "A Community in Action", WRRA's first move was to allocate R50 000 to support proven feeding schemes that had already stepped in to help feed children, the elderly, those in need and hungry animals in Wilderness' two informal settlements and Touwsranten.
"An appeal to WRRA members raised an amazing additional R50 000. And still our community went above and beyond. Our WRRA food appeal trolley at the Wilderness Spar is well supported and local farmers are delivering fresh vegetables on a weekly basis."
WRRA members in Langvlei Dunes not only purchase the foodstuffs for the Kleinkrantz informal settlement soup kitchen (enabled by WRRA's R5 000 monthly donation) but help cook-in-chief, Claudine van Staden, prepare meals as well.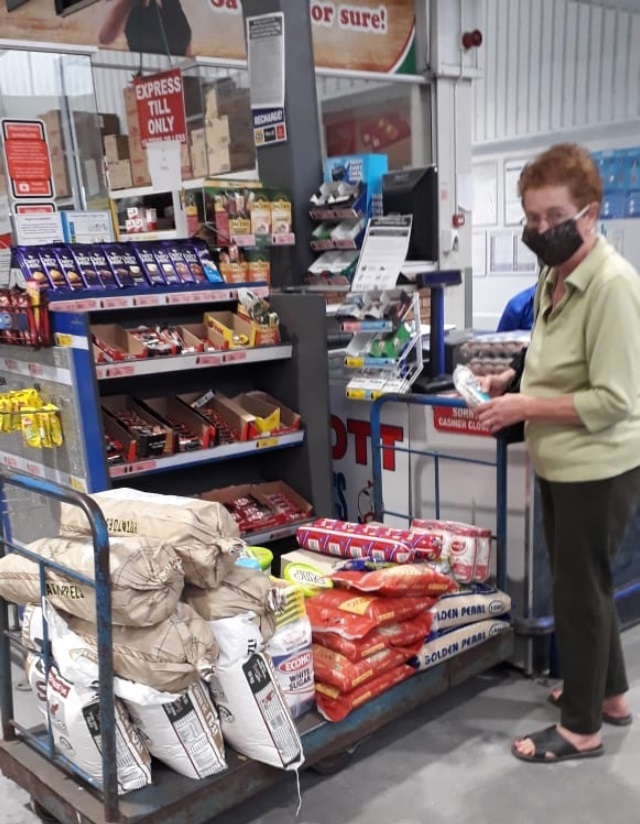 Food donations at the Spar in Wilderness come in all the time.
They have made and supplied masks to the settlement's most vulnerable and succeeded in getting the community to clean up their area with the promise of a special Sunday treat of cupcakes and fruit contributed by Langvlei Dunes residents.
"It worked. Come Sunday, 25 black bags of litter were lined up for removal," said Durant.
Maré Collett, the organiser in chief from Langvlei Dunes, was moved to tears by a little girl who declined a cupcake in favour of an apple! She ran off singing, "Dit my appel... my appel!" "So little produced so much happiness!" said Collett.
Now Maré Collett and co-helper Cato Hoffman have given the Kleinkrantz settlement a spade and fork and will be supplying vegetable seedlings to those who prepare vegetable beds.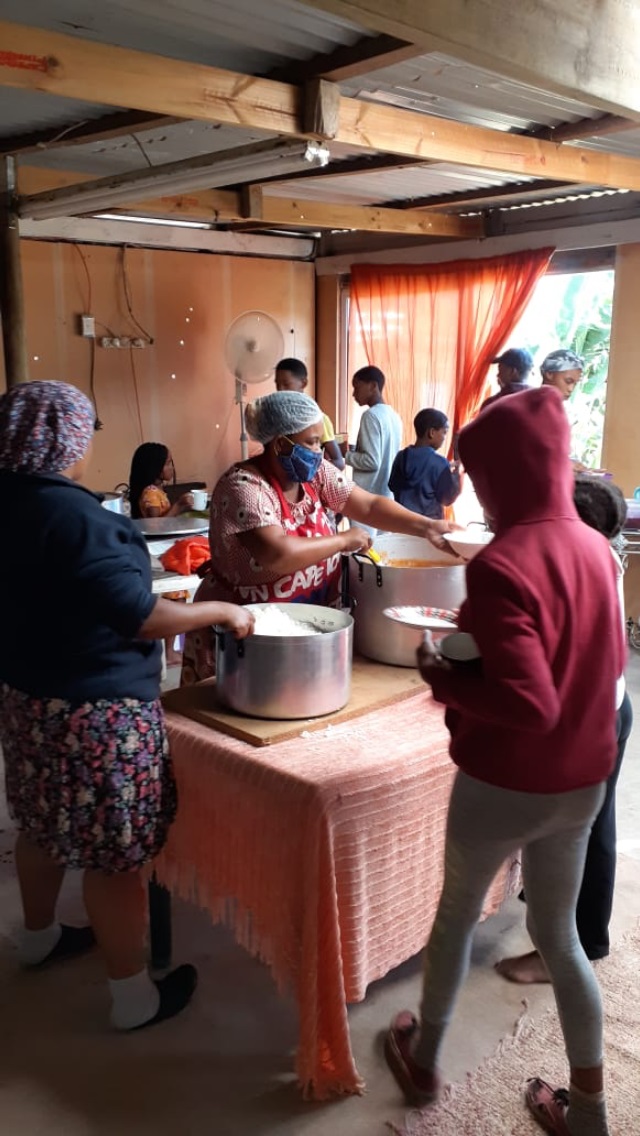 WRRA members in Langvlei Dunes buy foodstuffs for the Kleinkrantz informal settlement soup kitchen and help prepare meals.
WRRA member Rita Brock of CATS (an animal welfare team set up to sterilise feral and township cats assisted by the SPCA) stepped in to distribute animal food to dogs and cats in Heights Village, Kleinkrantz and Touwsranten.
"We know all the animals in these areas so we could quickly change our focus. Thanks to WRRA's support of R5 000 per month, we've been delivering puppy, dog and cat food to where it is most needed. Food has to be repackaged in small bags with instructions to ensure the dogs don't wolf it all down at once and go hungry for the rest of the week," said Brock.
And the acts of caring in Wilderness go on: R20 000 to Child Welfare for Heights Village and another R20 000 to the Touwsranten feeding scheme, baby clothes and nappies for new arrivals in the settlements, a gardener being paid double by one 'boss' when they learnt that his other 4 'bosses' have inexplicably neglected to pay him during lockdown. Plus WRRA managed to get their renowned Wilderness Monitors reinstated who keep the village clean and litter free.
"This is truly a community in action," said Durant.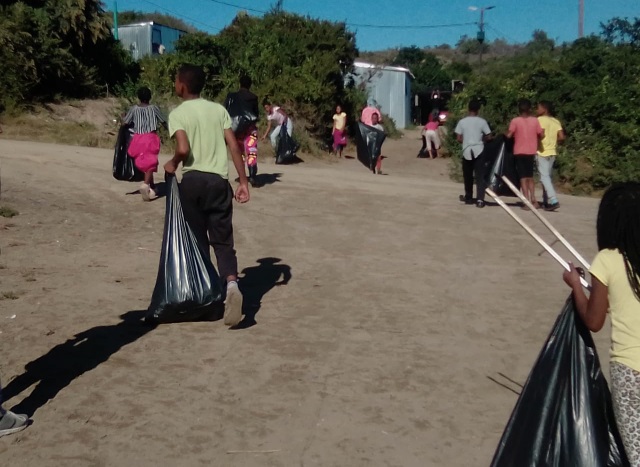 Residents of the Kleinkrantz informal settlement clean up their area with treats donated by Langvlei Dunes WRRA members waiting to be enjoyed.
'We bring you the latest Wilderness, Garden Route news'