GEORGE NEWS - Many accommodation establishments in the George area that spoke to George Herald in a quick survey recently, were not as upbeat in their outlook for the holiday season as George Tourism in a media statement the previous week.
The statement said that George Tourism members in George, Wilderness and Uniondale had reported a significant increase in bookings during the previous two weeks and were filling up quickly.
They were expecting a busier season than was initially anticipated. But some establishments that spoke to the newspaper said they are experiencing very subdued business activity compared with the usual liveliness in bookings at this time of the year.
Things are, however, looking up for those who offer self-catering facilities, which are a more affordable option for family breakaways. In this instance, some report that they are already fully booked for the peak period, from 16 December to just after New Year.

Herold's Bay seems to be a very popular destination as most of the establishments contacted there reported they are full for the peak period. Most of them are self-catering facilities.
Connie Wehrmann, manager of Waves of Grace, said holiday-goers are begging them for space during December. They have no more space and have a waiting list. In the past a large percentage of their guests were international tourists, but they are now receiving great support from local travellers. "We had a fantastic September and October and surpassed our target for both months. For November we are fully booked. We have not come down in our prices, but we do offer specials."
This is in contrast to several negative reports from establishments in George itself. The manager of a luxury bed and breakfast establishment in town who spoke on condition of anonymity said in the past their rooms would have been 75% booked up by now, but they are not even at 10%.
"We are usually chock-a-block with international and local tourists, but now we are not even seeing locals. We have lowered our rates as we want to remain competitive."
Rieta Steinberg, owner of Caledon 23, said their occupation figures are only at 10% of their normal business. "Level 1 does not really help us as international tourists will not consider coming under the current circumstances, taking into consideration the Covid test results required and a possible isolation period if these lapse. Most of the local travellers at the moment choose the self-catering option. We have been focusing on our business clients who are allowed to move around again."

'Reliant on domestic market'
Fancourt Sales and Marketing director Peter Dros said their numbers do not reflect the market quite as bullishly as expressed by George Tourism. "We are experiencing a good uptake of bookings for the week between Christmas and New Year so far, but bearing in mind the schools are closing later and going back around 23 January, there are still a lot of beds to fill over this extended holiday period."
He said they are now almost completely reliant on domestic business due to the international travel restrictions, and along with many other accommodation establishments there is an oversupply of beds. "But the flip side of this is great news for the consumer, as there are some great deals to be had. So the question to be answered considering South Africa's tough situation is how strong, sustainable and how much depth is actually in the domestic market? Time will tell!"
Most respondents agreed that uncertainty about a possible second coronavirus wave that could result in a stricter lockdown, as well as holidaymakers' financial situation, are factors that affect activity. Paying a deposit and the possibility that it might be lost to lockdown, is another consideration that could be putting off potential travellers.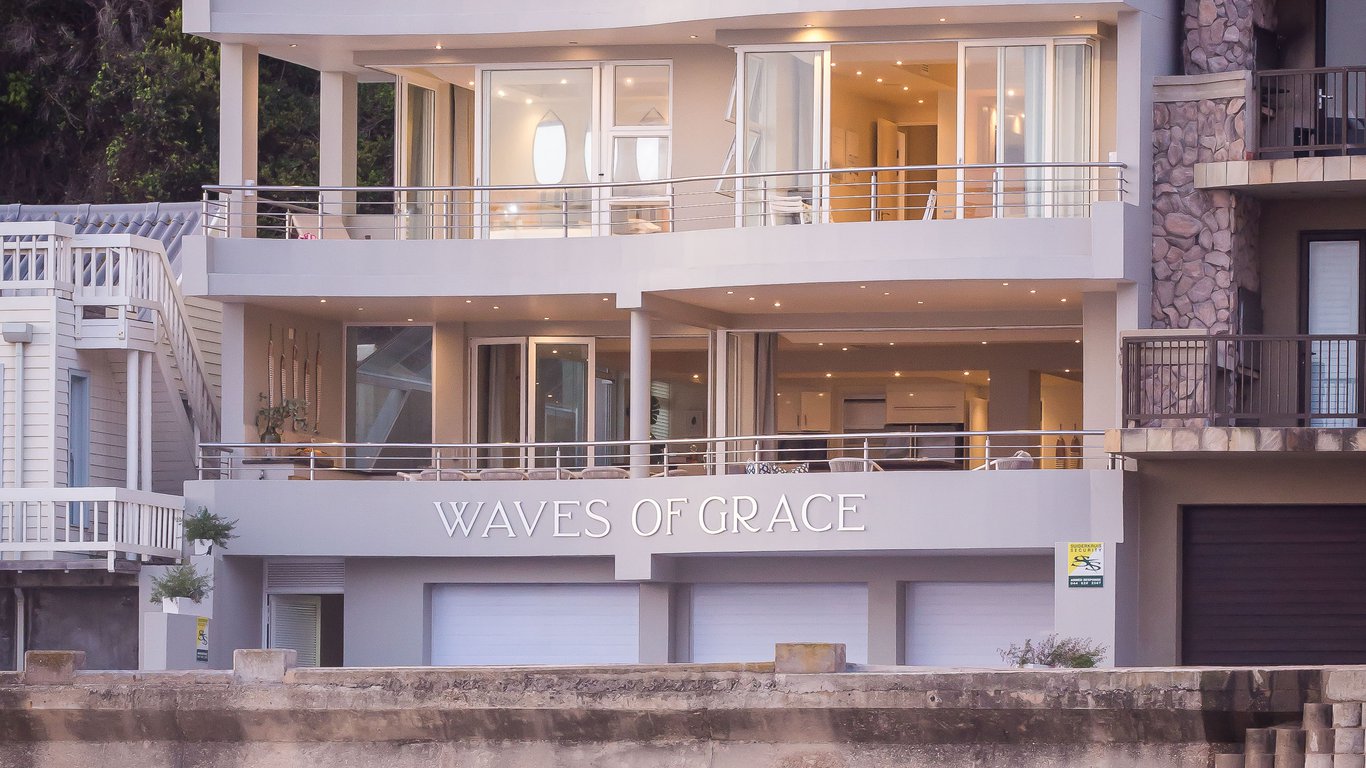 Waves of Grace Manager Connie Wehrmann is glad to report that they surpassed their target for September and October. She says their location in Herold's Bay is part of their attraction among visitors.
COMMENTS FROM ESTABLISHMENTS:
'Fortunate to be in Herold's Bay'
"If I had a 100 places for this period, I would have filled them," said Antoinette Holtzhausen from Makarios on Sea, Herold's Bay. It is a relief to be in such a position with memories of March when the lockdown began and she had to do many refunds. "People are tired of being locked up in their homes. I have just received a booking for the later part of January too. I think we are fortunate in Herold's Bay. It is an ideal holiday destination on the ocean."

A bed and breakfast manager from Herold's Bay who commented anonymously, said of their 13 rooms only three were still open for December. Their business picked up over the last two months and since lockdown their prices have even gone up.

Etiennie Scheepers of Heroldsbaai Akkommodasie, a self-catering establishment, said his units are all full during the peak period. "One unit has been booked for 37 nights straight."

Quieter in George
Lizanne Deyzel of Loerie Guest House in George said they had lowered their prices, but from this month on they are back to their normal rates. "Bookings have started to pick up over the past two weeks but it is mostly our usual business clients. Half of our rooms have been booked for December." They have had to retrench two staff members and the rest have been working shortened hours.

Marlene Glynos of Rinkink in Wilderness (self-catering) says it is getting busier, but people are still hesitant and they stay for shorter periods. "We are still quiet for November and the beginning of December."

Mariaan Kleingold of Eden View Boutique, Hoekwil, who also has other business interests, said, "There is a quietness that I have not experienced in previous years. I was in Johannesburg on business recently and it is as if people are holding their breath and taking a stance of wait and see. We were very badly hit by the lockdown and had to lay off staff at Eden View. This time of the year we are usually fully booked for December, but I think people might still book at the last minute."

Ansa Glas of The Loerie's View (self-catering) in Wilderness says they were fully booked for December before lockdown began. "When local travel was unbanned, we started getting bookings, although we are not booked up every day. Next year we are fully booked till middle March and we have an overseas booking for February, if it will be allowed at that time."

Hotels
Fancourt Sales and Marketing Director Peter Dros said the value for money offers they had launched, had an incredible response from the domestic market. "So much better than we ever could have expected and it really gave us the jump start we needed. We also have had several golf events during October which have been fantastic and we are delighted that Fancourt still has the support of many of our loyal clients and guests." (Also refer to his comments further up in the article.)

Oubaai Hotel is 25% booked for December. "I think people might wait till the last minute to book due to the uncertainty around Covid. Our weekends were busy since the interprovincial travel ban was lifted," said the manager, Brian Ng-Yuk-Shing.

An anonymous hotel manager in the George area said, "We are definitely not taking home bonuses this year. Our bookings are not even 50% and I don't think it will pick up. There is too much uncertainty about Covid and cancellation policies."

According to Leon de Kock from the local Hotel Possible group, most of their hotels are doing "so so". "We are not nearly out of the crisis, but August and September were better than expected. We have adjusted our prices downwards."
'We bring you the latest George, Garden Route news'