GEORGE NEWS - An electronic engineer and his wife, an engineering draftswoman, celebrated his 100th birthday on Tuesday 10 November with close friends at Groenkloof Retirement Village.
Asked about his recipe for a long and good life, Tony Colman (100) said he kept himself busy with work that he enjoys until late in his life.
"Yes, sometimes I forget simple things like my own name - but then again, I did change it long ago. I believe it's good to keep your mind occupied, then it will remain open," he said. Tony still has a workshop room in his house.
The Polish-born centenarian recalled many adventures over the last century, of which he shared a few during a visit to his home on his birthday.
On the run
A day after he enrolled at the Lvov University in Poland, 1939, the war broke out. His family was split up and his brother, a lawyer, sentenced to death. "This was later changed to life-long imprisonment," said Tony.
He managed to escape across the border to Hungary, from where he went to France. Tony joined the army, first in France and later in Scotland. He eventually continued his studies in London, in electronic engineering.
"I changed my surname after the war [WWII] when I decided to live abroad," he said. "My Polish surname is Cymbrykiewicz. In the UK they found it impossible to pronounce. When they looked at my surname they wanted to throw the paper in the rubbish bin."
Tony took his sister's married name, Colman, which simplified his work life in England.
From left are Sue and Richard Ledger, Tony and Patsy Colman and Pam Leppan.
Partners for life
Tony and his wife Patsy (89) met in the United Kingdom in a drawing office of Belling & Lee back in 1956. The couple came to South Africa in 1976 and lived in Pretoria, where Tony worked for Racal Electronics in Silverton and Patsy for the CSIR.
They retired to Wilderness in 1980, where they stayed for 37 years in a house they built overlooking Island Lake.
"On arrival [in Wilderness] we became friends with a couple taking care of holiday homes, which were often broken into," said Patsy. Tony and his new friend designed a burglar alarm system which they installed themselves.
"For quite a few years these two old boys in their late sixties were climbing ladders and putting in the first alarms in Wilderness," said Patsy. "It proved to be very successful, but with time newer and modern alarms came on the market and it was time to call it a day."
At age 89, Patsy made this cake herself for her hubby's 100th birthday. "It gave me some trouble, but here it is," she said.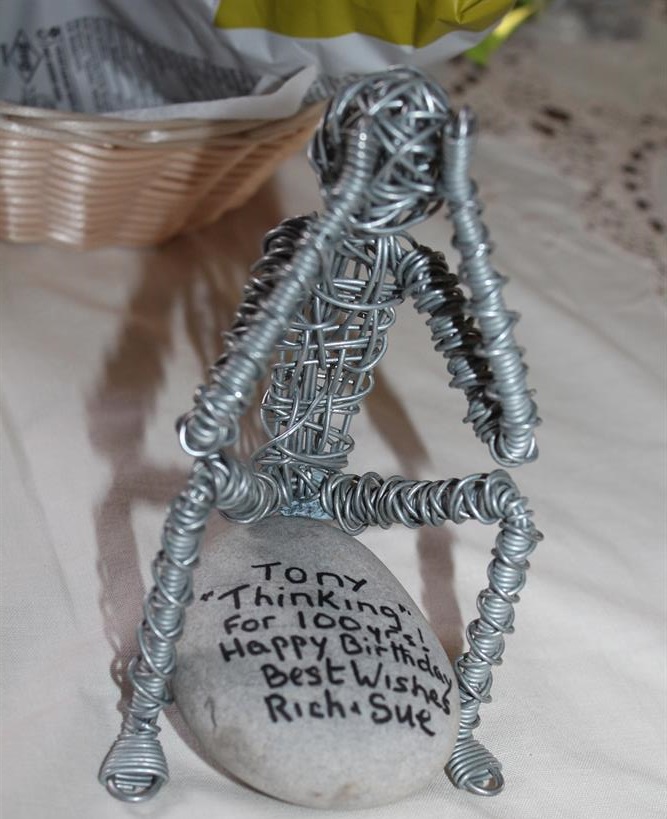 A gift from the Ledgers: Tony 'thinking' for 100 years.
'We bring you the latest George, Garden Route news'