GEORGE NEWS - The Western Cape recorded its second and third Covid-19 related deaths during the past week. An 82-year-old woman succumbed to the virus at the weekend and a 57-year old man passed away on Monday 6 April.
The total number of people infected with the novel coronavirus in the Western Cape on Wednesday 8 April stood at 510.
Nationally 1 845 cases have been reported and a total of 18 people have died.
George figures
In George, the number of infections on Wednesday stood at 14, one case more than Tuesday's 13. District Health Department spokesperson Nadia Ferreira said they currently have no confirmed Covid-19 cases in George Hospital.
Recoveries in George
The 63-year-old man from Oudtshoorn who had been in ICU in Mediclinic George is recovering well and not on a ventilator any more, said hospital manager Kassie Karstens. He confirmed yesterday morning, Wednesday 8 April, that no more new cases have been admitted to the hospital.
Cameron Anderson and his mother, from Oubaai, who had tested positive in March, are also doing well, he told the newspaper.
The German guest at the Oubaai Hotel who tested positive after he had booked into the hotel in March, was moved to a private residence where he is continuing to isolate. He had been in isolation in his hotel room before then.
Hotel manager Brian Ng-Yuk-Shing said he is well and will remain in the country for some time.
The three hotel staff members who were also isolated in rooms in the hotel after they had been in contact with the guest, have been taken home per ambulance and are fine. The member of Fancourt Estate who tested positive for Covid-19 three weeks ago, recovered quickly, according to estate manager Meredy Gibbs.
Everyone who had been in contact with the member has gone through an isolation period and is fine, she said.
31 in Western Cape hospitals
In an update on Wednesday, Premier Alan Winde said the total number of hospitalised cases in the province stood at 31, of whom 9 were receiving care in ICU.
Bianca Capazorio, spokesperson for the Premier, said recovery statistics will be provided on a regular but not daily basis.
Summary of cases
Cape Town Metro 407
Non-Metro total: 103
Garden Route total: 55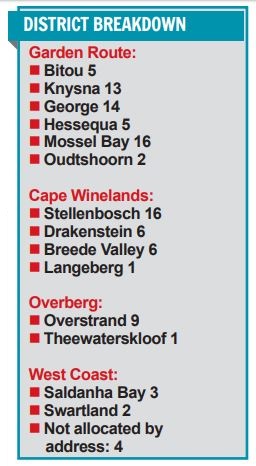 According to the website Worldometer, the global number of Covid-19 cases on Wednesday morning stood at 1 432 686, with 82 124 people who have passed away. A total of 302 324 people have recovered.
Dear reader, As your local news provider, we have the duty of keeping you factually informed on Covid-19 developments. As you may have noticed, mis- and disinformation (also known as "fake news") is circulating online. Group Editors (publications and online platforms) is determined to filter through the masses of information doing the rounds and to separate truth from untruth in order to keep you adequately informed. Local newsrooms follow a strict pre-publication fact-checking protocol. A national task team has been established to assist in bringing you credible news reports on Covid-19.
'We bring you the latest George, Garden Route news'