GEORGE NEWS - On 3 July, Oakhurst Insurance's CEO Simon Phage and managing executive Peter Grindlay joined their colleagues and community friends in planting 500 trees at the Eden Festival of Action, which took place at the Heartlands School of Self-Sufficiency outside George.
The event is a Greenpop initiative that aims at bringing people back to nature. People from all parts of the world gathered together to learn, connect, give back and get active.
Oakhurst Insurance decided to donate 50 of the trees this year to commemorate the Oakhurst Insurance George Arts Theatre's 50th anniversary. Representatives from the theatre were also present and their general manager, Bernadette Schaap, thanked Oakhurst Insurance on behalf of the theatre "for including us in their quest of making this world a better place, and for taking the opportunity to donate 50 trees; one for every year that we've been delighting audiences".
In 2017 the Heartland School of Self-Sufficiency, which is a working example of sustainability, was badly affected by the fires that blazed through the Eden District, which is why Greenpop decided this year to host their three-week event there. Planting more trees was a vital response to the devastation suffered by the forests in the area. Locals, international visitors and visitors from other parts of the country joined the Greenpop reforestation project.
Phage said he believes that members of the Oakhurst Insurance family must holistically live their mantra, "We Really Care, We Deliver". "We are excited to partner with Greenpop for this inspiring initiative, as we too believe in giving back. This is a great opportunity to really care for the earth," he said.
All in attendance had a lot of fun as they displayed their enthusiasm for nature and saving the planet. It was a wonderful ground-breaking experience, in more ways than one.
The newly rebuilt learning facility at Heartlands School.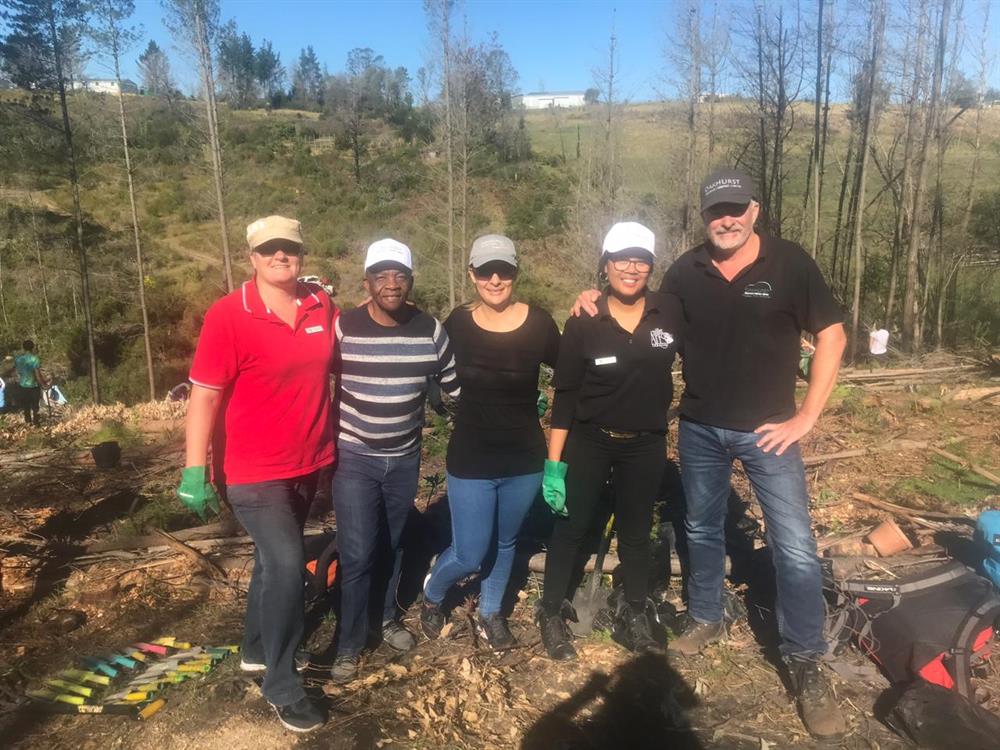 The teams representing Oakhurst Insurance and Oakhurst Insurance George Arts Theatre, from left: Bernadette Schaap, Simon Phage, Kerry van Niekerk, Joelien Saaiman and Peter Grindlay.
'We bring you the latest George, Garden Route news'