GEORGE NEWS - Brian du Preez, a Glenwood House matriculant of 2011 and currently a PhD botany candidate at the University of Cape Town, recently made his fourth rediscovery of a plant species thought to be extinct.
His latest find, Aspalathus complicata (Versveld Pass Cape Gorse / Versveldpas steek-ertjie) is one of over 300 species belonging to the same genus of plants as rooibos tea, according to Du Preez.
The Versveld Pass Cape Gorse was first collected in 1934 at the base of the Versveld Pass just outside Piketberg, but has never been located again.
"Over the decades following the initial discovery, the area around the base of the pass has been ploughed for agriculture and a dense stand of Eucalyptus has invaded part of the pass too," says Du Preez.
"The species has subsequently not been located since the initial collection, despite numerous searches of the surrounding area."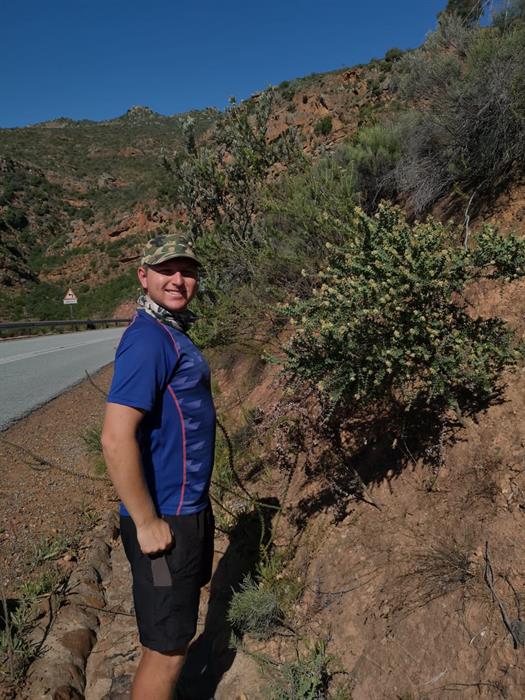 Brian du Preez next to one of the Versveld Pass Cape Gorse plants.
He was driving up Versveld Pass for fieldwork when he noticed a strange-looking plant next to the road, halfway up the pass. He says the plant can be identified by its small, cream-coloured flowers that are densely packed in clusters and its simple, heart-shaped leaves that are finely toothed and have long, spiny tips. He found only two plants along the road.
"The true extent of the population will only be determined about three years after a much-needed fire when these plants would have regenerated and started flowering."
The leaves are heart-shaped and finely toothed and have long, spiny tips.
It is assumed that the distribution range of the plant is small and it is also a 'habitat specialist' within this limited area (it is found only here). "It is therefore likely still endangered."
An excited Du Preez says he made this latest discovery coincidentally on the one-year anniversary of his rediscovery of Psoralea cataracta (a type of fountain bush that grows near streams) in the Tulbach area, which was thought to be extinct after not being seen for over 200 years.
The two other supposedly extinct plants he found in 2016 are Aspalathus cordicarpa and Polhillia ignota.
The Versveld Pass Cape Gorse has clusters of cream flowers.
'We bring you the latest George, Garden Route news'