GARDEN ROUTE NEWS - In his Monday update on the Covid-19 situation in the Garden Route, Dr Terence Marshall, the district's health cluster head, says there has been an increase of 2 209 positive Covid cases over the past week, bringing the total number of cases to 18 406.
He further states:
* There has been a 6% district increase in cases over the last 7 days compared to 7-14 days ago;
* There are now 659 active cases per 100 000. (One week ago it was 594.) This is significantly higher than the provincial total of 203;
* There are now a total of 568 deaths. The vast majority of these patients had co-morbidities.
The Department of Health is busy interrogating the nature of the increases.

* Hessequa: 10 cases over weekend; distribution is slowly moving from Albertinia to a more widespread area throughout the sub-district;
* Mossel Bay: 102 cases over the weekend; ASLA is main focus point;
* George: 242 new cases over the weekend; no change in focus areas. Mobile unit will be going to Uniondale/Haarlem area to do testing. Some concern with Eastern Cape connection;
* Knysna/Bitou: Some clusters e.g. one school matric party (10 positive in total); Thesen's Island 21st party;
* Ladismith: 17 new cases this weekend; Concern over potential of super spreader event 'Cooler box festival' held over the weekend where it transpired that two people who were supposed to be in quarantine, attended the event. They have subsequently tested positive;
* Oudtshoorn: 30 new cases over the weekend. Random distribution, no clear clusters noted;

Hospital services

* The Critical Care Unit and ward beds of George Hospital continues to be under extreme pressure;
* The admissions to the district hospitals are currently under control with additional capacity still available in all. Knysna Hospital is the exception and is under extreme pressure. Harry Comay Hospital, the step-down facility of George Hospital, is also very busy;
* Knysna Hospital will be receiving upgraded oxygen storage tanks today;
* Mossel Bay Hospital is also starting to become busy now;
* Private hospitals continue to be very busy;

District Health Services

* Routine services are once again in jeopardy as we are having to divert staff to Covid activities;
* Additional Professional Nurses and Staff Nurses have been appointed on contract posts;
* Daily 'huddle' meetings between district management and sub-district managers continue to be held every weekday morning for 30-45 minutes to identify urgent problems, and to provide support where necessary;
* Weekly Zoom meetings are now being held with the private hospitals. The aim is to align services and to deal with any developing issues;
Personnel situation improving
In general, the personnel situation is much better than it was last week, so the ability to manage patient load has improved.
Covid-19 cases on Thursday 3 December 2020: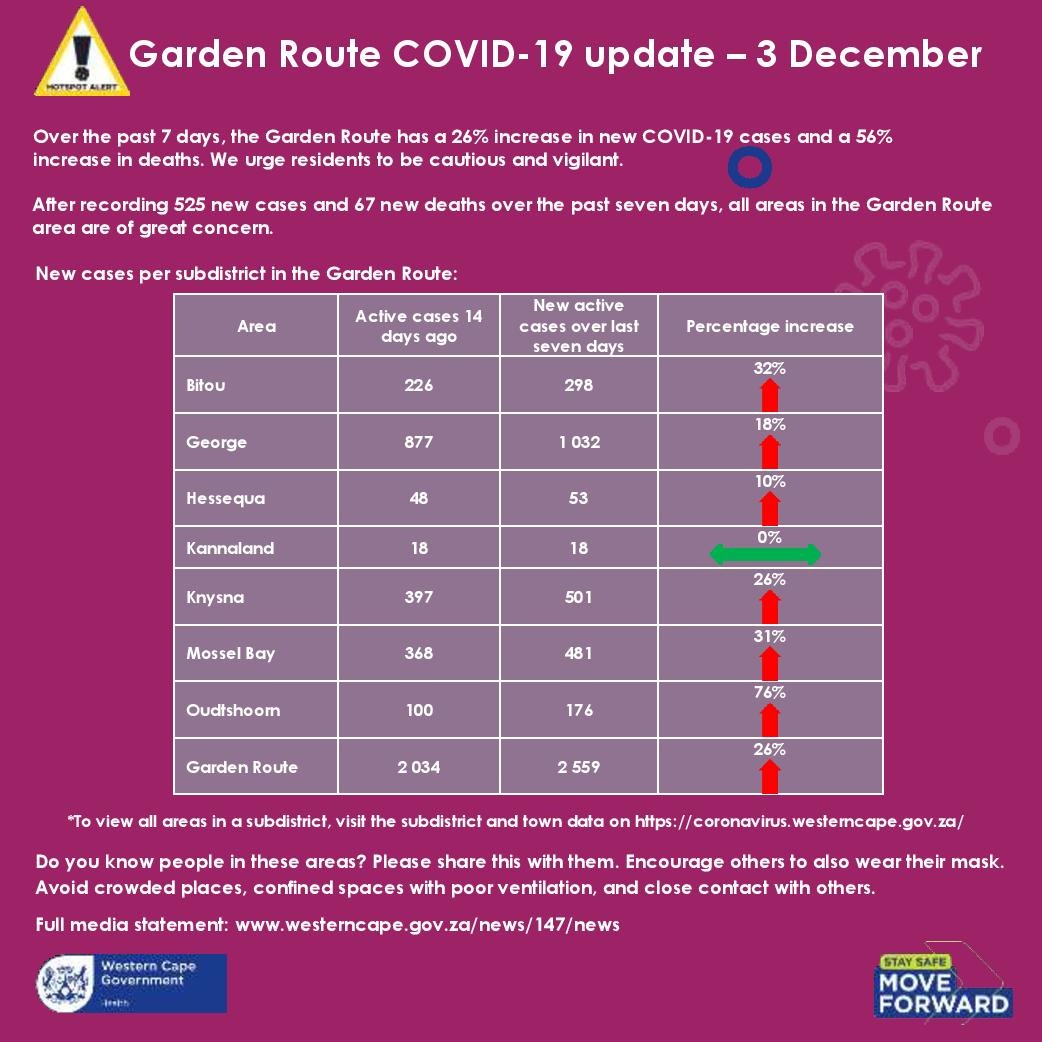 'We bring you the latest Garden Route, Hessequa, Karoo news'