Update
GEORGE NEWS - At a glittering gala dinner, George Crematorium owner and undertaker Irene Vermeulen who owns funeral parlours in George, Knysna and Oudtshoorn, was named as the George Business Chamber Business (GBCB) Person of the Year.
Godfrey van Rhyn (JFH Holdings (Pty) Limited), stepped out as the winner of the GBC 2017 Entrepreneur of the Year.
Vermeulen said she felt honoured to be named as Businessperson of the Year.
"It feels good to be acknowledged at last as a successful businesswoman".
Her rags-to-riches story makes her grateful for what she has been able to achieve in life.
"The fight is still not over," she said. "I strive to make the industry more personable. There should be a third option in line with the American movement which strives for the "green burial", according to which people may opt to be buried in a forest or in nature. I am a realist and do realise that cemeteries are already short of space and in a bad way, like the one in Oudtshoorn. Nonetheless, life should be about choices."
Vermeulen has been living in Knysna since she took over a funeral business there nine years ago.
When not working she enjoys decorating her home in the oyster town.
The George Business Chamber's Annual Gala Awards evening took place at Oubaai Hotel Golf and Spa on Friday evening 29 September.
The event was sponsored by Nedbank Business Banking and co-sponsored by Assupol and Die Burger.
CEO Ingrid Cronjé said, "The continued support of these sponsors is truly appreciated by all who participate in this annual event. The evening was a glamorous affair, attended by the nominees, local dignitaries, special guests and business owners from George and surrounding areas."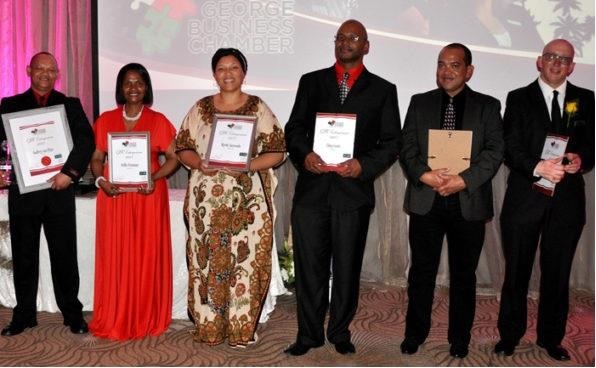 The GBC Entrepreneurs finalists are, from left: Godfrey van Rhyn (JFH Holdings (Pty) Limited, winner - GBC Entrepreneur); Nellie Reimann (George Backpackers - 2nd); Myrtle Sacuenda (Playtime Productions - 3rd); Elroy Lewis (Ellie's Coffee Shop); Hendor Wynne (Hendor's Diagnostics) and Gideon de Swardt (Gogga Bicycle Courier).
The guest speaker of the evening was Chantal Rutter Dros, well-known award-winning investigative journalist, news anchor and media coach who held the audience spellbound with her tales of experiences and stories that she covered as an investigative journalist.
Cronjé congratulated all the finalists and said Professor Quinton Johnson, principal of the NMU George Campus, is a deserving recipient of the newly introduced category,
"Business Leader of the Year". "We are proud to be associated with the amazing men and women of George who constantly contribute to the success of an economically active environment."
Read a previous article: Business person of the year awards 2017
ARTICLE & PHOTOS: ILSE SCHOONRAAD, EDITOR-AT-LARGE
'We bring you the latest George, Garden Route news'