Sponsored Content
BUSINESS NEWS - There are many risks that need to be overcome to ensure that Your retirement savings last.
These risks include inflation, longevity and investment or volatility risk.
If you have been investing for a number of years you may be familiar with the idea that 'risk' generally represents the chance that your investments could permanently fall in value. In general, higher risk investments have a higher potential return, whereas lower risk investments usually give a lower return.
This still applies in retirement, but a bigger risk is the risk that the capital in your retirement savings runs out too soon.
Inflation risk
Although inflation has averaged about 6% over the past 10 years in South Africa thanks to the inflation-targeting efforts of the South African Reserve Bank, there have also been times, for example in the 1980s, when inflation spiked to 20%.
Even at 6%, inflation can have a big impact on your standard of living: Over 30 years, the buying power of R1 000 would be eroded to the point that it only buys goods now costing less than R200. One of the most important steps in investment planning, is to account for inflation over the long run, as inflation has a very real impact on the purchasing power of money. The only way to beat inflation over the long run is to have a part of your portfolio exposed to growth assets.

Longevity risk
There is a risk that an individual will outlive his/her retirement savings, hence the possibility exists that the money will run out before one dies. As people are living longer due to medical advances, the risk of outliving your savings is increasing for most people. Longevity risk can, however, be managed to a certain degree by setting and adjusting the underlying investments, asset allocation and the level of income drawn each year from the pension.
Volatility risk
Volatility is how rapidly the price of an investment may change, while risk is the probability that an investment will result in permanent loss of capital. This type of risk is generally associated with growth assets such as shares and property which tends to be more volatile than cash or bonds. As can be seen from the graph below, volatility risk decreases over time and inflation risk increases over time.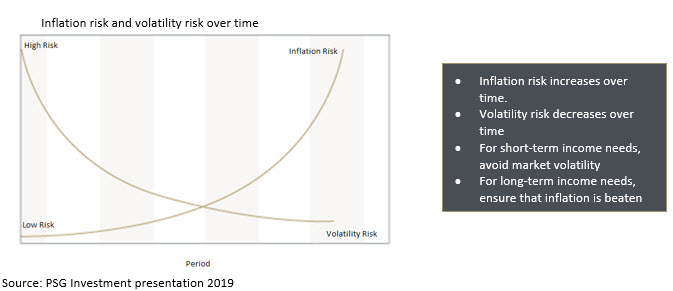 Myth: I can't afford to take risks
Don't be too conservative when it comes to investing your retirement savings.
You need a well-diversified portfolio with at least 50% to 60% invested in growth assets, such as shares. This may mean you have to stomach some short-term volatility, but if you invest only 10% to 30% in equity, it's unlikely that your retirement savings will go the distance. It is also of utmost importance to have sufficient offshore exposure in an investment portfolio. A well-diversified portfolio including all the main assets such as cash, bonds, shares and listed property with adequate offshore asset exposure, remains key for inflation-beating returns in the long run.
There are four main asset classes with distinctly different characteristics in long- and short-term return expectations as well as tax implications:
Cash - Expected long-term real returns before tax of 1% to 2%
Bonds - Expected long-term real returns before tax of 1% to 2%
Shares - Expected long-term real returns before tax of 6% to 7%
Property - Expected long-term real returns before tax of 6% to 7%
* Real return = return after inflation
Whether you are planning for retirement or already retired, here are some key points that you should consider:
Do a long-term cash flow projection that includes available capital and your projected income withdrawals. Account for inflation in your projections and account for future capital expenses.
Re-evaluate the total costs you are currently paying for your investment. These may include fund manager costs, administration costs, and advisory fees. Excessive costs can be extremely detrimental to your investment value in the long run.
Are all risks appropriately accounted for and are these risks managed in your investment portfolio?
Clearly define your investment goals.
"An investor without investment objectives is like a traveller without a destination." Anonymous
Our office details in the Garden Route:
PSG Mossel Bay Diaz
Sioux Building
16 Sioux Street
Mossel Bay
PSG George Central
Dynarc House, 2nd Floor
31 Courtenay Street
George
Follow us online:

'We bring you the latest Garden Route news'