TUINROETE | KAROO | HESSEQUA NUUS - Geklassifiseerde advertensies is die enigste vorm van advertensie wat dwarsoor die wêreld gesog is.
En as jy 'n geklassifiseerde advertensie plaas, kry jy volledige markdekking – in druk én aanlyn!
As jy 'n geklassifiseerde advertensie by ons plaas, sal dit vir sewe dae op al Group Editors se webwerwe verskyn, asook in een uitgawe van die koerant/e van jou keuse.
Ons publikasies:
Hoe om 'n geklassifiseerde advertensie te vind:
Die feit dat hulle gekategoriseer is, maak dat gebruikers en adverteerders maklik kry waarna hulle soek.
Die infografiek hieronder verduidelik stap vir stap hoe om geklassifiseerde advertensies op ons webwerwe op te soek.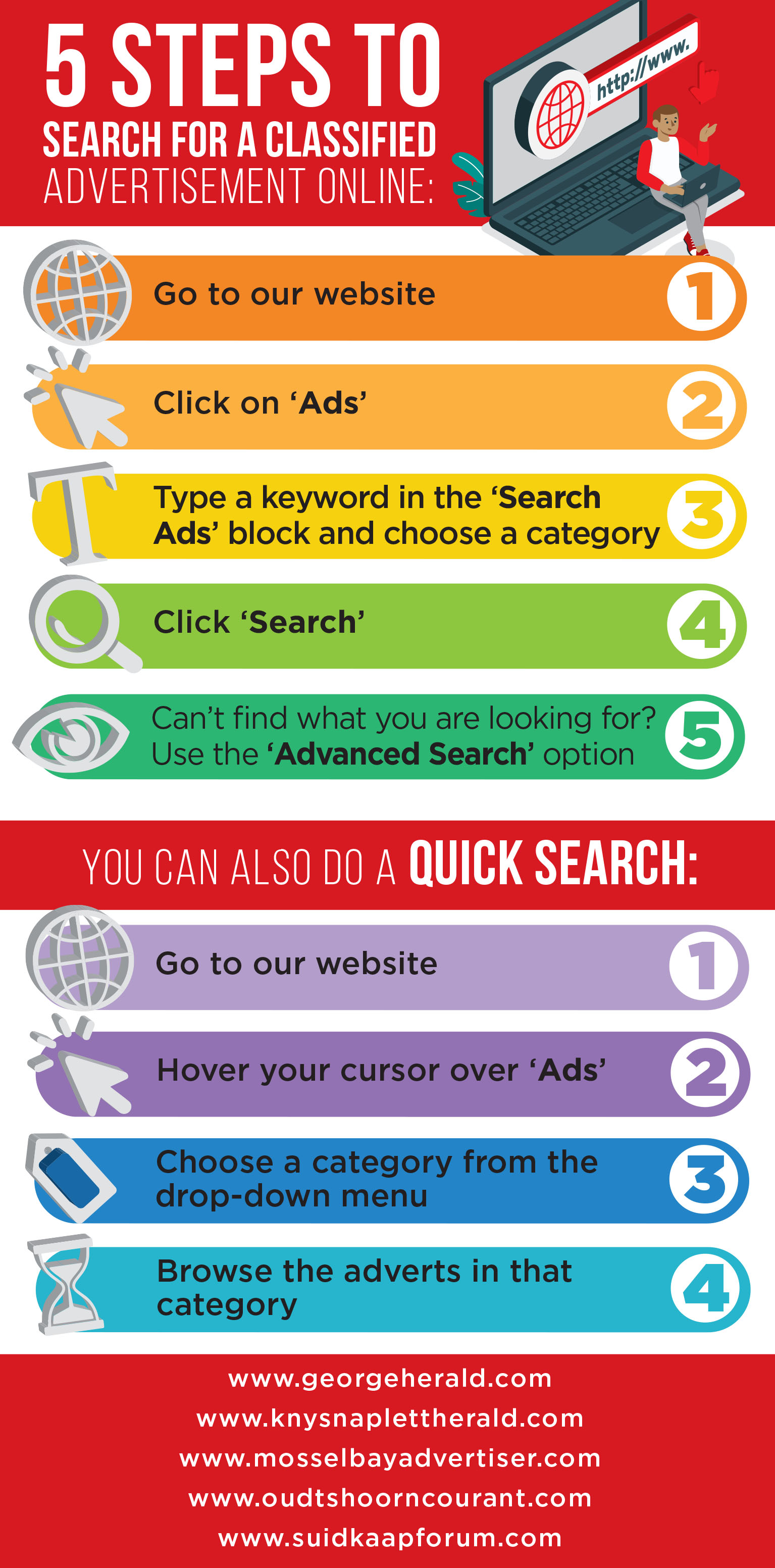 Kategorieë
Om dit so maklik en gerieflik moontlik te maak vir die gebruiker, is daar 11 hoofkategorieë om van te kies.
Hulle is:
Vacancies; Business / Holiday Accommodation; Business & Financial; For Sale; Home Improvement; Motoring; Notices; Property for Sale; Property to Let; Services; Employment Wanted; Adult.
Elke hoofkategorie het onderafdelings om jou soektog makliker te maak.
Wat werk die beste as jy 'n advertensie plaas?
As jy 'n geklassifiseerde advertensie plaas, is dit belangrik om te weet wat werk en wat nie.
Hier is 'n paar wenke:
Maak duidelik presies wat jy aanbied. Dui aan of jy iets wil verkoop, of jy 'n diens aanbied ens.
As jy eiendom adverteer, begin met die area waar die eiendom is, bv. George-sakekern.
Maak seker dat jy die toepaslike kategorie kies.
Alle goeie advertensies moet so geskryf word dat dit die teikenmark se aandag sal trek. Begin dus met 'n trefreël.
Hou dit kort! As jy dadelik aandag trek, sal jy resultate kry!
Alle kontaknommers moet korrek wees.
Maak seker dat spelling en grammatika korrek is.
Vra iemand anders se opinie oor die advertensie voordat jy dit plaas.
Het jy meer inligting nodig?
Kontak ons vandag by contact@groupeditors.co.za
'Ons bring jou die nuutste Tuinroete, Karoo, Hessequa nuus'