Advertorial
GEORGE BUSINESS NEWS - The world population is growing at an alarming rate and a deterioration in general healthcare is becoming more prevalent globally. There exists a definite need for drastic change in the general attitude towards healthcare. Waiting for an illness to develop, the patient to complain and then acting by prescribing medication to relieve the symptom, or by surgical intervention must now be replaced by actions to prevent the development of disease and/or focus on early detection.
Annual health checks are an integral part of prevention and early detection and maintaining good health for men and women. While the screening tests for cancers and other health conditions become more important for older men, an annual physical examination and general check-up are recommended for men of all ages.
The annual examination must include: A physical examination with weight and blood pressure measurements, a urine dipstick test, a lipogram for cholesterol determination and the recording of blood sugar levels. An ECG might also be done past a certain age. Screening for prostate pathology as well as colorectal cancer is also important since early detection will in most cases lead to excellent outcomes. A discussion around sexual health is also important and men must feel comfortable to discuss any issues with their health care provider. Disease-specific management must also form part of your check-up e.g. the management of hypothyroidism (underactive thyroid).
(Additionally, all men should be advised to seek medical advice if they experience changes or symptoms that they are worried about.)
Modern technology has the ability to provide solutions to problems concerning early disease detection. Late reporting of symptoms and detection resulted in more uncomfortable symptoms, major surgery and/or death. This can now be prevented by the discovery and utilisation of non-invasive, affordable, accurate and easily accessible screening mechanism for diseases.
Benign hyperplasia
The growing incidence in prostate pathology, especially benign prostate hyperplasia and prostate cancer placed the focus on the necessity of an improved screening programme with an increased diagnostic rate for detection at an earlier stage of the illness that was the case in the past.
In November we will pay attention to men's health and specifically to prostate pathology detection and monitoring.
There are different approaches with regards to the evaluation of patients for the presence of BPH and also prostate pathology in general. Using uroflowmetry (the measurement of the urine stream) in combination with digital rectal examination (DRE) and a symptom scoring method are recommended by health care providers.
Many men, however, avoid going to their doctor for annual check-ups due to possibility that a doctor might perform a digital rectal exam which will lead to stress and discomfort for the patient. They fail to present even if symptomatic which in time leads to more stress and discomfort...
At Doctor4U we are proud to bring the Prostaflo Pro urodynamic screening device to the Garden Route area to offer affordable, non-invasive, accurate and easily accessible prostate check-ups to all, this will lead to more effective referrals to specialist should the need be detected. The Prostaflo Pro is an internationally patented and thoroughly tested electronic measurement device which brings the recognised benefit of urodynamic study to the arena where it is needed most – preventative medicine.
In its basic format, the device measures urine flow in millilitres per second.
The Prostaflo Pro enables the doctor to identify patients in whom pathology is already developing. Until recently such patients were sent home under the impression of being in perfect health. A decrease in in the urine flow may be detected by the Prostaflo Pro even before the patient will experience any symptoms. It can also assist in the monitoring and planning in early stage disease.
If the Prostaflo Pro graph shows a decreased urine flow, there will be a definite urinary tract outlet obstruction in 70% of the cases. International research has shown that accurate measurement of the urinary flow rate provides important and useful information that may indicate the presence of bladder outflow obstruction, and careful examination of the actual flow graph may indicate a possible cause for an abnormal flow pattern.
This test is regarded as a screening test and it can be performed even before the patient presents with symptoms. This allows the doctor to timeously refer the correct patient for further urological assessment and thus improve the outcome of the disease process.
Globally, the top three cancers in men are lung, prostate and colorectal cancers. Benign prostate hyperplasia occurs in 50% -75% of men over the age of 50.
A bit more about the Prostate…
The prostate is situated just behind the front portion of the pelvic bone, below the neck of the bladder (bladder outlet). The upper portion of the urethra, just were it leaves the bladder, passes through the centre of the prostate for a distance of 2.5 cm. If the prostate becomes enlarged, the urethra will become constricted and this results in an obstruction to flow of urine from the bladder.
Benign Prostate Hyperplasia (BPH):
BPH has been described for centuries already as the cause of urinary problems in men. It was mentioned in the Egyptian Papyrus rolls as early as 1500 BC and also by Hippocrates, the great medical scientist of his time.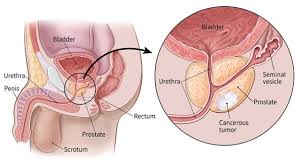 The first changes due to BPH can already be detected microscopically at the age of 35. The process extends over many years. People in Western as well as developing countries suffer from it and it appears that genetic and environmental factors do not play a determining role.
Data indicate that microscopic BPH increases with age in all male populations and that all men will develop BPH if they love long enough. The precise cause of BPH is not known.
25-70% BPH cases remain stable or may improve with the usage of oral medication. 10-15 % progress rapidly and need urgent surgery. The medication and surgical procedures are performed to prevent complications like recurrent urinary tract infections that might lead to kidney failure.
As the prostate enlarges, the bladder wall muscle initially thickens to force the flow of urine. This is when patients start to experience symptoms. When resistance becomes too great, the muscle decompensates. Degeneration of the nerve cells supplying the bladder also occurs.
Symptoms of Urinary Obstruction:
Delay before flow commences
Weak flow: decline in urine flow as a result of pressure of the enlarged prostate and the inability of the bladder muscle to sustain a high enough pressure to maintain normal flow.
Terminal dribbling: General symptom in cases of obstruction, but also occurs normally and is not a diagnostic indication of obstruction.
Irritation Symptoms:
Occurs in cases of obstruction as a consequence of bladder instability (65% of BPH cases)
High frequency – needs to urinate many times per day and night
Urgency
Urge incontinence
Nocturia – extremely troublesome symptom that is often the greatest problem for patient because it leads disturbed sleep; change in body fluid regulation and inappropriate fluid consumption.
Conditions other than BPH that might cause urinary outflow obstruction:
Prostate Cancer
Chronic infection/inflammation of the prostate with scarring/fibrosis
A foreign body in the urethra
Narrowing of the bladder neck
Congenital "valves" in the urethra
Narrowing of the opening of the urethra at the tip of the penis
The Prostaflo Pro is only a measuring instrument. The measurements supplied are used as a screening test to distinguish the normal from the abnormal. It can give an indication of the possible diagnosis, but it is not diagnostic itself.
At Doctor4U at 3 Doneraile Street in George you can just walk in and have your prostate screening done. We will also be able to check your blood pressure, glucose and cholesteral at the same time. Most medical aids will cover the cost of the screening. We are open 7 days a week and you are welcome without making a prior appointment. Please see our website for more information.
Contact details:
072 204 5533 / 044 874 5459
3 Doneraile Street,
E-mail - clientservice@dr4u.co.za or GeorgeDoctor.george@gmail.com


Contact details:
3 Doneraile Street, George
072 204 5533 / 044 874 5459
'We bring you the latest George, Garden Route news'