Video
GEORGE BUSINESS NEWS & VIDEO - Only 60 seconds. That is how long a business representative has to make a positive impact on a potential client.
This was the message at the George Business Chamber's workshop on customer service held on 11 March at the Protea by Marriott George King George Hotel. It was attended by representatives of various businesses in George.
The facilitator, Aredine le Grange of Training Answers, stressed the importance of good customer service in a competitive market. She said business representatives should start thinking of customer service as their own brand, which means they must think about their own future. "You are your own little business." Every person one meets, must be seen as a potential customer.
Le Grange said business representatives must remember that customers are the only people that generate income for a business, therefore customers are their "employers". Without customers there would be no companies.
The "60 seconds to impress" start before a customer enters a shop; it starts with the experience the customer has with the car guard in the parking area.
She stressed that businesses should listen to their customers to understand their needs. Customers want more than a product; the attitude of the person dealing with a customer is important, so care should be given to tone of voice and the use of words.
Watch a video below:
A good experience includes competent staff that pays personal attention to customers and doesn't make them wait long.
After the meeting George Herald chatted to Le Grange about the civil service. Le Grange said some government personnel wrongly think they are above customer service. Civil service staff members should be trained.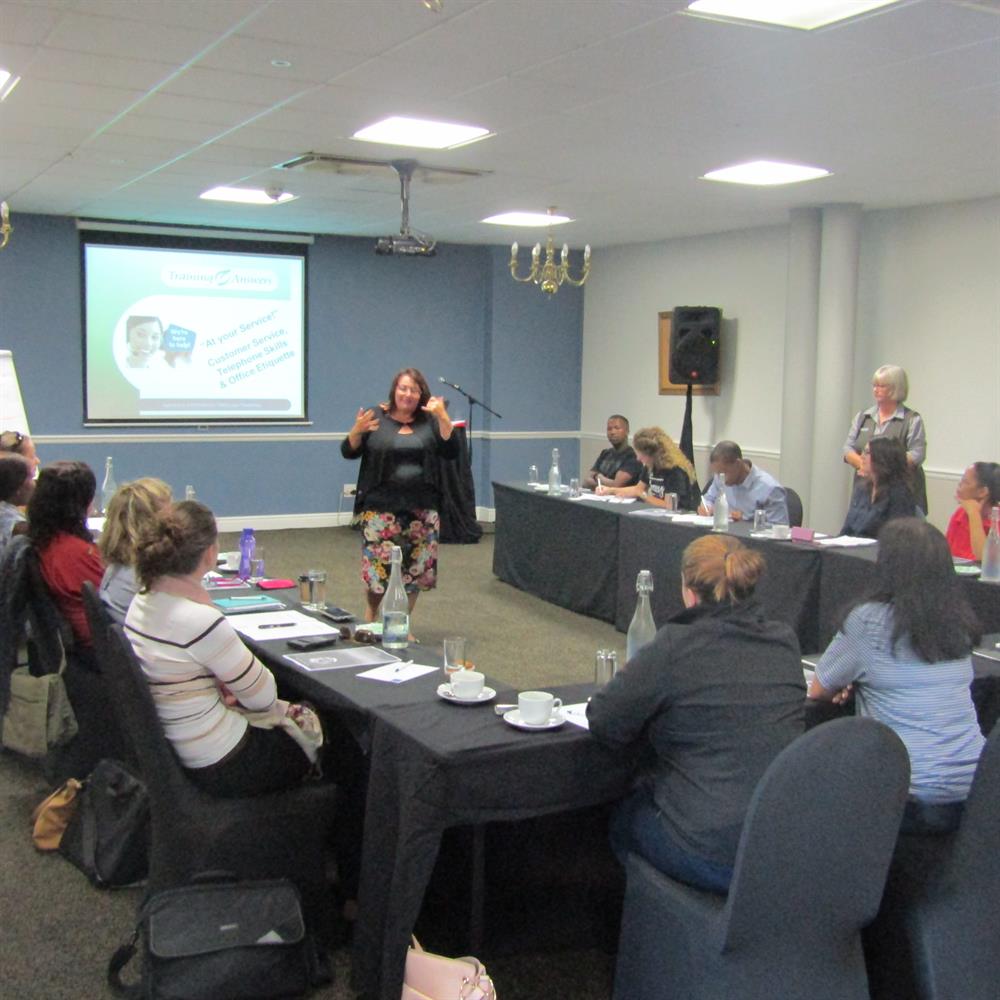 Arendine le Grange speaks to attendees at the workshop. Photo: Eugene Gunning
The chamber on customer service
Ingrid Cronjé, chief executive officer of the George Business Chamber, said over time, the organisation has received numerous complaints about the poor standard of customer service in George.
"As customer service is a vitally important and direct contributor to businesses and the economy of George, the chamber has engaged with certified, affiliated and accredited training providers to run short, affordable, workshop type sessions that would support and enhance the capabilities of staff.
"The most recent At your Service workshop was well attended and the feedback from the participants was positive. The content of the workshop is relevant to most facets pertaining to client interactions. It includes things such as first impressions, telephone etiquette and body language.
"Numerous other, abbreviated courses are designed when there is an identified and specific need expressed by businesses. The workshops are intended to provide sufficient information to assist the employee with the ability to execute their job professionally, efficiently and effectively.
"Should they need more comprehensive training, the accredited training provider is usually contacted by the company to present a full, accredited course which supports the business's annual skills development plan.
"Attending any workshop that has relevance to one's role in business, has the potential to inspire employees to realise that the competencies that they require to perform optimally, are being enhanced."
Arendine le Grange, facilitator of the workshop on customer service. Photo: Eugene Gunning
'We bring you the latest George, Garden Route news'