GEORGE BUSINESS NEWS - Nedbank chief economist Nicky Weimar on Thursday evening expressed concern over the huge budget deficit that Finance Minister Tito Mboweni is foreseeing for the next three years. She spoke at Nedbank's annual budget discussion at Fancourt.
Weimar said it is worrying that Treasury's efforts to bring the deficit under control have "constantly failed miserably". She welcomed the minister's intention to reduce the civil service wage bill over the next three years, but said it remains a very risky scenario.
"You're running a very big deficit for two years before you start moving in the right direction in the third year."
Cutting the wage bill, which is consuming 40% of total revenue, was all government could do to rein in its rising deficit which is expected to increase to 6,8% in the next two years.
Government's debt burden is set to climb to over 70% of GDP in the next three years, and adding the Eskom factor will take it to well over 80%. "Debt service is the fastest growing item on the budget and the interest alone is R229-billion."
She said by not raising personal income tax rates, Treasury at least showed that it has learnt that tax hikes have had the opposite effect to increasing government income, and together with load shedding, have stifled economic growth.
In cutting the size of the government employee complement, Treasury's biggest enemy will be the unions. "They (Treasury) are setting themselves up for a big fight with unions. If past experience is anything to go by, I would put my money on the unions, and I'll double up." But the civil servant sector is the only one that has not made a sacrifice over the last 10 years, she said.
She urged, however, that the easiest way for government to put the country on the right path is to grow the economy. If the economy grows with only 1%, it can start reversing the deficit, even if the public sector wage bill and taxes are left untouched.
"How do you grow the economy? Lift Eskom's monopoly today. Write it off as an expensive mistake. Open it up. Let whoever has electricity sell to the grid. Don't say Nersa's going to give you a little certificate in four months' time, just do it! You have a crisis!"
She also said the mining charter should be scrapped to encourage investment in that sector.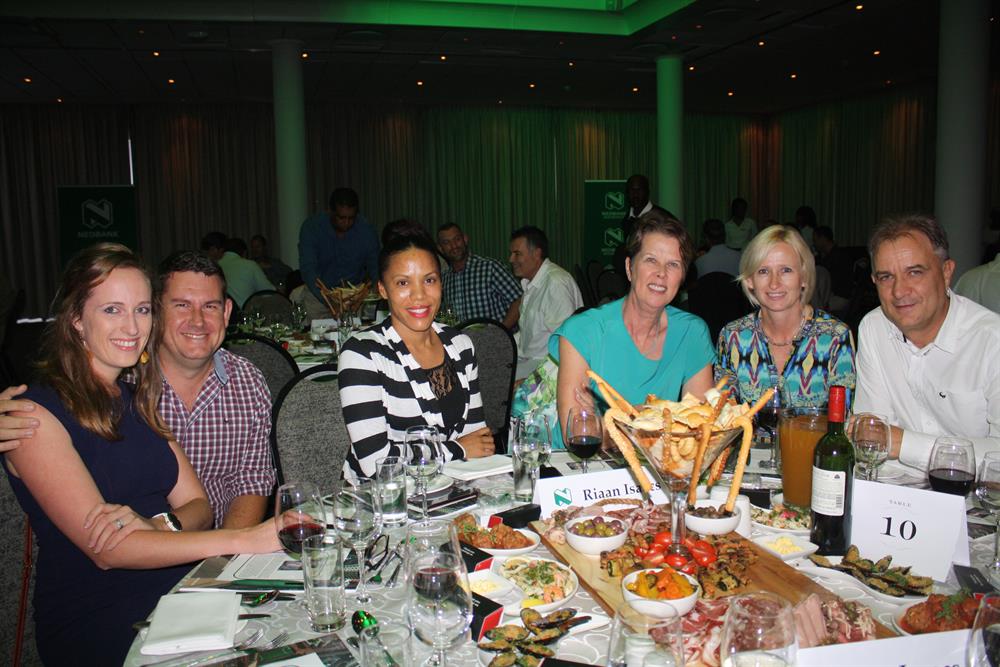 Enjoying the Nedbank budget discussion and a lovely dinner at Fancourt are, from left: Anja Louw (Dough Getters Accounting), Stephanus Louw (Oakhurst Insurance), Lauren Marthinus (Chimes van Wyk Attorneys), Andaleen Chimes (owner of Chimes van Wyk Attorneys), and Chimone Otto and André Swart (both of Stadler and Swart Attorneys).
She referred to accusations of an "investment strike" in the private sector and said that it is unwise to expand operations under these conditions where economic growth is so weak that most companies already sit with significant spare capacity. Futhermore infrastructure, especially electricity supply, is collapsing because of inefficient investment from government.
"We are now stuck in the longest downswing in our recorded history since 1945. I can't soften the blow for you."
Some positive news is President Cyril Ramaphosa's intentions with land reform. In keeping with this, the housing budget is big during this fiscal year but also gets the most over the three budget years.
"The emphasis here is this massive drive of President Ramaphosa to accelerate land reform, specifically using state land. I think that they are trying to calm down the expropriation without compensation debate by actually delivering title deeds using state land."
'We bring you the latest George, Garden Route news'