Advertorial
BUSINESS NEWS - Now that we've entered level 4 lockdown, we can allow ourselves to start dreaming about our next outdoors adventure.
AgriLand is your one-stop agricultural and farming business that offers expert, comprehensive and professional service, with product lines of the highest quality. Our sales people are equipped with good technical product knowledge and our shops provide a shopping paradise for the DIY enthusiast, gardener, builder, housewife and the general public.
AgriLand shops also stock a wide selection of quality outdoor ranges that will make your next camping trip, braai or day at the beach unforgettable!
With over 2 500 outdoor products from leading brands, AgriLand stores' outdoor ranges offer value for money, quality and variety.
One of the more exclusive brands that AgriLand stocks is Kaufmann Outdoor, which has been supplying quality camping chairs and outdoor accessories to the South African market since 1995. The brand is famous for its sturdy and innovative range of camping chairs, that can all take a maximum static load weight of 150kg. (The Kaufmann Titan range can take up to 250kg!) The Kaufmann brand enjoys a strong and loyal following with the South African camping, caravan and 4 x 4 community, who value quality produced products that last in the outdoors.
In recent years, the Kaufmann Outdoor range has expanded to include more quality-built product ranges also carrying Kaufmann's assurance: BUILT for ADVENTURE.
Other product ranges on offer include: braai grids and accessories, flasks, gazebos, flashlights and headlights and outdoor cooking gear. (Follow Kaufmann Outdoor on Facebook, Instagram or visit our website on www.kaufmannoutdoor.co.za)
AgriLand branches stock over 2 500 outdoor adventure products from leading brands.
Are you built for adventure?
AgriLand SSK and Kaufmann Outdoor have teamed up to bring SSK AgriLand customers a chance to win one of 10 double tickets to experience the new Mossel Bay Zipline. All you need to do is purchase Kaufmann Outdoor products to the value of R250 or more, write your details on the back of your till slip, and place your entry in the entry boxes provided at participating SSK AgriLand stores.
Both AgriLand and Kaufmann Outdoor are excited to support local adventure and tourism, including the new Mossel Bay Zipline, which is the world's longest over-ocean zipline and guaranteed to get any adventurer's heart beating faster. We cannot think of a better spot for adventurous families to enjoy a bird's eye view of the Garden Route coastline!
AgriLand hopes to welcome you to one of our stores soon for all your outdoor needs (and so much more). Stores are open from 07:30 to 17:00 on Mondays to Fridays and 08:00 to 13:00 on Saturdays.
For more information on your nearest AgriLand SSK store, visit www.ssk.co.za or follow us on Facebook!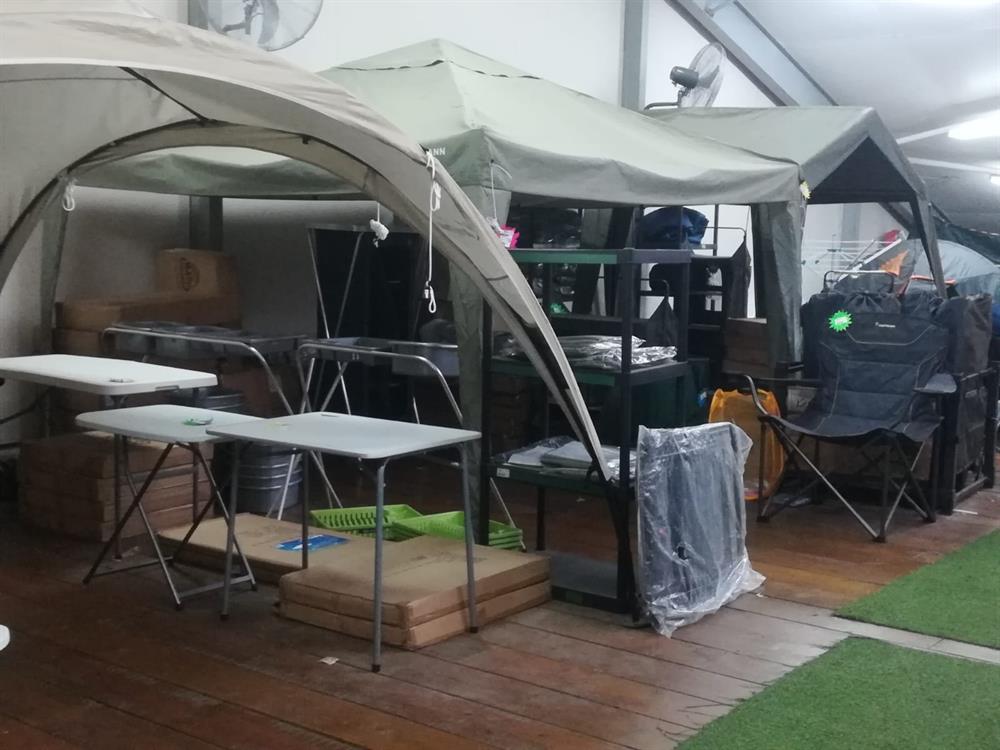 AgriLand can provide top quality camping equipment for all your outdoor needs.
AgriLand stocks a wide range of quality Kaufmann Outdoor chairs.
'We bring you the latest Garden Route, Karoo, Hessequa news'