AGRICULTURE NEWS - Despite the lapse of the Disaster Drought Declaration in June 2020, farmers in the Karoo, Klein Karoo and northern parts of Matzikama are experiencing the 7th consecutive year of the drought.
Western Cape Minister of Agriculture, Dr Ivan Meyer, recently paid an oversight visit to the Central Karoo where he handed over drought vouchers to two farmers, one in Leeu Gamka and the other in Laingsburg.
Meyer also visited the Western Cape Department of Agriculture's (WCDoA) Veterinary Services office in Beaufort West where he was able to interact with local smallholder livestock farmers who benefit from free clinical services offered.

Meyer said the recent WCDoA bi-annual disaster assessment conducted in September and October 2020 showed that the Karoo and the northern parts of Matzikama can still be classified as extremely critical areas. Some recovery in the Klein Karoo moves it from an extremely critical to critical area.
He announced further drought fodder relief to the value of R4 million to 518 farmers in the Central Karoo. He said this will help to protect the veld, lives and livelihoods.
One of the farmers who received relief, Jan du Toit from the Laingsburg area said they are extremely grateful for the support from departmental officials. "The drought has not only affected the farmers themselves, but also the entire farming community which includes agri-workers and their families."
During the visit to the Beaufort West Veterinary Services office, Meyer was able to gain insight into the type of free clinical services being provided to local smallholder livestock farmers. He said teaching local smallholder farmers to brand, tag and administer medicine to their livestock is an essential service being offered by veterinary staff. "This not only empowers smallholder farmers to take better care of their animals but also helps to prevent and combat the outbreak of any potential disease. Healthy animals mean more productive animals and potentially more profit for the smallholder farmer."
Smallholder farmer, David Mgqanti expressed his gratitude for the assistance and said through the hands-on support of the local state vets they are able to take better care of their animals.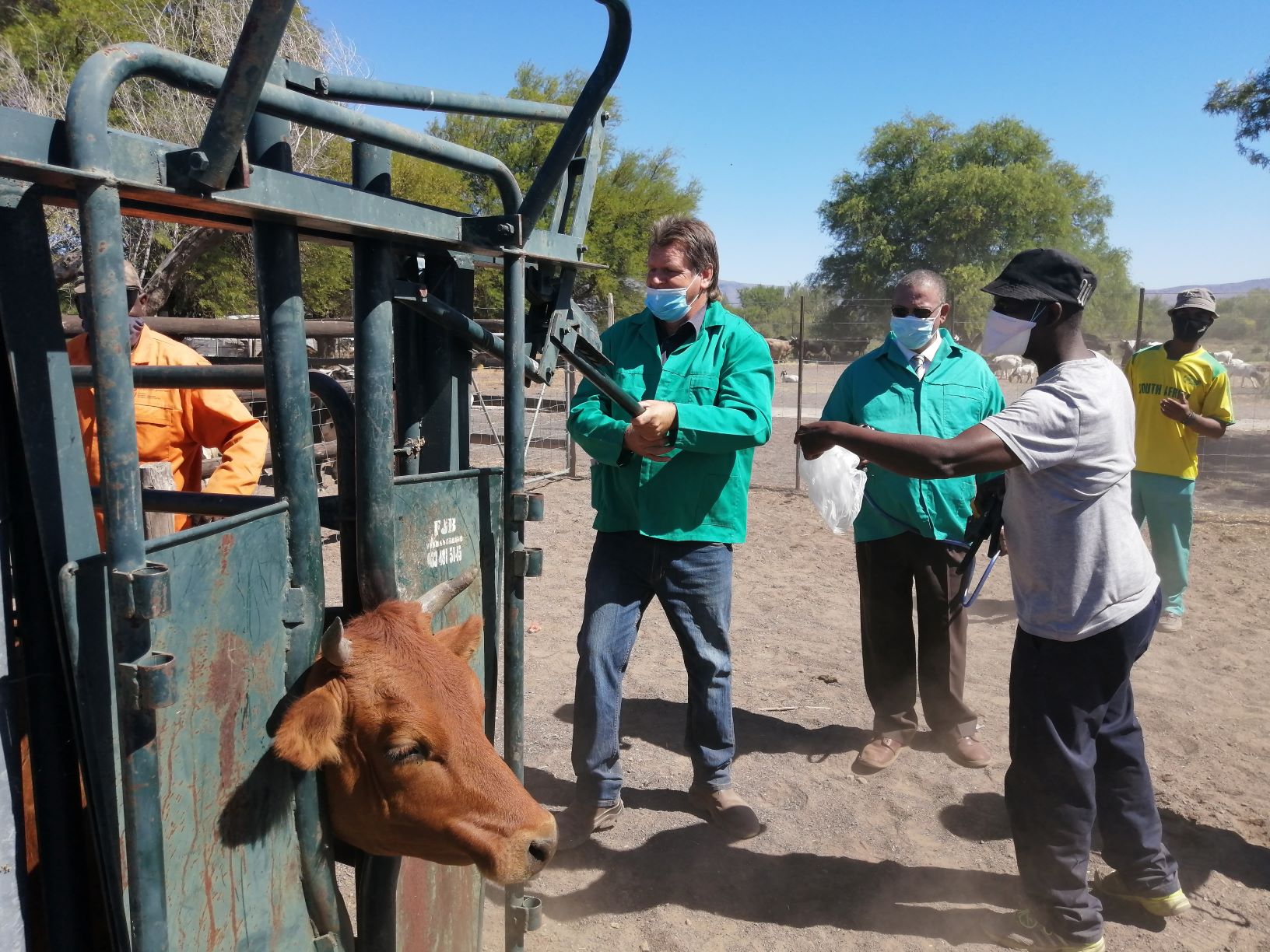 Veterinary technician Anton Barnard with Minister Ivan Meyer and smallholder farmer, David Mgqwanti.
Minister Meyer and Lindi Potgieter with Jan du Toit in Laingsburg.
'We bring you the latest Garden Route, Hessequa, Karoo news'