Gallery
GEORGE NEWS - This year's excellent Wilderness Art Festival on 27, 28 and 29 February had something for everyone.
Carole Durrant, chairperson of the Wilderness Art Association, is extremely pleased with the way in which the festival has grown over the last five years. She tells us more.
Every year we add a little more variety to the programme and the number of artists exhibiting. Some come from as far as Potchefstroom, Cape Town and Kwazulu Natal - 98 artists in 2020 - and this year the quality of art surpassed the standard we have seen until now.
The three main venues involved were the Wilderness Hotel, Palms Garden Square and Milkwood Village and no less than 22 gigs performed over the three days.
The events stared off on Thursday 27 February with two foot and mouth painters, Patrick Botto and Rudy Lombaard who displayed their amazing talent throughout the duration of the festival.
Riana Scheepers and Marlize van den Berg held a talk titled Art from Ashes where they engaged with the public still on a recovery path from the 2017 and 2018 fires in Knysna and Wilderness. Riana discussed her poem, Farleigh, dedicated to the Windvogel family who died when the fire swept through the tiny village in 2018.
We all need an outlet to express pain and art is one of those mediums that offers a journey of release and comfort. Art from Ashes by Marlize is now a documentary to be aired at 19:30 on 1 April on SABC 2.
The extremely talented Anthony Noble always delivers his inspiring live art demonstration with professional aplomb, while renowned artist Hein Botha held an active outdoor workshop for children who used chalk to draw life-sized sea creatures.
Photo gallery: Something for everyone at the Wilderness Art Festival
The Wilderness Art Festival featured a packed programme and enjoyed record attendance. Night of 1000 Drawings, where the public donated A5 artworks to be sold at R100 each, brought in R32 000 for the beneficiary, the Seven Passes Initiative.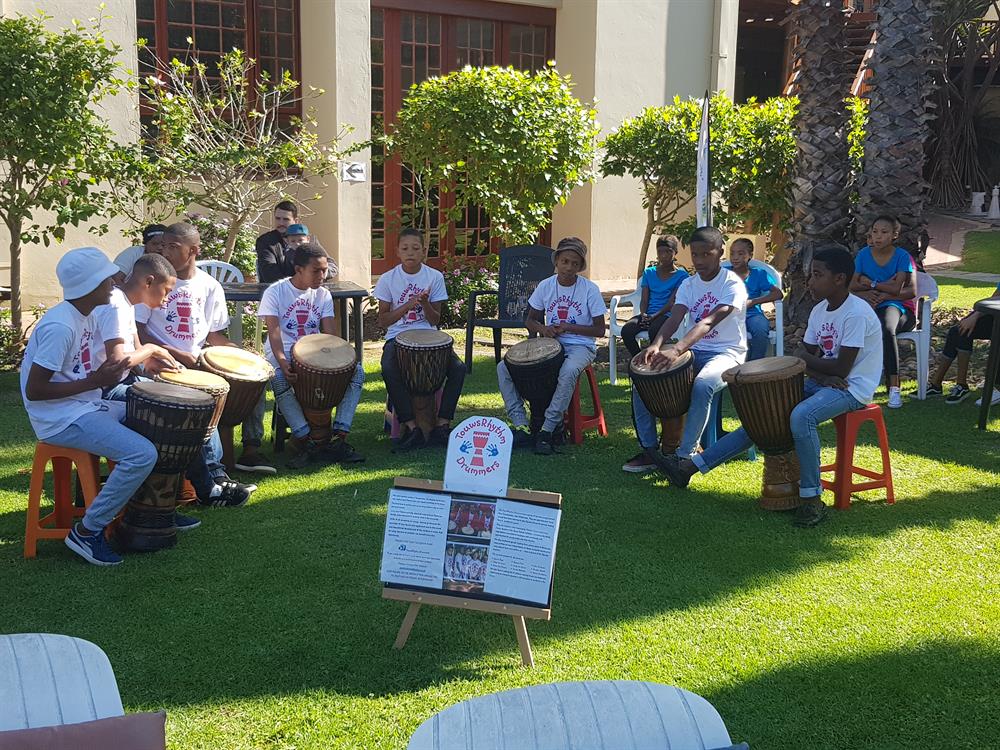 The TouwsRhythm Drummers from Touwsranten impressed with their percussion skills.
A silent auction of a painting done as a group challenge by the Wilderness Art Association and painted at 30 minute intervals, was auctioned at R2 000 and donated to the Kula Malaika Foundation in Hoekwil.
Off-programme was the appearance of Roger Titley's life sized puppet show, Creatures, which paraded through the Wilderness CBD causing quite a stir. We would like to especially thank Roger and Mandy Pelser for organising this amazing gift to our community.
Seven Passes Initiative children delighted the community with a drum majorette march and performance followed by the TouwsRhythm Drummers demonstrating their percussion skills.
Other main events included a demonstration by Kevin van Niekerk, known as the Coffee Artist, who clearly showed why he is intrigued by the effects of coffee stains on canvas.
Freedom Feathers Fashion Show by Kelly Shannon proved to be a very popular event, with the pool area at the Wilderness Hotel packed to capacity.
A chocolate, wine and art pairing by Caroline's Chocolate Haven was the final event which didn't fail to tantalise the taste buds, accompanied by the overwhelming aesthetic complement of art displayed.
The Wilderness Art Festival had record attendance this year and the WAA looks forward to making this an anticipated annual event which will attract visitors and promote tourism in our area.
Knysna Fires by the Coffee Artist, Kevin van Niekerk.
We would especially like to thank our sponsors, which were mainly Wilderness businesses, and I am particularly thankful to our official corporate sponsor, Lynette Khun, owner of Urban Jungle in Wilderness. I could not have done this event without an excellent team: Semona Diener and Sharon du Plessis (curators of the Wilderness Hotel), Biance Ralph (artwork and printing), Nigel Brown (engineer behind the hanging of Night of 1000 Drawings), Carl Durrant (heavy lifting), Hein Botha, Colin Burgess, Karin Combrink (media expert), Rosanne van Niekerk (packing 1000 Drawings), Ian Willis (security) and Beverly Preston.
Thank you for helping us to successfully showcase our artists.
Every year our team is challenged to put together an art festival with a difference! So watch this space…
Also see a letter from Seven Passes Initiative director, Wilmi Dippenaar, on the letters page of this week's George Herald.
'We bring you the latest George, Garden Route news'