GEORGE NEWS - The ambitious filmmaker DeWet du Toit and his twin brother Rudolph, who started their career in George, have turned to crowdfunding to finance their next project - a film titled Tarzan Apocalypse - which is to be partly shot in the Garden Route.
Du Toit started an online crowdfunding campaign on Indiegogo for his next instalment of Tarzan, which will be filmed in Cape Town and in the Garden Route during May.
"Tarzan Apocalypse will serve as a one-hour pilot to place emphasis on the 100-year celebration of Tarzan since 1918," explains Du Toit.
"The aim is to have screenings at various international film festivals as well as Tarzan festivals in the USA."
Du Toit believes that no faithful Tarzan adaptions were made over the past decade. He wants to see a more serious Tarzan film.
"Ever since the Johnny Weissmuller times, Tarzan movies have always been done in comic, family-fun cartoonish ways, with old and clichéd storylines which left viewers unfulfilled. Tarzan has the ability to become a global phenomenon in the same style as superhero movies such as Superman, Spider-man, Batman, Iron Man and Black Panther," he says.
"I am aiming for a possible feature adaptation by Universal Pictures or even a TV series for Netflix or HBO. It's time for a darker, grittier, more serious 'Spartan style' Tarzan film to be produced to reveal the true spirit of Edgar Rice Burroughs.
"My storyline this time is about Tarzan going to the underworld to save his beloved Jane from zombies, vampires and the Reaper of Souls."
History
He says that they will also show the audience for the first time how Tarzan, Lord Greystoke, fought in the Battle of the Argonne during World War 1. This will be the opening sequence of the film, showing Tarzan having a dream about fighting off soldiers and saving his own platoon in the midst of gunfire, tanks and aeroplanes dropping paratroopers.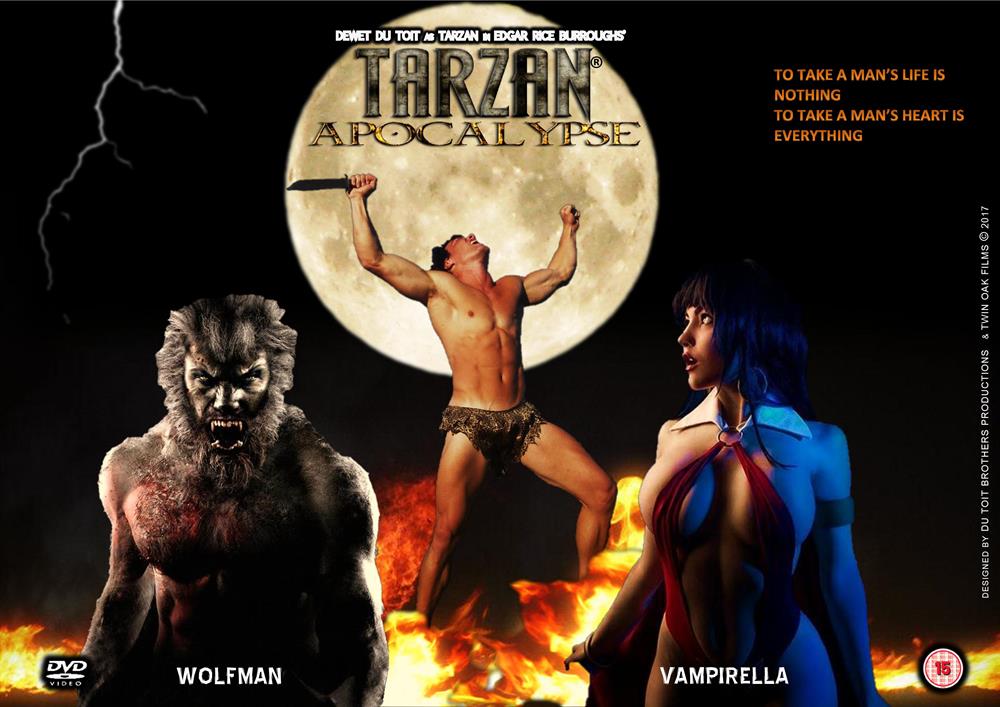 De Wet Du Toit has never shied away from a challenge. This time he is looking for crowdfunding for his latest one-hour movie which will showcase a "darker" Tarzan.
Twin Oak Films
"The film will be produced by our production company, Twin Oak Films, but in order to make this a great success, we need a certain level of funding.
Anyone who is interested in assisting or supporting with this film can visit the website: www.Indiegogo.com and look up the campaign under "Tarzan Apocalypse". There are numerous rewards and prizes up for grabs for contributors."
Who is Du Toit?
According to the website https://www.indiegogo.com/projects/tarzan-apocalypse-zombie#/, "De Wet Du Toit is an actor / writer / producer / director and has made Tarzan short films, trailers and showreels along with his twin brother Rudolph for the past few years (at times using local locations) with almost four million views on YouTube."
His often impossible quests, which include being a megastar, have captured the imagination of the media and earned him interviews around the globe with Netflix and news broadcasters from all over the globe including BBC, SABC and e.tv.
'We bring you the latest George, Garden Route news'