Video
GEORGE NUUS EN VIDEO - Weerklink van 'n Wanklank wat gister op die Oakhurst Insurance George Arts Theatre planke gebring is deur SA se geliefde skrywer aktivis, komediant Pieter-Dirk Uys - raak ligtelik aan dramatiese gebeurtenisse in sy lewe.
Hy het gisteraand (Dinsdag) 'n vlugtige kykie gegee in sy lewe en die atmosfeer in die teater was intiem dog humoristies gehou met sy vertellinge.
Sy moeder was 'n verfynde Duitse-jodin wat dit gewaag het om teen die drakoniese reels van die Nazi regime voort te gaan met haar klassieke klavieroptredes.
Op sy beurt waag Pieter-Dirk dit steeds vir dekades om politici belaglik te laat lyk en die nasie te laat lag terwyl hy die heilige koeie aanpak op spitsvondige wyse in sy alter-ego Evita Bezuidenhout.
Die jong Pieter-Dirk het sy vader aanvanklik gesien as 'n humorlose autokraat.
Gelydelik het hul verhouding verdiep en dit was in latere jare dat Uys senior sy seun die advies gegee het om vloekwoorde te vervang met meer subtiele skerpsinnige vertellinge wat meer geheimsinnig of terughoudend is maar tog die verbeelding aangryp.
Pieter-Dirk vertel duidelik nie alles oor sy lewe in sy 90 minute optrede maar gee sy gehoor tog insigte oor sy beroepskeuses.
Dit was eintlik om die sensorraad se drakoniese reels te omseil dat hy met sy Evita Bezuidenhout tevoorskyn gekom het en sodoende sy eie finansiële oorlewing kon bewerkstellig.
Zuma moet gaan
Tydens 'n onderhoud voor die show het Pieter-Dirk opgemerk dat SA tans op die randjie van 'n afgrond staan.
"Raak van Zuma ontslae, sy klomp vroue het om uitgeput. Gee tog die man amnestie sodat hy in sy Nkandla woning kan gaan aftree."
En oor die gratis universitetisopleiding wat Zuma belowe het - is hy ewe reguit "Zuma is venynig en skroom nie om soveel as moontlik chaos te veroorsaak om die land onregeerbaar te maak/laat vir diegene wat hom opvolg."
Hemel toe
Pieter-Dirk is 'n komplekse man en deur gedurigdeur sy tekst aan te pas soos wat gebeurtenisse ontvou/plaasvind bly hy steeds relevant.
Alhoewel sy "Weerklink" show nie polities van aard was - kon hy nie nalaat om 'n stekie na die ANC te gee deur te sê "Dis deesdae net ANC-lede wat gewaarborg is om reguit helmel toe te gaan."
Voorheen was dit meestal soet, wit kindertjies en lede van die NG-kerk sowel as NG dominees wat daardie waarborg gehad het.
Gryp die gulde geleentheid om hom te sien (in die oorblywende vier shows wat duur van vandag tot Saterdag) in die Oakhurst Insurance George Arts Theatre.
Sy laaste optrede is op Saterdag 17 Februarie in "Evita Bezuidenhout and the Kaktus of Separate" en die kaartjies kan by die teaterkantoor in Yorkstraat (044 874-3142) gekoop word of aanlyn bespreek word op www.georgeartstheatre.co.za.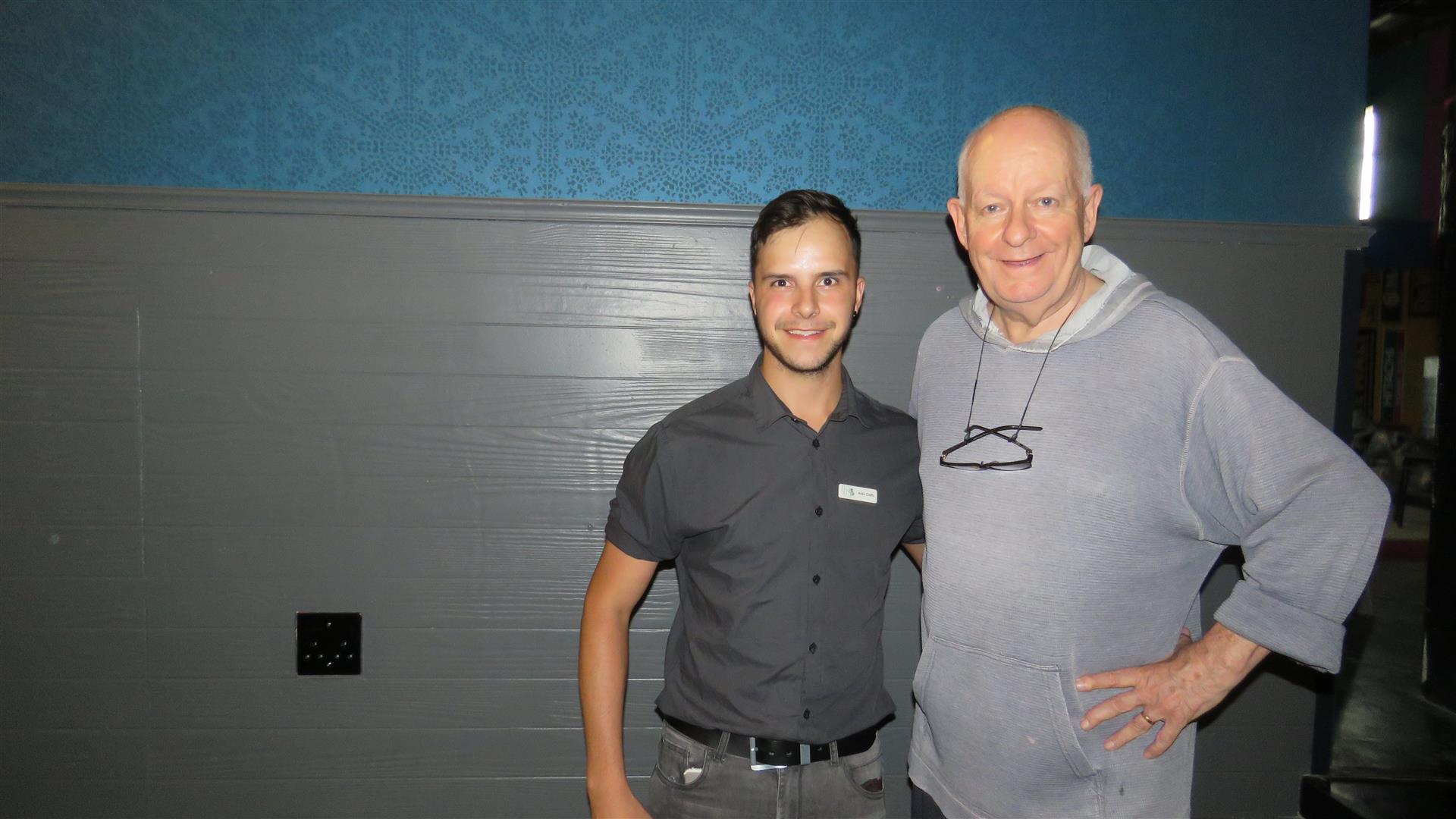 Al is Pieter-Dirk Uys se vertellinge oor sy lewe in Weerklink van 'n Wanklank show ernstig en by tye tragies-komies - hou hy dit in ligte trant om sodoende die gehoor te laat lag met deernis, begrip, nostalgie en selfs aanklank te gee. Aldo Calitz 'n Teater komiteelid het nader kennis gemaak met Pieter-Dirk.
ARTIKEL & FOTO: PAULINE LOURENS, GEORGE HERALD-JOERNALIS
'Ons bring jou die nuutste George, Tuinroete nuus'