GEORGE ENTERTAINMENT NEWS - Ludwig Strydom's sculptures are reflections of movement, silence and rebirth. The story of his life. Ludwig was born on 11 June 1963 in Heidelberg, Gauteng, but grew up in George as the son of the well-known art lover, Matthys Strydom, who founded the legendary Strydom Gallery in 1968 in George.
Needless to say, Ludwig was exposed to art from an early age by both his parents. His mother Helene was an architect and always responsible for the design of the exhibitions at the gallery. Ludwig showed sculpture talent from a very young age, using plasticine clay.
Movement At the age of nine, Ludwig started training in martial arts and in the 1980s, as a young man, he started studying the development of movement in babies and animals with his wife, Noline Ann Strydom, a clinical psychologist, exploring the pattern in DNA to develop movement.
He taught martial arts to children and adults based on the principles of movement which is mirrored in water. He coined the word "Movelution" in 1991 to describe his training methods and used that to practise, analyse and teach the principles of movement.
Rebirth
Ludwig suffered a massive stroke in 1994, which left him paralysed on the right side of his body and with his speech centre destroyed. He had to learn to walk, talk, read and write again. His perception of movement changed a lot; from fighting to rehabilitation.
He used what he learned from personal experience to develop Movelution further and started to teach again.
Redirection
Ludwig had a second stroke in 2002, with further damage to his speech centre. He began painting to help handle the stress levels caused by the difficulty of communicating and scaled down his teaching commitments. He gave away his school to one of his students in 2003 and retired from public teaching.
His uncle, Leon Strydom, suggested in 2006 that he take up sculpting again because of the promise he showed as a child. He began sculpting after he met George Ramagaga, a sculptor, on his parents' farm close to George.
All the knowledge he discovered in the study of movement is now used in his sculpture.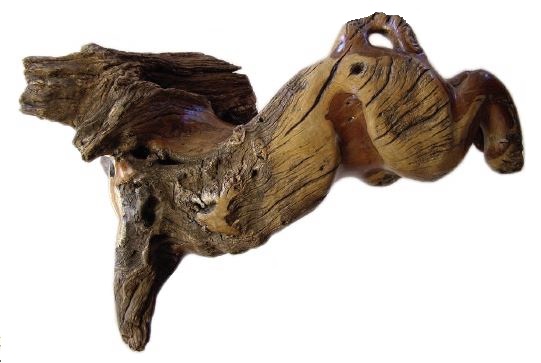 Vortex of play - Wild olive wood
Silence
Ramagaga told Ludwig: "If you spend enough time with the wood; the wood will tell you what it wants to become." Unfortunately, Ramagaga died shortly after Ludwig met him. This advice helped Ludwig to become quiet with the wood, to feel the history of the growth of the tree, told through the grain, until he could feel and see that movement.
He works to expose that movement, revealed in the history of the movement in water in growth of the wood, in his finished sculpture.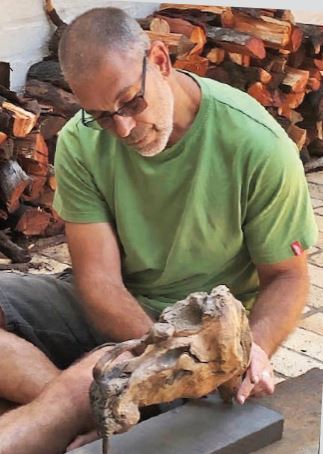 Ludwig Strydom becomes quiet with wood to feel the history of the growth of the tree.
Relocation
Ludwig and his family moved back to his hometown in 2009 to be with his parents, the wood and the silence he was looking for. He was represented at the Strydom Gallery's national exhibitions from 2010 to 2013.
He also had four sculptures at the special exhibition for invited artists with the theme "Out of the Wood" in 2011.
Exhibition
He has converted a section of his house at 26 Caledon Street, George, into a gallery for his Open House Exhibition, where a collection of his sculptures can be viewed. To buy his work, visit the exhibition or his webpage, ludwigstrydom.com.
The exhibition dates are this coming weekend, 29 November to 1 December, and again from 13 to 16 December.
Open times:
Fridays 12:00 - 18:00;
Saturdays 10:00 - 18:00,
Sundays 10:00 - 12:00 and
Monday 16 December 10:00 - 15:00.
If you would like to attend, please reply to nolinestrydom@gmail.com with the date and time.
'We bring you the latest George, Garden Route news'