SOUTHERN CAPE GOLF NEWS - The Southern Cape's Martin Vorster slept on the lead for three straight nights and last Thursday, South Africa's top-ranked amateur finished the job and won the South African Stroke Play Championship by four shots.
Vorster once again showed he is a man for big moments when he secured the national title on 23 under at Randpark Golf Club.
The Mossel Bay golfer opened the tournament with a flawless eight-under-par 64. Following rounds of 65 and 66, he started the final round on the Firethorn Course seven strokes clear of fellow GolfRSA National Squad member Kieron van Wyk and nine ahead of Christiaan Maas and defending champion Casey Jarvis.
He made his third bogey of the week at the opening hole and dropped another shot after a birdie on the par-5 second.
Vorster rallied with a brace of birdies on the fourth and fifth, but surrendered more shots around the turn. Birdies on 11 and 12 stemmed the bleeding and he got it to two-under with a great up-and-down on the par-5 14th. Pars on the last four holes saw him sign off with a two-under 70.
A play-off win in the African Amateur Stroke Play Championship and strong performances in the SA Stroke Play, SA Amateur and the Cape Province Open last year lifted Vorster to 28th in the world amateur golf rankings, but he spent the rest of the season nursing a wrist injury.
The 19-year-old was understandably thrilled to return to the winner's circle in just his fourth competitive start.
"Nothing boosts your confidence like winning tournaments, and I'm going to take a huge amount of self-assurance away from this win. This one is particularly special for me after the wrist setback in April last year," he said.
"I didn't swing a club for five-and-a-half months. I began chipping in October and hitting full shots at the end of November. I wasn't even taking divots yet. My first tournament was the Knysna Open in December and I only started going to the driving range for the first time in January."
The Southern Cape's Martin Vorster went wire-to-wire on the Firethorn Course at Randpark Golf Club to lift the South African Stroke Play Championship title by four shots on 23-under-par 265. Photo: Ernest Blignault
He played some provincial events in January to get back into competitive mode and following a tie for sixth in the Free State Open and a fourth place finish in the Gauteng North Open, Vorster rose to the number one spot in the GolfRSA Open Amateur rankings and 29th in the world rankings.
"I still had low expectations going into this week," he said. "The SA Stroke Play is one of our two flagship events. It's been on my bucket list as far back as I can remember. I didn't know how my game would hold up under pressure. I hit the ball unbelievably well on the first two days and I putted really well. I guess in a way the wrist injury was a blessing, because all I could do was putt and my putting really saved me today."
On the ninth, Vorster thought he had hit a great drive, but it ended up out of bounds. "I aimed for the flag on the left, but it went too far left, bounced on the car path twice and ended up out of bounds near the halfway house. I dropped 10 but made a three-metre putt for birdie on 11 that got me going again.
"The rest of the round was a mixed bag. I hit some good shots and some shocking ones, but the putter stayed hot. I am really, really pleased that I pulled it off. This is an unbelievable win and I owe it to my team who got me here… my coach Cliff Barnard, my biokinetic Garth Milne, my physiotherapist Elsa van Heerden, who handled my rehabilitation, and of course, my parents."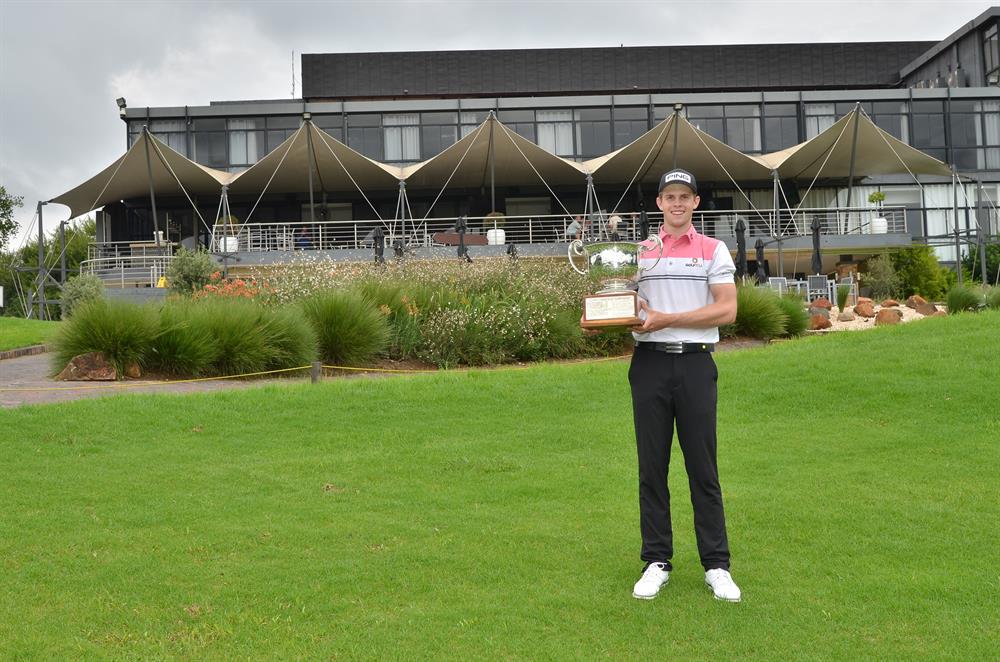 The Southern Cape's Martin Vorster went wire-to-wire on the Firethorn Course at Randpark Golf Club to lift the South African Stroke Play Championship title by four shots on 23-under-par 265. Photo: Ernest Blignault
The Louis Oosthuizen Golf Academy graduate was also full of praise for Ayden Senger, his former Toyota Junior Golf World Cup teammate and travel partner for the South African Swing, who did bag duty on the last two days.
"Ayden was a rock. I asked him to take the bag after he missed the cut. I'm so grateful he said yes, because he really came through for me. He kept me calm and watered and gave me great lines.
"Now I am excited to defend next week. It's going to be strange not playing the African Amateur at Leopard Creek, but Glendower is a great course. It's challenging and I think it's going to turn into a real battle for the title."
Jordan Duminy, also from the Southern Cape, shared 13th position with three other players after playing rounds of 69, 70, 71 and 76.
'We bring you the latest Garden Route, Hessequa, Karoo news'