GOLF NEWS - Team South Africa stormed through the half-gap given them by Team South Africa Juniors on Wednesday to race to a five-stroke victory in the Team Competition of the Africa Amateur Stroke Play Championship being played at Leopard Creek Country Club.
Together with England, Kyle de Beer's men – Martin Vorster, Casey Jarvis and Samuel Simpson – were staring down the barrel of an eight-point deficit on the SA Juniors after 36 holes.
Then, the player of the tournament up to that point, Ryan van Velzen stumbled with a sextuple-bogey six on the seventh and the pressure was on.
On a tough day – tight pin positions, tees set back and a swirling, gusting wind up to 30 km per hour making club selection something of a lottery – Jarvis and Simpson made experience and skills count with a pair of two-under-par 70s.
Theirs were two of the best rounds of the day, and taken in conjunction with Vorster's four-over 76, they exploited the opportunity with relish as the best of the SA Juniors was Jordan Duminy's two-over 74.
Van Velzen slumped to 11-over 83, but such was his dominance in the opening two rounds that he still shared the 54-hole lead in the individual 72-hole tournament with Vorster at three-under-par.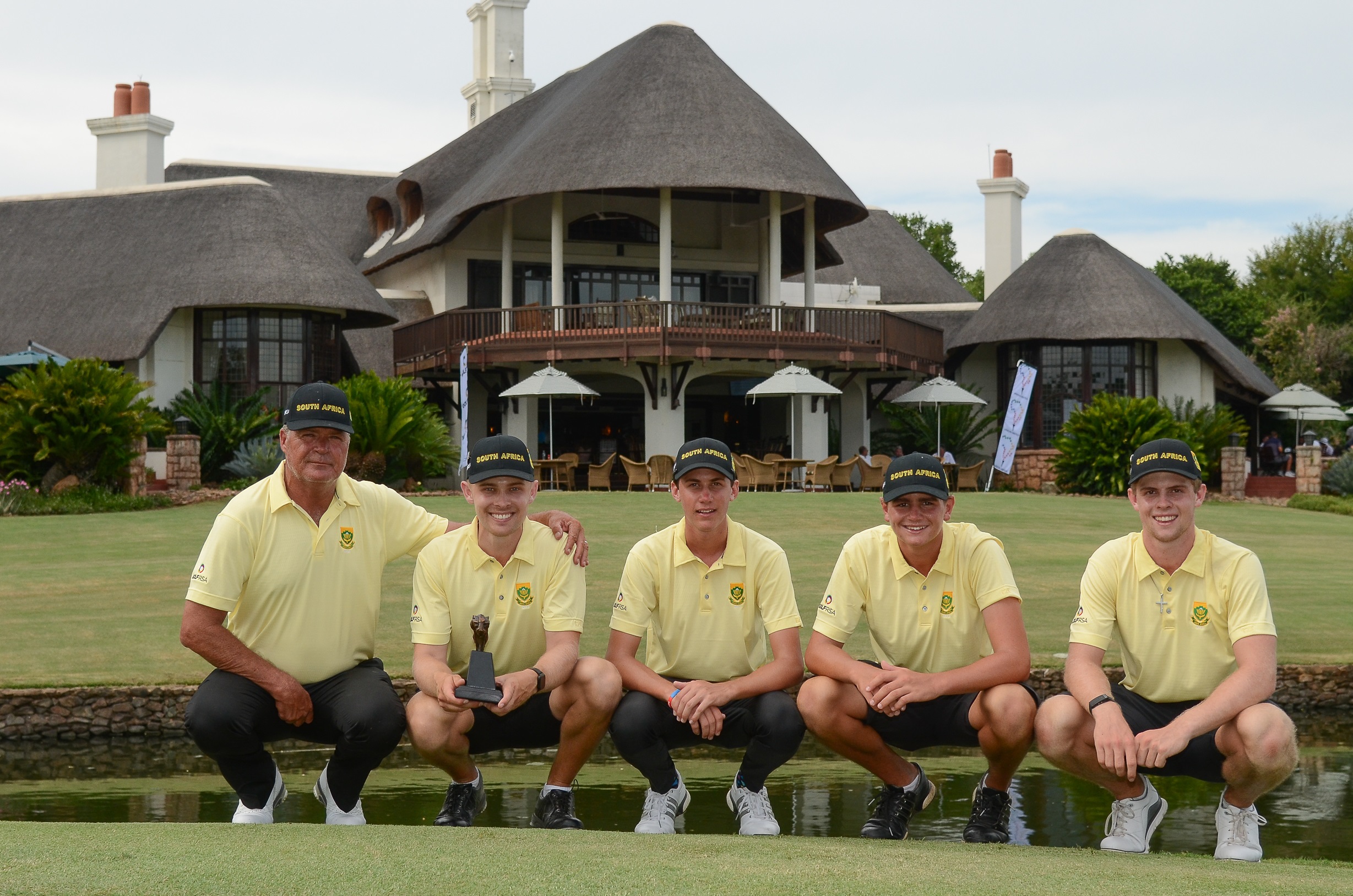 Team South Africa's Kyle de Beer (captain), Martin Vorster, Casey Jarvis and Sam Simpson combined for rounds of 216, 212 and 212 to celebrate a five-stroke victory in the Team Competition at the African Amateur Stroke Play Championship at Leopard Creek; credit Ernest Blignault.
The pair holds a two-stroke edge over reigning Amateur Champion James Sugrue of Ireland, who endured woes of his own in the third round with a triple-bogey six on the 16th setting back his charge for the lead.
Team South Africa's final round 212 took them to a winning total of 640, with the SA Juniors on 645.
Team Ireland was able to edge ahead of England for third place in the team contest thanks to Sugrue, Tom McKibbin – who was impressive in his third round at one-over 73, and Caolan Rafferty, whose one-under 71 included an unlikely hole-in-one at the par three 12th.
Rafferty's second ace of his career in tournament play came from a pitching wedge from 145 yards.
"I got the yardage, picked a club, and tried to hit a shot," he said. "It was one of those funny ones. I didn't really catch it and turned away in a bit of disgust. As I was turning back, I heard my playing partner telling it to go in, and I was like, 'Sorry, that can't be right!' And as I turned round, it just disappeared!"
It was a bright spot in his round and helped him to one of just seven under-par totals on the day. He made the ace, two birdies, a bogey and a double-bogey for a scorecard that looked relatively clean compared to some.
Van Velzen was cruising along at level par after the sixth and then simply imploded. "I was playing nicely up until then," he said. "I tried to go for the flag, and just came out of it and blocked it right in the water. I dropped one and goofed it in the water again; dropped another and hit it in the water again; knocked it on and two-putted.
"That just rattled me for the rest of the round. I didn't really know what was going to come when I hit it. It was like a lucky packet," he laughed.
Voster also found conditions tough, but he kept himself in the game as he made three birdies in eight holes coming home to offset the three bogeys and two doubles. "It was a grind today," he said. "I actually hit the ball pretty well, but some shots just didn't go my way and I ended up making doubles. In the conditions, I'm happy with the way I actually played."
Like many of the overseas players, Sugrue found conditions made playing well difficult.
"It was also extremely warm," he remarked after his round of six-over 78. "The course was playing very tough and there were some very cheeky pin positions. Probably not as tough as my score suggests, because I didn't play great. Birdies were hard to come by, and I only made one today compared to about eight yesterday."
Jarvis is one stroke behind Sugrue in fourth going into the final round, and Simpson shared fifth with Great Britain's Olly Huggins who carded a level-par 72, Rafferty and Duminy.
For Team South Africa, though, it's 'job done'.
"I'm very proud of the boys," said captain De Beer, who was a last-minute call-up after former number one Jayden Schaper joined the paid ranks at the Sunshine Tour's Limpopo Championship.
"We overcame a huge deficit and we were quite dominant in the team side of things today. It's a tough stretch to finish on that back nine, because conditions were so tough and that makes the win that much more special."
Round Three Scores
213 Martin Vorster 70 67 76; Ryan van Velzen 64 66 83
215 James Sugrue IRL 69 68 78
216 Casey Jarvis 72 74 70
217 Samuel Simpson 76 71 70; Olly Huggins GBR 76 69 72; Caolan Rafferty IRL 74 72 71; Jordan Duminy 69 74 74
218 Haider Hussain ENG 70 71 77
219 Yurav Premlall 72 75 72; Gustav Andersson SWE 70 76 73
220 Keagan Thomas 78 72 70; Gregory Mckay 72 71 77
221 Tom Mckibbin IRL 75 73 73; Tom Vaillant FRA 75 72 74; Connor Wilson SCO 73 68 80; Liam van Deventer 71 69 81; Christo Lamprecht Jnr 67 71 83
222 Altin van der Merwe 73 75 74; Rigardt Albertse 71 71 80
223 James Wilson SCO 77 71 75; Joseph Long GBR 74 68 81; Algot Kleen SWE 68 74 81
224 Peter Handcock GBR 75 74 75; Luca Filippi 75 71 78; Kyle de Beer 74 78 72; Lewis Irvine SCO 74 73 77; Matthew Mcclean IRL 72 82 70; Robin Williams GBR 70 70 84
225 Tyran Snyders 78 77 70; Jake Bolton ENG 75 73 77; Martin Couvra FRA 75 72 78; Siyanda Mwandla 74 76 75
226 Andrew Williamson 76 77 73; Nicolas Muller FRA 75 77 74; Adam Wallin SWE 72 73 81
227 Ayden Senger 78 72 77; Aurelien Douce FRA 73 76 78
228 Hugo Thyr SWE 79 71 78; Sam Bairstow ENG 79 71 78; Christiaan Maas 77 70 81; Therion Nel 75 79 74
229 Robert Brazill IRL 84 72 73; Wilmer Edero SWE 80 74 75; Nikhil Gopal 73 74 82
230 Stuart Easton SCO 76 79 75; Drikus Joubert 75 77 78; Nikhil Rama 73 76 81
231 Jordan Burnand 79 77 75; Darren Howie SCO 77 73 81; Hugo Archer FRA 75 79 77; Pierre Pellegrin 74 76 81
232 Keith Egan IRL 81 80 71; Elliot Anger FRA 76 78 78; James Biggs ENG 75 77 80
233 Christiaan Burke 82 71 80; Rowan Lester IRL 79 72 82; Rasmus Jonasson SWE 77 78 78
234 Francois van der Walt 80 73 81; Lucas Abrial FRA 77 78 79
235 Oswin Schlenkrich 82 79 74; Oliver Goldhill 75 81 79; Jay Pandya IND 74 81 80; Theo Boulet FRA 73 77 85
236 Stephen Roger SCO 78 78 80; Aneurin Gounden 75 83 78
238 Gregg Gilson 84 81 73; Daniel Nduva 81 78 79; Joe Harvey GBR 77 79 82
241 Rohan Dholepatil IND 83 76 82
242 Rasheed Mohamed ZIM 83 82 77; Luhan Bester 82 77 83; Rakesh Channoo MRI 79 77 86
244 Oliver Brown 83 74 87
245 Anirudh Kamireddypalli IND 84 79 82
246 Tiarnan McLarnon IRL 75 77 94
250 Promise Sombrero ZIM 85 79 86; Morton Kombai 81 85 84
252 Graeme Derek Lewis 87 80 85; Mandla Dlamini 82 86 84
253 Florent Toulet 80 86 87
261 Dil Thomas 90 87 84
WD Armand van Dyk 75 79; Monty Scowsill ENG
Team Competition Result
Round 3 - Singles: Best 3 scores of 4 to count
640 Team South Africa 216 Martin Vorster 70 Casey Jarvis 72 Kyle de Beer 74; 212 Martin Vorster 67 Samuel Simpson 71 Casey Jarvis 74; 212 Casey Jarvis 70 Samuel Simpson 70 Kyle de Beer 72
645 Team South Africa Juniors 210 Ryan van Velzen 64 Jordan Duminy 69 Christiaan Maas 77; 210 Ryan van Velzen 66 Christiaan Maas 70 Jordan Duminy 74; 225 Tyran Snyders 70 Jordan Duminy 74 Christiaan Maas 81
652 Team Ireland 1 218 James Sugrue 69 Caolan Rafferty 74 Tom Mckibbin 75; 212 James Sugrue 68 Rowan Lester 72 Caolan Rafferty 72; 222 Caolan Rafferty 71 Tom Mckibbin 73 James Sugrue 78
664 Team England 219 Robin Williams 70 Joseph Long 74 Jake Bolton 75; 209 Joseph Long 68 Robin Williams 70 Sam Bairstow 71; 236 Jake Bolton 77 Sam Bairstow 78 Joseph Long 81
668 Team Sweden 1 210 Algot Kleen 68 Gustav Andersson 70 Adam Wallin 72; 223 Adam Wallin 73 Algot Kleen 74 Gustav Andersson 76; 235 Gustav Andersson 73 Algot Kleen 81 Adam Wallin 81
671 Team Ireland 2 228 Matthew Mcclean 72 Tiarnan McLarnon 75 Keith Egan 81; 229 Robert Brazill 72 Tiarnan McLarnon 77 Keith Egan 80; 214 Matthew Mcclean 70 Keith Egan 71 Robert Brazill 73
671 Team Scotland 227 Lewis Irvine 74 Stuart Easton 76 James Wilson 77; 217 James Wilson 71 Lewis Irvine 73 Darren Howie 73; 227 Stuart Easton 75 James Wilson 75 Lewis Irvine 77
678 Team France 1 225 Hugo Archer 75 Nicolas Muller 75 Tom Vaillant 75; 228 Tom Vaillant 72 Nicolas Muller 77 Hugo Archer 79; 225 Nicolas Muller 74 Tom Vaillant 74 Hugo Archer 77
690 Team Sweden 2 236 Rasmus Jonasson 77 Hugo Thyr 79 Wilmer Edero 80; 223 Hugo Thyr 71 Wilmer Edero 74 Rasmus Jonasson 78; 231 Wilmer Edero 75 Hugo Thyr 78 Rasmus Jonasson 78
692 Team France 2 224 Theo Boulet 73 Martin Couvra 75 Elliot Anger 76; 227 Martin Couvra 72 Theo Boulet 77 Elliot Anger 78; 241 Martin Couvra 78 Elliot Anger 78 Theo Boulet 85
721 Team India 241 Jay Pandya 74 Rohan Dholepatil 83 Anirudh Kamireddypalli 84; 236 Rohan Dholepatil 76 Anirudh Kamireddypalli 79 Jay Pandya 81; 244 Jay Pandya 80 Rohan Dholepatil 82 Anirudh Kamireddypalli 82
723 Team Mauritius 233 Pierre Pellegrin 74 Rakesh Channoo 79 Florent Toulet 80; 239 Pierre Pellegrin 76 Rakesh Channoo 77 Florent Toulet 86; 251 Pierre Pellegrin 81 Dil Thomas 84 Rakesh Channoo 86
736 Team Zimbabwe 249 Morton Kombai 81 Rasheed Mohamed 83 Promise Sombrero 85; 241 Promise Sombrero 79 Graeme Derek Lewis 80 Rasheed Mohamed 82; 246 Rasheed Mohamed 77 Morton Kombai 84 Graeme Derek Lewis 85