ATHLETICS NEWS - To run two hundred seconds or faster will be the South African 4x400m mixed relay team's challenge when they compete over the weekend at the World Relay Championships in Silesia, Poland.
Basically, it means the South Africans need to contest the final on Sunday. If they do, it will be a top-eight finish. It is what is required to qualify for the Tokyo Olympic Games. In theory, it means running a time of 3 minutes and 20 seconds.
Tuks's Marlie Viljoen, one of the female athletes in the mixed relay team, sees it as giving 100% from the starters' gun right up to the very end.
According to her, running 400 metres flat out is synonymous with pain, but there can't be any thoughts of giving up. The brain will have to overrule the body, especially this weekend.
This season Viljoen at long last achieved the breakthrough she had been working towards. That is running a time faster than 54 seconds. During the Gauteng North Championships, she ran 53.69s. At the national championships, she clocked 53.88s.
"I can't believe it has taken me nearly three years to dip under 54 seconds. It was like I had a mental block. It did not matter how hard I trained; it did not seem like I got any faster. The Covid pandemic was sort of a blessing in disguise. It gave me and my coach, Ilze Wicksell, the opportunity to start from scratch again.
"When I did break 54 seconds, it was like wow, that is not so difficult. I have made a mental switch-not being scared of the 400 metres. I just run. I know I can run faster times," she explained how she achieved the big goal.
The South African 400 metres champion, Dalene Mpiti, is also part of the mixed relay team. She can't wait to race, especially since it is the first time she represents South Africa.
The Tuks-athlete is definitely this season's revelation. In 2020 her best 400-metre time was 57.26s. Last year she did not really race due to personal issues. In March, she exploded on the South African athletics scene running 52.67s in Potchefstroom. She won her first-ever national title, running 52.78s.
According to her, running at speed is a calling.
"Ever since I can remember, I had been running. Not always as fast as I had wished. To me, running is a way in which I can express myself. That fifty or so seconds when I race is when I truly feel alive. That is the real Dalene Mpiti," she remarked.
She credits Thando Dlodlo, her boyfriend, as a role model. Dlodlo is part of the SA 4x100m-relay team.
"Seeing how hard Thando trains and how motivated he is to be faster has changed the way I think athletics. But Thando has been more than just an inspiration on the track. He has changed my life. He helped me to become a better person," Mpiti commented.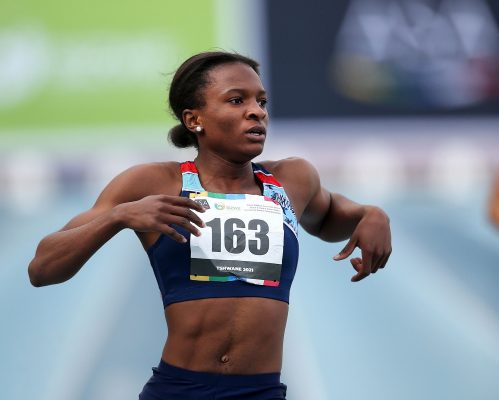 Dalene Mpiti, is also part of the mixed relay team. Photo: Reg Caldecott
The South African 4x400m-relay team is Simon Khuzwayo, Ranti Dikgale, Taylon Bieldt, Marli Viljoen and Deleen Mpiti.
The South African 4x100m-relay team is Akani Simbine, Gift Leotlela, Clarence Munyai, Thando Dlodlo and Emile Erasmus.
The South African 4x400m relay team is Lythe Pillay, Berend Koekemoer, Zakithi Nene, Oscar Mavundla and Ranti Dikgale.