NATIONAL NEWS - International swimming champion Minke Janse van Rensburg (15) from George and other top South African Down syndrome athletes are being denied the chance to defend their titles at the world championship Trisome Games at the end of March.
This, regardless of their families offering to pay the defaulting sport body's debt, as well as raise funds to sponsor diverse South African teams to compete in the event regarded as the "Olympic Games" for athletes with Down syndrome.
All of this was to no avail, as Minke and her co-athletes will be staying home when the Down Syndrome International Swimming Organisation (DSISO) Trisome Games in Turkey takes place from 31 March to 7 April.
The South African Sports Association for the Intellectually Impaired (Sasa-II) is up to its neck in debt, and refusing to send any teams overseas. No national teams have been elected and individual entries are not allowed. Sasa-II is officially affiliated to DSISO.
DSISO technical director Carla Cardoso said the organisation does not allow registration of independent swimmers and no exceptions can be made. "I suggest that the country organise itself and take only the [national] swimming team."
The families started raising funds in February last year to sponsor about 70 athletes - most who come from previously disadvantaged backgrounds - to compete in Turkey. The families were prepared to also pay the outstanding affiliation fees of all the sport codes - approximately R50 000.
Minke's dad, Hennie says he understands that the athletes couldn't compete in the Global Games last year due to the immense debt, but that the Trisome Games is another matter. "It was completely within our means to cover the costs and settle the debt to enable us to take part. The debt to the international Down syndrome body is a fraction of the R950 000 total debt load that Sasa-II president Ronnie Mohlabi claims is outstanding."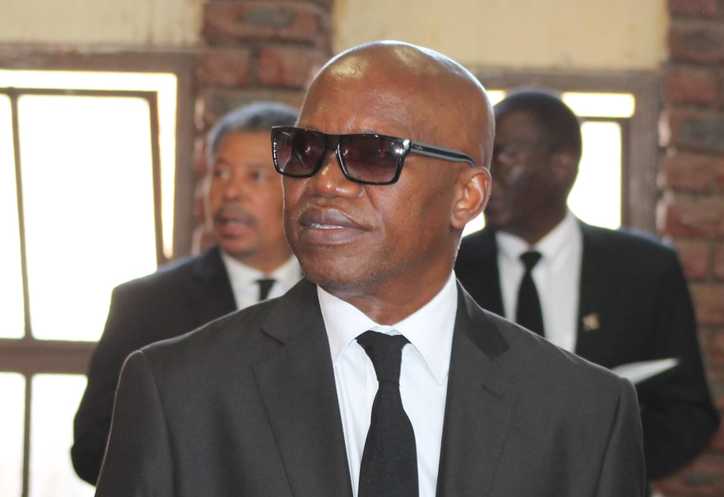 Sasa-II president Ronnie MohlabiHaves and have-nots
But, Sasa-II is refusing to enter a privately funded national team. Mohlabi said the sport body is not in favour of self-funding, as it is not in the best interest of Sasa-II that only the "haves" participate internationally, to the exclusion of the "previously disadvantaged".
MP Heloise Jordaan said, "It is absurd that international-quality athletes are treated in such an inferior way - not only by the body that is supposed to promote their best interests, but also by the department of sport who boasts their so-called inclusiveness on every conceivable occasion."
Ironically, teenage swimming star Minke attended the budget speech of the Minister of Sport, Nati Mthethwa, in parliament last year as a guest of honour, where she also said a few words.
According to Jordaan, Mthethwa pledged to do everything to ensure that disabled athletes shine on the international stage.
Mohlabi told George Herald on Tuesday that Sasa-II is not interested in international participation until they have fixed their debt crisis. "We are suspended and we don't have money. We won't promise anyone anything until we are in a position to move forward." A meeting held in January with the department did nothing to change the situation. "We created this problem and we have to see how we can get out of it," Mohlabi said.
Feedback from the department is being awaited.
Minke is practising daily with her coach Sybeth Hughes and according to Hennie, still hopes to sing the national anthem on a podium at an international event.

Tirade
In a letter to affiliated sport bodies in January this year, Mohlabi lashed out against "some faceless pressure groups [that] are out to vilify us and attempt to circumvent both the suspension and our resolution by raising own funds and demanding to participate internationally in our name". He called such action unethical and contrary to the decision taken by the sport body's council in September last year, which is to suspend all international participation while dealing with outstanding debt.
Mohlabi said the sport body's debt was incurred long before the current committee took over the administration. "The situation dictates that we can only focus on what we can do. Currently we are working towards the Summer Games in March, in Kuils River, and the SA Age Group Games in Mpumalanga, in September. The national lottery is our main supporter for international participation. It is up to them whether they will pay money for loans or debt, but it is highly unlikely."
Apparently R500 000 of the Sasa-II debt was incurred by the SA soccer team - the current world champs - during an overseas trips to Brazil in 2014 and a planned trip to Sweden in 2018 that was cancelled at short notice. The penalty fee was R200 000.
Mohlabi said the only way out of the debt is through sponsorship and fundraising. Exactly what the parents claim they have been doing to move forward.
PREVIOUS ARTICLES:
'We bring you the latest Garden Route, Karoo, Hessequa news'