It is, of course, a different story in Europe where the van has been the commercial vehicle of choice for building the Old Continent, where the need for a closed loading area and traversing many kilometres across several countries rates as the main priority.
Moving South Africa
In spite of this, it still makes for interesting reading to note that Mercedes-Benz has identified South Africa as holding the largest market share of Sprinter sales in the world since this model replaced the TN range in 1995. With global sales of some 3.4-million units, the three-pointed star has now made the third generation Sprinter available just over a year after debuting it to the world in Amsterdam.
More choice, 100% Benz
The result of a R41.1-billion investment into its Düsseldorf Plant in Germany, the Sprinter comes as a direct response to the equally new Volkswagen Crafter unveiled last year, after the ending of Stuttgart's joint venture with Wolfsburg that started in 1996. Sporting a completely revised front facia and in a number of body styles such a single or double chassis cab, panel van and Inkanyezi taxi, the Sprinter also ushers in a range of new features, as well as a 3.49-ton model that only requires a Code 8 licence.
Tech and safety focused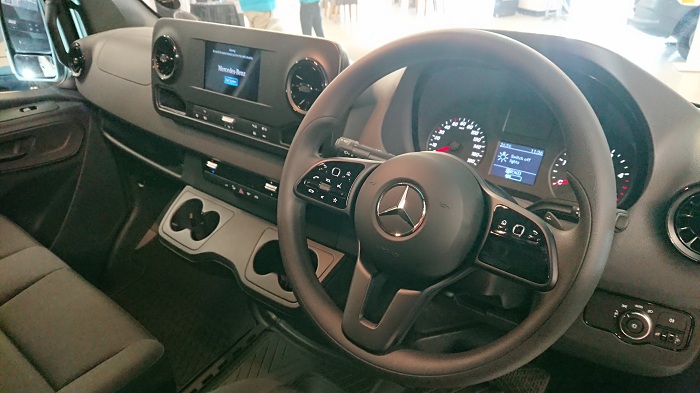 Able to carry up to 15.5 cubic metres for cargo in van form with a Gross Vehicle Mass (GVM) of 5.5 tons, the Sprinter's unique talents come inside where it becomes the latest model to benefit from Benz's MBUX infotainment system that first debut on the A-class.
Offered as an option on the lower-spec model and fitted as standard on more premium variants, the system comes in two flavours; a seven-inch resplendent with Bluetooth and satellite navigation, and the bigger 10.25-inch setup that can be optionally equipped with Traffic Sign Assist.
With the aim of blending comfort with up-to-date tech, the Sprinter's assortment of features further includes a multifunction steering wheel, a number of USB ports located within the storage areas integrated into the dashboard, the optional Tempmatic semi-automatic climate control system, a wireless smartphone charger, folding electric mirrors and new seats finished in optional Artico man-made leather.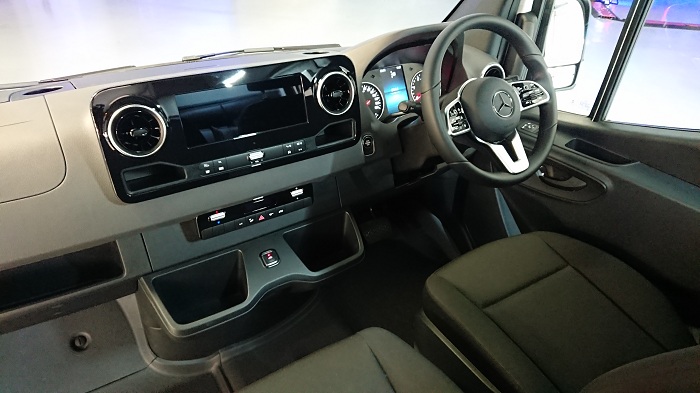 It is however on the safety front where the biggest changes have taken place. Again depending on the model, the Sprinter can be outfitted with items such as a reverse camera or an option 360 degree setup when fitted with MBUX, Blind Spot Assist, dual sliding electric doors, Active Lane Keeping Assist, Rear Cross Traffic Alert, Active Brake Assist, the innovative Wet Wiper system that integrates the washer jets in the wiper blades themselves, and Active Distance Assist Distronic that will automatically apply the brakes and speed back-up depending on the movement of the vehicle in front.
Reputable punch
Providing motivation, Mercedes-Benz entrusted the Sprinter with its OM 651 turbodiesel engine that displaces 2.1-litres, and which comes in two outputs; 84 kW and 300 N.m in models carrying the 311 designation, and 120 kW and 380 N.m in versions badged 316/516. At the sharp end, the 319/519 is outfitted with the stalwart 3.0-litre OM 642 V6 that punches out 140 kW and 440 N.m of torque.
On all models, the Sprinter teams its respective motor with a six-speed manual gearbox, though with the exception of the 311, buyers can opt for the 7G Tronic automatic gearbox as an option (R28 525), as well as all-wheel drive on select 319/519 models.
Sprinting along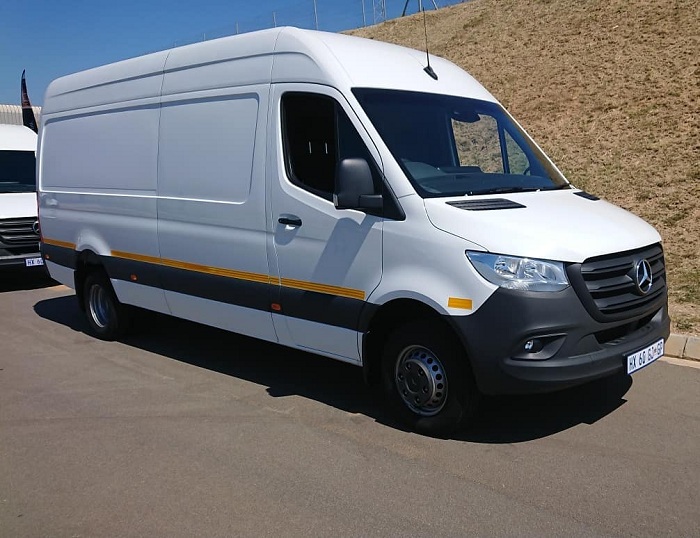 With the local media launch taking place at the Kyalami Grand Prix circuit, it proved a unique opportunity to put the Sprinter through its paces in a controlled environment seeing as the majority of variants require a Code 10 licence.
Though hardly track material, the Sprinter's array of safety systems took centre stage on both the wetted skidpan and heading up towards Kyalami's famous shelf, where it proved surprisingly stable despite being nearly three metres highway in its highest roof configuration, and stopping with little fade in spite of the brakes being tested to the limit.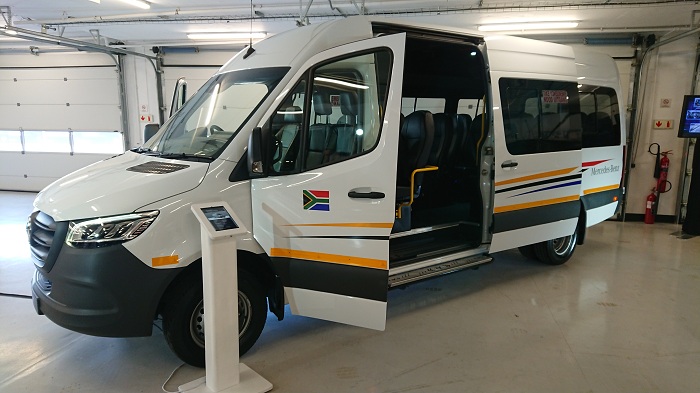 A slalom course up and down the daunting Mineshaft, as well as a trailer test, also didn't ruffle the Sprinter, though, and as per commercial vehicle requirements, the limited top speed of 100 km/h proved annoying given the willingness of the engines when taken around the track for a one-lap blast.
Verdict
A proven and reputable track record over its 24 years in production has gone a long way in solidifying the Mercedes-Benz Sprinter as a local favourite that has proved hard to beat. Now with its expansive range of new features and with up to 600 different configurations available, it only stands to reason that there is a Sprinter for each and every one.
Pricing
Freight Carrier
316 CDI - R461 783
316 CDI LWB - R519 484
519 CDI - R575 993
519 CDI Double Cab - R609 772
519 CDI AWD - R762 462
519 CDI Double Cab AWD - R788 650
Panel Van
311 CDI - R501 448
311 CDI 3.49t - R538 595
316 CDI - R544 257
316 CDI LWB - R589 355
319 CDI - R647 277
319 CDI LWB AWD - R769 308
516 CDI - R621 238
516 CDI XL - R636 951
519 CDI - R676 726
519 CDI XL - R702 276
519 CDI XL 5.5t - R725 407
519 CDI AWD - R815 925