GEORGE NEWS - The Department of Education has warned matriculants against bogus, unregistered tertiary institutions, stressing that potential students should verify that the private college, the programme they offer and the site or branch at which the programme is offered, are accredited with the Quality Council (QC) and/or the Sector Education and Training Authority (Seta) and/or the Quality Council for Trades and Occupations (QCTO).
A number of vulnerable youths have been ripped off, paying for and doing courses - only to find that the certificates they receive from these colleges is not worth the paper it is written on.
The Minister of Higher Education, Science and Technology, Dr Blade Nzimande, warns students and parents to be careful of illegal or fly-by-night colleges. He says these institutions lure and mislead future students into believing that they offer qualifications that are recognised by the South African Qualifications Authority (Saqa).
"These illegal colleges offer compromised qualifications which are not recognised for employment purposes or for further studying."
The department has had a degree of success in shutting down illegal operators. "The number of colleges that are operating illegally has decreased due to our monitoring awareness campaigns and our collaboration with both print and electronic media," said Nzimande.
However, whilst the department may be hard at work in eliminating unregistered colleges, there are still many students who are taken in and end up with worthless "qualifications".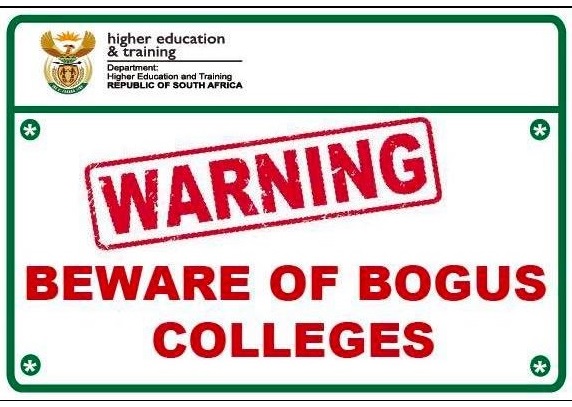 Check for legitimacy
Nzimande advises students who want to enrol at private colleges to check the registration status of the colleges with the department through its toll-free number, 0800 872 222.
Alternatively, students can log on to the website of the department, where the "Register of Private Colleges" is published and updated on a regular basis. The website address is www.dhet.gov.za/resources/registers.
'We bring you the latest George, Garden Route news'