WESTERN CAPE NEWS - During Western Cape Premier Alan Winde's State of the Province Address last year, he identified safety as one of the key priorities for 2020.
"Shortly thereafter, the province was hit by the first wave of Covid-19, and while this has had some impact on our plans, we have not lost focus," says Winde in his latest statement.
"Safety remains one of the three key priorities for this government's recovery plan along with jobs and dignity and well-being."
He continues: "Policing is not a provincial competency but having seen the impact of crime in our communities, and seen the grief and pain that drugs, gender-based violence and murder have wrought in residents' lives, this province had no choice but to act.
"Despite the problems we have faced over the past year- we have delivered on many of the commitments I made on safety last year-among them that our interventions would be data driven and evidence led.
"The safety focus of our recovery plan will be spearheaded by the HODs of Community Safety and Health-using the Cardiff Model. This violence prevention strategy focuses on sharing of information between the department of health, police and local government- allowing us to create a full picture of when and how crime occurs, and its impact. This system, when used in Wales, led to adjusted violence prevention strategies, which resulted in a significant reduction in violent injuries.
"This week we celebrated the anniversary of the passing out of the first 500 LEAP officers who have been hard at work. They were initially deployed into hotspot areas just before the lockdown, and during the lockdown, these officers supported in our Covid-19 response- conducting Covid-19 related operations and crime prevention operations.
"In October, they were redeployed in five hotspot areas-Bishop Lavis (Bonteheuwel), Delft, Nyanga, Khayelitsha and Philippi (Hanover Park) where officers are working closely with police and law enforcement to make these communities safer.
"They have recorded a number of successes, in the third quarter of 2020/1 alone, LEAP officers in the five hotspots have made over 300 arrests in these communities.
"Even with major budget cuts being experienced, the Western Cape Government has committed to continuing to roll out this programme, with the next 250 to begin training in April, and the next 250 after that beginning in July.
"By October, we will have introduced 1000 LEAP officers into the province since we launched our safety plan.
"When I visited Hanover Park recently, it was clear that the officers were are starting to build trust with the community, and I was pleased to see the close cooperation with SAPS. When I delivered my speech last year, the Western Cape Police Commissioner Yolisa Mokgabudi was newly appointed and I promised that we would work on building our relationship with SAPS and we have done just that both on the ground and at a leadership level.
"At the start of the pandemic in the Western Cape, I introduced expanded cabinet meetings which we now hold weekly. SAPS, and the Police Commissioner's office have been a presence in all of those meetings, detailing their plans, responses and working with us. I want to thank the Police Commissioner for this cooperation and for the spirit in which she and her team have worked with us.
"As a province, we have also committed to changing legislation around the sale of alcohol which is one of the key drivers of trauma and accidents in our communities. We saw the impact of alcohol on crime and safety during lockdown levels when it could not be sold. This however is not a long-term or sustainable solution, as many people rely on this industry for employment in the province.
"We have established an alcohol harms reduction task team who are considering a number of targeted legislative interventions, which have been proven to have an impact on crime, violence and binge drinking in other countries.
"We are working closely with the Western Cape Liquor Authority who has conducted hundreds of operations throughout this year to monitor compliance with the regulations and to crack down on illegal sales of liquor.
"In the past year, the Department of Community Safety has also funded two municipal K9 units in Swartland and in the City of Cape Town.
"The Department has also supported neighbourhood watches to improve their presence and visibility. During the lockdown, we supported 45 accredited neighbourhood watches to implement Covid-19 projects, by providing them with PPE and funding. Over the past year, the Department has accredited 87 neighbourhood watches and trained 15 accredited neighbourhood watch structures.
"I committed to scaling up the Chrysalis programme which has had such a phenomenal impact on many young people in this province. The programme was able to create ten youth hubs in Hanover Park, Khayelitsha, Harare, Nyanga, Samora Machel, Kraaifontein, Mitchells Plain, Mfuleni, Atlantis and Lavender Hill.
"Our Chrysalis graduates were also able to play a role in our communities, assisting with Covid-19 safety protocols and safety messaging.
"I will be making further announcements on safety plans and initiatives in my State of the Province Address on the 17th of February. We have achieved a great deal despite the difficulties we have faced this year, but our work is not done.
"This past year has been difficult, but it has also been a shining example of what this government can do when we set our minds to something, and what is possible when we work together as governments, communities, organisations and as individuals."
Infection update:
As of 13:00 on 10 February, the Western Cape has 7078 active Covid-19 infections.

Total confirmed COVID-19 cases - 270 691
Total recoveries - 252 882
Total deaths - 10 731
Total active cases (currently infected patients) - 7078
Tests conducted - 1272528
Hospitalisations - 1983 with 397 in ICU or high care
The Western Cape has recorded 39 additional deaths.
Additional data is available on the Western Cape Covid-19 data dashboard which also features active cases per sub-district, active cases per 100 000 and 7-day moving averages. Access the data dashboard here: https://coronavirus.westerncape.gov.za/covid-19-dashboard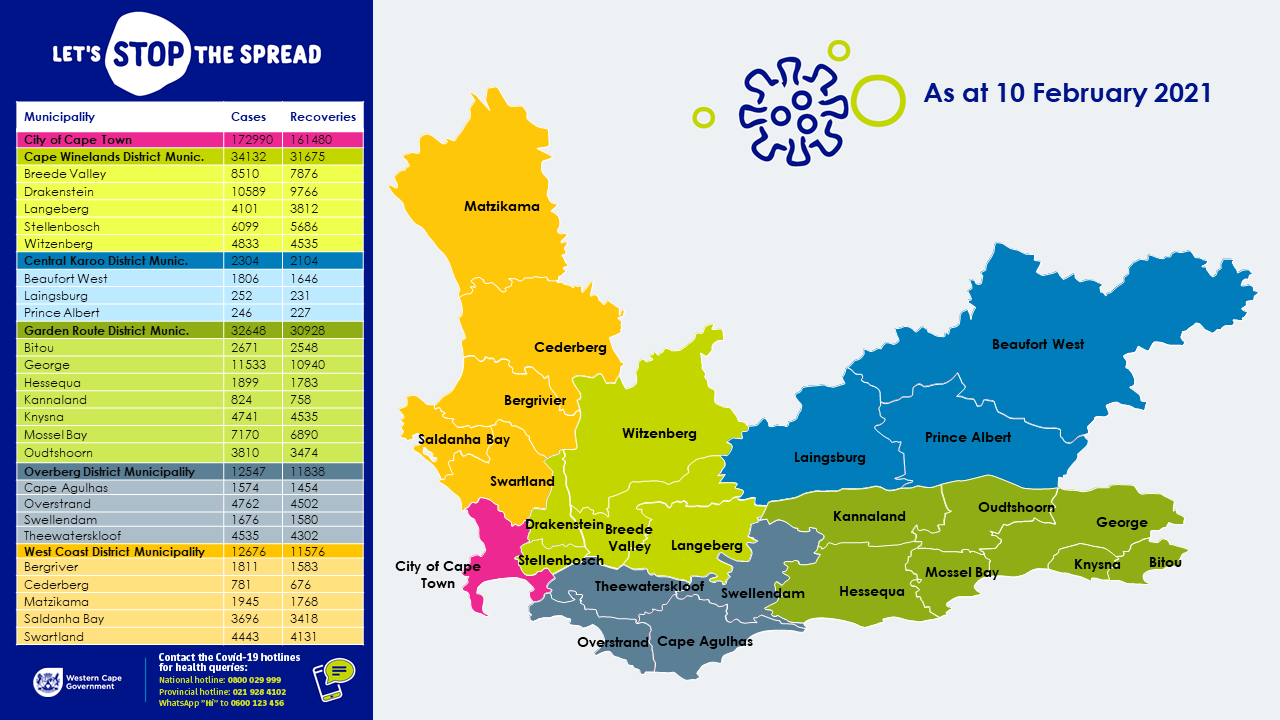 'We bring you the latest Garden Route, Karoo, Hessequa news'