GARDEN ROUTE | HESSEQUA | KAROO NEWS - The police in the Southern Cape have had several successes during the lockdown period in confiscating drugs, all thanks to the brilliant nose of Tessa (7), the drug-detection dog. In the most recent case on Sunday 31 May, Tessa led her handler, Sgt Johnathan Edwards, and police to compressed dagga worth R120 000.
Police were conducting routine searches at a roadblock on the R62 Langkloof border post between the Western and Eastern Cape when they pulled over a double-cab bakkie with four occupants who were transporting wooden doors. The compressed dagga was concealed in the hollow door panels.
Tessa has been with the Outeniqua K9 unit since November 2014 when a family from George donated her, as she was way too active to keep on their property.
Soon thereafter she accompanied Sgt Edwards to Roodeplaat to receive training in narcotic detection, and she became a fully fledged police K9 dog with a work certificate in May 2015.
Tessa passed her assessment with flying colours, achieving 99,28% for narcotic detection and 91,25% for obedience. The disciplines she was assessed on included scent discrimination, open area search, vehicle search and building searches.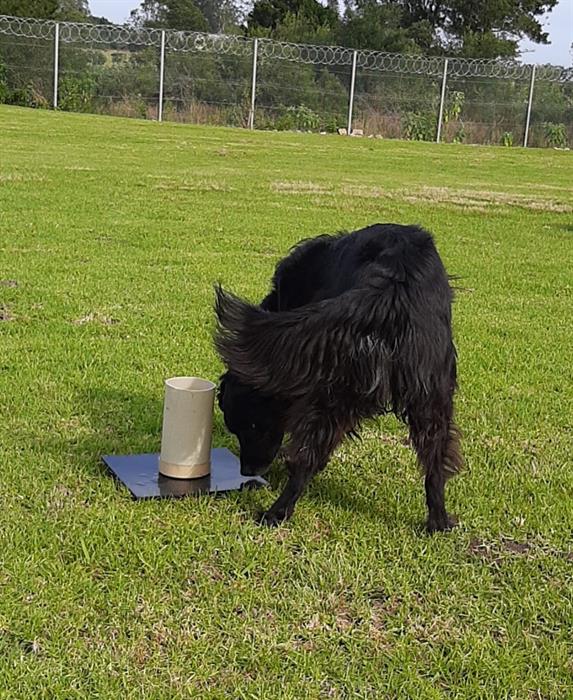 Tessa is trained to detect dagga, Mandrax, cocaine, heroin, Ecstasy and tik.
According to Captain Malcolm Pojie, Southern Cape police spokesperson, Tessa was trained using the reward system. "Tessa loves her tennis ball most of all and loves to work to obtain this reward. She also enjoys her kong."
Pojie says Tessa has a brilliant nose and once detected narcotics hidden on a roof just by sniffing the air while approaching the premises. "She will detect a gram of narcotics hidden from her. Since March this year she has had several small successes at the taxi rank, detecting cocaine, tik and Mandrax. A more significant success was 299 Mandrax tablets detected in Lawaaikamp."
Her handler enjoyed some leave during March, but has since returned to work and they have been on duty, working long hours at roadblocks across the region.
Tessa's latest triumph was sniffing out dagga hidden inside hollow door panels.
'We bring you the latest Garden Route, Hessequa, Karoo news'