GEORGE NEWS - A George Municipality social media campaign aimed at celebrating female workers doing jobs previously considered male territory, has reached more than 65 000 people and generated more than 8000 post clicks on Facebook alone.
The Women's Month 2019 project comprised five stories, with photographs, of five women posted from 1 to 21 August 2019 on Facebook, the George Municipality mobile app and website.
The women all hold positions in previously male dominant fields and the stories describe their everyday lives, which include hard labour, dealing with prejudice and danger – and then returning home to be moms, wives and daughters.
George Municipal Manager Trevor Botha said the campaign was met with overwhelming positive response and admiration for women who were determined to make the most of opportunities and were decidedly positive in the face of tough circumstances.
"Reading through the more than 260 comments and seeing the 1693 likes, loves and wows on Facebook (up to 2 September 2019) it is clear that friends, family, fellow citizens of George and people from around the country are inspired. The George Municipality is extremely proud of such outstanding women among us, even more so because the municipality has been part of their success stories.
"The George Municipality has made significant strides in fulfilling its Employment Equity Policy and will continue to invest in people. There are countless inspiring men and women that work for the municipality, and we hope in future we will be able to tell more of these stories," said Mr Botha.
Managed by the municipality's all-women communications team, the Women's Month 2019 campaign also ran a little side project in which women photographed in the workplace featured on the banner head of the George Municipality Facebook page. "We had really just captioned the pictures so people had some context, but these posts unexpectedly also received above-average attention. This Women's Month campaign wasn't really aimed at upping social media figures, but it was great additional validation and appreciation for the women featured in this campaign," said George Municipality Communications Manager Chantel Edwards-Klose.
READ THE WOMEN'S STORIES BELOW, AS WRITTEN BY ATHANE SCHOLTZ.
Henryhetta Potts, aged 44, Senior Supervisor Sewerage – "It's a bit smelly but you get used to it… my job makes things better."
Henryhetta Potts was among the first women to get a job as general worker in the streets and stormwater section of the George Municipality in 2007. Commonly known as 'pick axe and shovel', the work had until then been male territory and women were not welcome. "They were clear that this was men's work and we were taking their jobs, but I just kept my head down and worked.
"The job was mostly shovel and broom work, filling in holes and cleaning up streets and sidewalks where repairs had been made. The women were initially self-conscious of the blue overalls we had to wear, but the first pay checks changed all that. It was more than most of us had ever earned and we walked around proud of our 'little blue suits' after that."
To her great advantage was a Code 10 drivers' license which Henryhetta had gotten before she started at the municipality. "I had always taken opportunities to better myself. I completed a two-year secretarial course after school and when I did not get a job in that field, I went working at a chain store as a cashier and later in the bakery – every time learning another skill in the belief that it will one day count for something.
"I was willing to do any job, so when a friend said there were labourer-type vacancies at the municipality, I thought it would be a steady income with opportunity for growth.
"The car and truck drivers' licenses meant I could work as a driver operator and was transferred from streets to the sewerage section in 2017 to become a supervisor driver."
Two men in this section, John (JJ) Muller and Oom Ben de Swart, embraced Henryhetta's conscientious nature and preparedness to learn, and taught her everything she knows today. "I will forever be grateful for their patience and willingness to share their knowledge and experience.
"In 2009 Councillor Mercia Draghoender hosted a competition for female drivers in the municipality, which I won. I was proud to know that I could be good in different aspects of the job."
Today she is a senior supervisor and drives one of the sewerage sucker trucks that service the wider George area. "It may be a bit smelly, but you get used to it. I drive to the most interesting places from remote farms to beautiful seaside resorts. I really like working with the people and feel my job makes things better – it is a blessing from God.
"I am very conscientious and want to get out as early as I can to get to as many people out there who need my services. The most irritating thing for me is when the trucks break and my ability to serve clients are delayed. By the time I get to my people I understand their frustration for having to wait while sewerage threatens to become an issue, but I am empathetic in return and get to the job quickly and efficiently.
"It is great fun to see the look on people's faces when they realise it is a woman who drives and operates this big truck. Many people, especially other women, have commented on how great it was to see women doing all kinds of jobs these days.
"I think the lines between what is 'men's work' and 'women's work' are blurring and it is not so difficult for women now than it was when I began 12 years ago, but there are still comments now and then that I try not to take to heart. For instance, if a male truck driver's vehicle breaks down the men in the workshop won't comment but when the women book a truck in for repairs, the workshop men would ask why we broke the truck – even though they know the truck is the oldest in the fleet and breaks more often.
"I will continue bettering myself and am interested in pursuing management subjects part-time. I encourage all women to make use of every opportunity they get. A man who says it cannot be done should not interrupt a woman doing it already. It doesn't matter where you come from, the only thing that matters is where you are going."
Henryhetta lives in Pacaltsdorp with her 25-year-old daughter Alicia Lewis.
Susanne Laido, aged 38, Senior Process Controller Water Purification – "At home I am still a lady."
Susanne Laido
"At home I am still a lady," says Susanne Laido, aged 38, a senior process controller at the George Municipality water purification works. "When you work shifts inside a plant in the middle of the night, getting dressed up and putting on make-up feel like a bit of a waste, but it is just my work that requires practical attire, it does not define me."
The 38-year-old mom from Parkdene qualified in personnel management after school but could not get work right away. A George Municipality job advertisement requiring matric with maths caught her eye. "I had no idea what a process controller was, but I was willing to learn and it sounded interesting."
Susanne was the first woman in the section when she started at the water treatment plants at Pacaltsdorp and Gwaing River in 2002. "The supervisor wasn't hostile, but he made it clear that he wasn't going to treat me like porcelain – I was going to have to do anything a man would do. I grew up in a house with four brothers, so that was just fine by me."
However, the location of the water treatment plants – one near an informal settlement and the other relatively remote – weren't fenced then and not ideal for a woman on her own at night, but it was the only available position at the time and she needed the work. "I was afraid sometimes, but I tried not to think about it and got on with my work. It turned out to be very interesting and varied work – from testing water samples and mixing chemicals to administration and mechanics."
Susanne was transferred to the main water treatment works above Denneoord in 2005, where the experienced, male-dominant team treated her like a little sister and was quite happy to share their knowledge and experience with a very keen junior. "It was safer and less lonely at the main plant, and the people were so friendly and supportive."
Life became more complicated when she had her son, Luther, in 2008. "Working shifts (6am-2pm, 2pm-10pm and 10pm-6am) meant that I missed out on many milestones in my son's life, which for me is the only downside to this job. I would come home and my mom, who looks after him, would tell me Luther had said his first word or taken his first step. I would be sad that I wasn't there, but I was also proud that because I had a good job I would be able to pay for a good education and create an environment in which he can prosper.
"I have been doing this for 17 years and I can't imagine working in a traditional office with normal office hours. I still look forward to every workday and my favourite part of the job is water quality testing in the laboratory.
"I want women to know they shouldn't be afraid to do work that may have been done only by men in the past, or work that may be outside their field of knowledge. Your attitude is important – if you are willing to learn, work hard and are trustworthy, the opportunities are out there," says Susanne.
Anthea Louw, aged 36, Artisan Plumber – "I always have pepper spray with me for in case, but … I've never had to use it."
Anthea Louw
Twelve years ago, when Anthea Louw was a 24-year-old single mother with a toddler and a new born baby at home, she decided her circumstances would not define her. "I grew up in a house of strong women and I was determined my children would have the best I could give."
She added her name to the George Municipality's casual workers database and initially landed temporary work in the electrotechnical department. "I liked working outdoors, so when vacancies for women in the civil engineering department came up, I applied and got a 'pick axe and shovel' job in the water division.
"It was tough work, but I loved it from the start. It was so interesting! I was intrigued by the fact that water connected the entire city underground, and that water took this incredible journey from the mountains into the dam, into holding dams and treatment works, through kilometres of pipes of different sizes and eventually into homes and businesses," says Anthea.
I meet Anthea, who is now an artisan plumber, for our interview as she comes off an extremely demanding night shift of complicated pipe bursts in icy weather. While she is clearly exhausted and should already be asleep at home in Pacaltsdorp, she is happy to share her passion with me. "I love working with water. People think it is strange that I would choose to do a 'man's job' in extreme conditions, but I can't imagine myself doing anything else."
At work she was sharp, enthusiastic and willing to work hard, which was key to her supervisors giving her opportunity to learn more and develop. "I will forever be grateful to municipal plumbers Roy Scriven, George Pieterse and Mitchell Plaatjies who taught me everything I know, and to Deputy Director Water and Wastewater Henry Jansen for encouraging me to work towards the next level all the time."
Anthea will soon be completing her NQ Level 4 plumbing trade test and wants to pursue further study and advancement. "One day I want to sit in my boss' chair."
There are many aspects of the job: from digging holes and finding leaks to major pipe bursts, installing water meters and making water connections. "There is very little a woman cannot do in this job. There is maybe one percent of the work – when real physical strength is required, like when trees stumps and large branches must be moved – that most women would find hard to do on their own, but mostly I can make a plan.
"My work takes me into remote and potentially dangerous places and situations that can range from strangers in the dark to volatile protests. I always have pepper spray with me for in case, but in the twelve years I have worked here I've never had to use it."
While her role as an artisan plumber is more supervisory than in the past, she still regularly jumps into a hole to help when an extra hand is needed. "I like the physical work and I love that I am able to do a man's job – it's cool to tell people I'm a plumber.
"I think there are subtle differences between men and women who work in this field – for instance, I like my work bakkie to be clean inside and out, which can be a challenge when you are working in the mud and practically live in your bakkie when you are out there. Unless I can't help it, the bakkie will be washed and all litter removed before the next shift. "I consider the people out there as my community and don't like it when others talk down to them. I understand their frustration when they have been without water for long. Even when we are verbally abused, I am determined to keep my pose and treat the client with respect and empathy and promise to sort it out as soon as I can.
"My mom Rosa and sister Chantal have supported me through this journey and stepped in with the kids when I was working shifts or overtime. My children are now teenagers and they have known no other life than a mom who works funny hours and come home dressed in muddy overalls. They realise it is relatively unusual for a woman, but it's just a job and at home I'm their mom.
"To other women I want to say that they should never give up and never be afraid of working in a man's world. You may be surprised how much you love it. I do," says Anthea.
Lilanie Stander, aged 30, Process Controller – Spanners, pipes and heavy bags in 'The Hole'
Lilanie Stander
On most days, when things go smoothly at the water purification plant outside Uniondale, Lilanie Stander's job doesn't feel like it used to be a 'man's job'. "Generally, the 'manliest' thing I do is drag a 25kg bag of chemicals up some stairs – which is heavy going but becomes easier the more you do it."
The picture can be quite different if something breaks, especially at night or on weekends when it may be just Lilanie at the plant. "When I am dragging pipes around or standing spanner in hand and soaking wet, it sometimes briefly occurs to me that there are few women who do this kind of work, but I like it anyway."
Thirty-year-old Lilanie is a process controller, one of only three personnel who manage the small, remote facility known as 'Die Gat' (The Hole). The job entails monitoring water quality, checking the facilities and equipment, related administration and water awareness programmes with locals.
Unlike central and larger facilities with more personnel and equipment on hand, the Uniondale staff may have to jump in and resolve issues themselves when things go wrong. "It's about being hands-on and solution orientated and, when the problem requires outside help, making a plan until assistance or spare parts arrive," says Lilanie.
Originally from Great Brak River, Lilanie and husband Stefan took a step of faith in 2015 and left their jobs in Brakpan to relocate to Uniondale where Stefan's parents still lived. "We didn't have jobs to come to, but we had had enough of Gauteng and wanted our children to have small town lives like we did."
The couple and their one-year-old daughter, Annabelle, temporarily moved in with Stefan's parents and set out looking for jobs. In a tiny town like Uniondale, the municipality is the most likely employer and they would eventually both find work there – Lilanie as process controller and Stefan as electrical assistant.
"I didn't know what a process controller was, but I had a solid matric with maths and data capturing experience which counted in my favour. The work is specialised and specific to each plant, so the municipality provided basic training and the rest required on-the-job learning.
"It was so interesting to learn that water purification on the George side of the mountain would be different from the Uniondale side because the water sources on our side contained less organic material and therefore was a different colour and required less chemicals to purify.
"I like that the work requires know-how about different fields including chemistry, mechanics, technical information and even people skills. We host educational tours at the plant and teach people the value of drinking water."
Since Lilanie and Stefan are both responsible for operations that require 24-hour monitoring, the couple often work the same or overlapping shifts that can complicate family life. "It's been a great blessing to have my mother-in-law, Oumies, around the corner to help babysitting, but it can be tough juggling it all, even more so after the birth of our daughter Elsa in 2017.
"Sometimes I feel that we miss out on time with the kids because of the awkward hours we work (shifts are 6am-2pm and 2pm-10pm on weekdays and 8am-8pm on weekends), but we believe the overall choice to return to the southern Cape was the right one for our family," says Lilanie.
Ntombekhaya Tembu, aged 28, Supervisor Process Controller - "Men may have become more used to women in their domain, but the gender roles are not equal."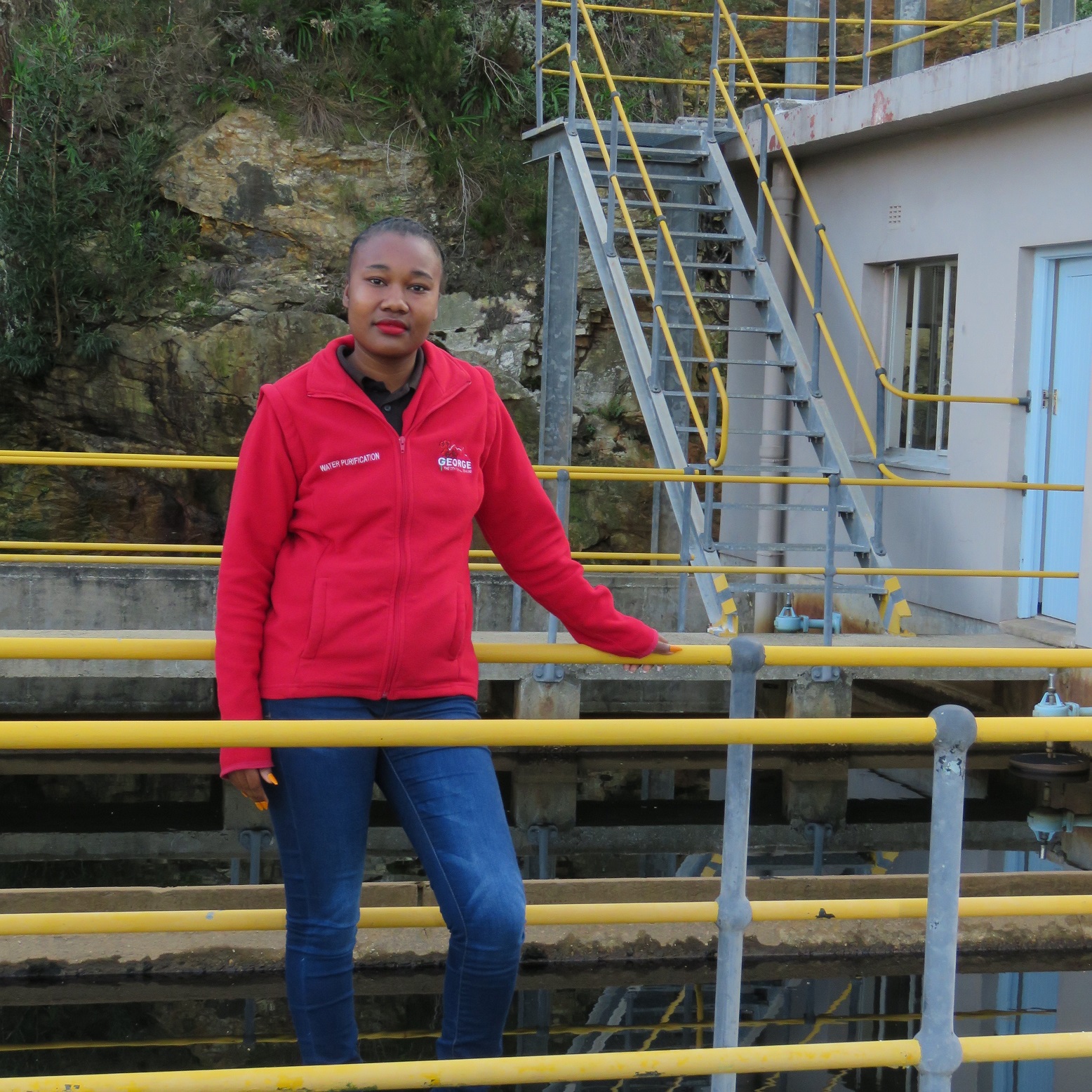 Ntombekhaya Tembu
"Men in the workplace and at home may have become more used to women in their domain, but the gender roles are not equal," says Ntombekhaya Tembu, aged 28, a supervisor process controller at the water purification works in Denneoord, George.
"The father of my two-year-old daughter Oyisa is much more involved in raising her than most men are, but traditionally most of the household chores and childcare remains the woman's responsibility. I don't take for granted that he is here to take care of our child when I must leave to be at work at 6am or finish a shift at 10pm, because most women in my position probably don't have that, but a more even split of responsibilities would be welcome."
Ntombe matriculated from Percy Mdala High School in Knysna and graduated in analytical chemistry from Cape Peninsula Technical University in 2014. Her practical internship was at the Lancewood dairy factory laboratory in George.
When she could not get work in the southern Cape in her field immediately, her mathematical skills secured her a job in banking – first as a teller, later as consultant and eventually frontline supervising officer. "It was an income, but my heart wasn't in it." When a post for a process controller opened at the municipality, she was keen to return to a laboratory.
Managing a water purification plant requires vigilance and attention to detail. While it may look relatively low key – walking around facilities checking if everything is working the way it should, monitoring computer screens, water sampling and testing – it is a great responsibility to oversee the city's drinking water. "It is a 24-hour duty that we take very seriously.
"It is probably coincidental that this job had not been done by women until the early 2000s, because it suits us well. Other than carrying heavy bags of chemicals on occasion, the work seldom requires physical strength or rough work and is more about managing a whole lot of little details inside an important bigger picture.
"The shift work (6am-2pm, 2pm-10pm and 10pm-6am) has the most impact on my family life, as I don't get to see my daughter as much as I want to. There are advantages also – in the quiet hours of the night, when it's just me and the radio in my tiny office between the water pumps, I can study.
"I am pursuing a BSc Environmental Management degree through Unisa and hope it will one day open doors for me so we can buy a bigger house than the small RDP house in Thembalethu we live in now."
'We bring you the latest George, Garden Route news'