GEORGE NEWS - George Municipality continues to feed communities through its soup kitchens programme.
The 137 soup kitchens, which operate from private homes in vulnerable communities across the municipal area, were the backbone of feeding programmes at the height of the Covid-19 lockdown period, serving up to 22 000 meals twice a day.
George Municipality Director Community Services, Walter Hendricks said the soup kitchen programme had recently returned to its normal operations. "We currently serve 8000 meals a week to mostly children and the elderly three times a week. Covid-19 protocols remain in place at soup kitchens for as long as is necessary," he explained.
"The ongoing success of the municipality feeding scheme is proof of the extraordinary people who work and live here – from dedicated staff who run the day-to-day logistics to the people who selflessly host soup kitchens in their homes and volunteers who serve there every day, no matter the circumstances.
"The support from individuals, businesses and NGOs who generously donated food during lockdown will always be remembered and we thank them again for their role in feeding our people."
Individuals and organisations that want to continue supporting the soup kitchens, can drop off food and supplies at the municipality's Community Development offices or phone this number - 044 802 2000.
Food and supplies donations can be delivered to:
George Municipality Community Development offices (08:00 – 16:00) corner of Varing and St Johns Streets (diagonally behind the main municipal building).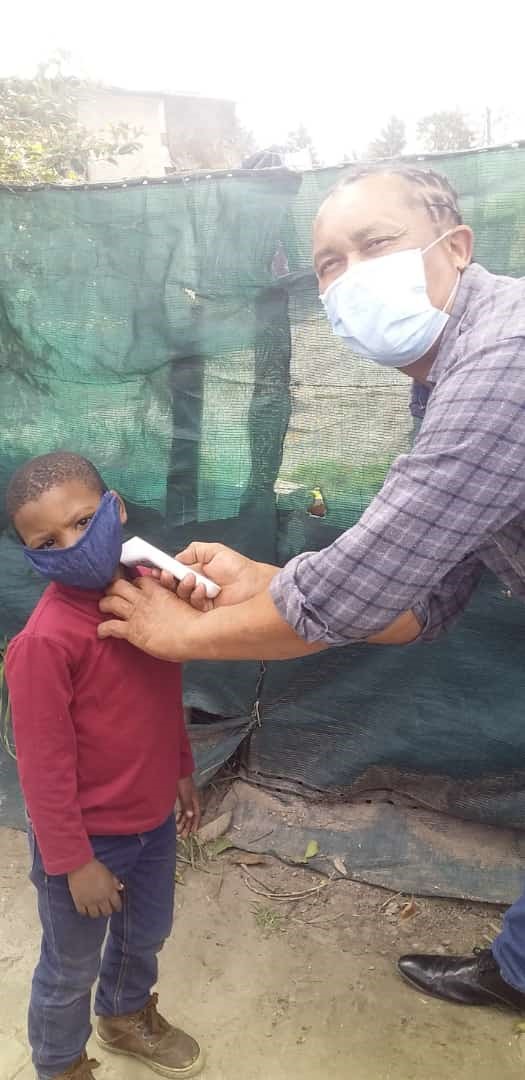 Colin Wildemans checks the temperature of a young visitor to the soup kitchen at his home in Wilderness Heights.
'We bring you the latest George, Garden Route news'