Update
GEORGE NUUS - Die Oudtshoorn-sakeman Jannie Venter (45), wat op Dinsdag 30 Januarie by sy ingenieursfirma, Du Rand Engineering in die George-nywerheidsgebied, aangerand en vir dood gelos is, sterk goed aan by sy huis.
Volgens die Suid-Kaapse polisiewoordvoerder, kapt. Malcolm Pojie, het 'n pa, Lionel Kent (54) en sy twee seuns, Ivan (30) en Divan (27) omstreeks 10:00 die slagoffer se besigheid betree.
Hulle het na bewering 'n geskil oor uitstaande geld met Venter gehad.
'n Rusie het ontstaan en hulle het Venter baie ernstig aangerand.
Volgens Venter se vrou, Almerie, het die verdagtes haar man telkemale bewusteloos geslaan, koue water oor hom gegooi om hom wakker te maak en dan verder aangerand.
"My man se klere was sopnat. Geen mens verdien om so aangerand te word en vir dood agtergelaat te word nie."
Ivan het ná die aanranding in die slagoffer se wit Isuzu-bakkie gespring en van die toneel in die rigting na Mosselbaai gejaag.
Sy pa en broer het glo met die maatskappy se Toyota-bakkie gevlug.
Ivan is kort daarna deur lede van die polisie se misdaadvoorkomingseenheid op die N2-snelweg agternagesit.
Ná talle waarskuwingskote was die polisie genoop om sy motorbande te skiet. Een van die bande is getref en hy moes stop.
Hulle is almal dieselfde dag in hegtenis geneem. Ivan in Mosselbaai en sy pa en broer in George.
Venter is bewusteloos en met ernstige beserings aan sy gesig en kop deur personeellede na die Mediclinic Geneva geneem.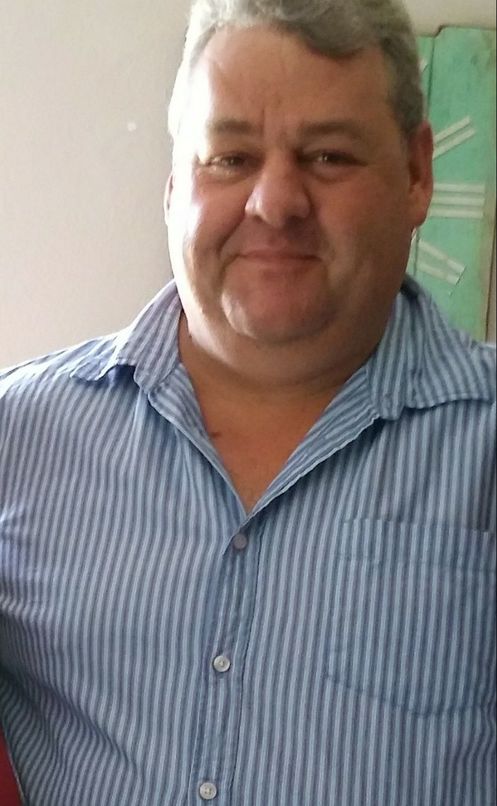 Jannie Venter voor die aanval.
In die hof
Die Kent-trio het Donderdag 1 Februarie in die George-landdroshof verskyn.
Hulle staar klagtes van aanranding met die doel om ernstig te beseer, poging tot moord, roof met verswarende omstandighede en motordiefstal in die gesig. Ivan staan ook op 'n vyfde klag, roekelose en of nalatige bestuur, tereg.
Die saak is tot 8 Februarie vir borgtogaansoeke uitgestel.
Hulle bly intussen in aanhouding.
"Die voorval was vir ons 'n baie groot skok. Jannie is 'n gulhartige man en hy verdien nie wat met hom gebeur het nie.
"Ons almal is baie getraumatiseer en emosioneel, maar danksy familie en vriende se ondersteuning bly ons staande.
"Ons koester geen haat teen hulle [die verdagtes] nie. Ons wil net hê reg en geregtigheid moet geskied. Hy is nog in baie pyn en sielkundig is dit moeilik, maar ons is dankbaar hy lewe," het Almerie vandeesweek aan die George Herald gesê.
*Oudtshoorn businessman Jannie Venter (45), who was assaulted and left for dead at his business in the George industrial area, Du Rand Engineering, on Tuesday 30 January is recovering at home. Three men arrested for the attack will appear in the George Magistrate's Court today (Thursday 8 February). According to Venter's wife, Almerie, the suspects beat her husband unconscious, threw cold water over him to wake him up and then assaulted him further.
Lees vorige artikels:
ARTIKEL: KRISTY KOLBERG, GEORGE HERALD-JOERNALIS
'Ons bring jou die nuutste George, Tuinroete nuus'