GEORGE NEWS - New Dawn Park Primêr se nuwe hoof, Francois Visagie, het amptelik op 1 Oktober begin.
Hy is egter reeds bekend aan die skool en die gemeenskap - hy het in 2007 by die skool 'n pos as departementshoof aanvaar en is in 2010 tot adjunkhoof bevorder.
"Ek verlaat New Dawn Park as gevolg van botalligheid by die skool en word oorgeplaas na distrikskantoor waar ek tydelik as lewensvaardigheids-koördineerder vir die Eden-onderwysdepartment gewerk het.
Op 1 Oktober 2014 aanvaar ek 'n betrekking as hoof by Ridgeview Primêr op Mosselbaai tot onlangs."
Visagie is die jongste seun van wyle Sam en Joey Visagie. Visagie is getroud met Nicolene Visagie en het twee dogters Zaydene en Denalize. Hy het sy skoolloopbaan by Kretzenshoop Primêr begin en sy gr. 12-sertifikaat aan Hoërskool George verwerf.
"My onderwysdiploma het ek in 1987 aan OKSK verwerf, daarna my HOD IV-sertifikaat aan Roggebaai Onderwyskollege. In 1995 verwerf ek my B.Ed.-graad aan die Noordwes Universiteit. "
Visagie het vir 'n groot gedeelte van sy onderwysloopbaan in Upington, Noord-Kaap, skoolgehou waarna hy 'n pos in George aanvaar het.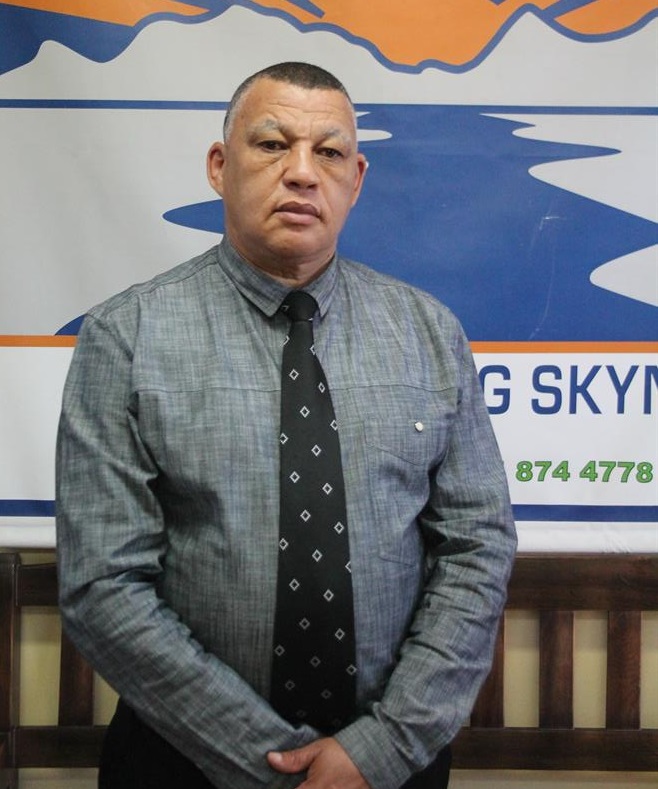 Francois Visagie, die nuut aangestelde hoof van New Dawn Park Primêr. Hy het amptelik op 1 Oktober begin.
Onderwys was nog altyd sy passie en hy streef daarna om 'n verskil in die lewe van leerders te maak. "New Dawn Park Primêr moet 'n baken van hoop en 'n veilige hawe vir die leerders wees. Om alle leerders in hulle totaliteit te ontwikkel."
Visagie sê sy visie is om die skool te lei tot uitnemendheid ten spyte van alle uitdagings. Om goeie gesonde Christelike waardes deel te maak van leerders se karakter, gesonde mense verhoudings te stabiliseer tussen opvoeder, ouer en kind.
Hy sluit af met sy gunsteling aanhaling van Martin Luther Jr., "Everybody can be great...because anybody can serve. You don't have to have a college degree to serve. You don't have to make your subject and verb agree to serve. You only need a heart full of grace. A soul generated by love."
'Ons bring jou die nuutste George, Tuinroete nuus'