WESTERN CAPE NEWS - As of today, Tuesday 29 September, the Western Cape has 2232 active COVID-19 infections.
This according to Premier Alan Winde's latest statement.
Total confirmed COVID-19 cases - 109 834
Total recoveries - 103 428
Total deaths - 4174
Tests conducted - 529 605
Hospitalisations - 511 with 100 in ICU or high care
The Western Cape has recorded an additional 6 deaths, bringing the total number of COVID-19 related deaths in the province to 4174.
"We send our condolences to their families and friends at this time," said Winde.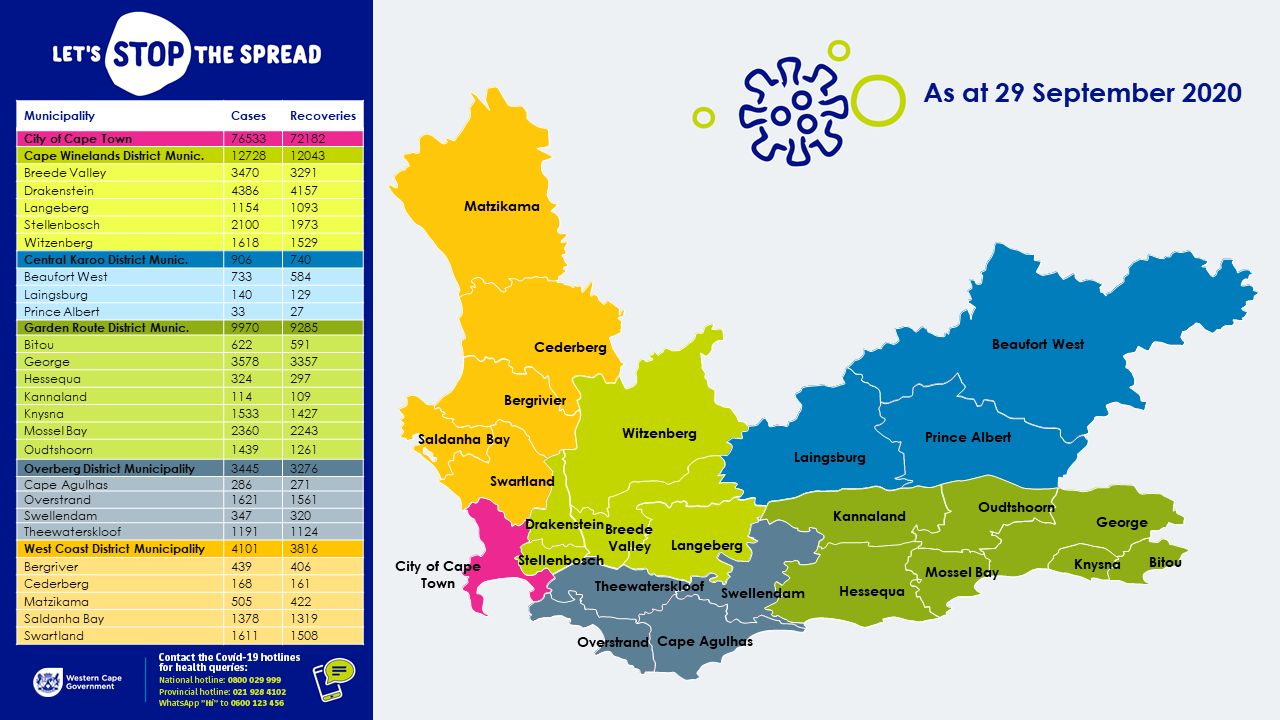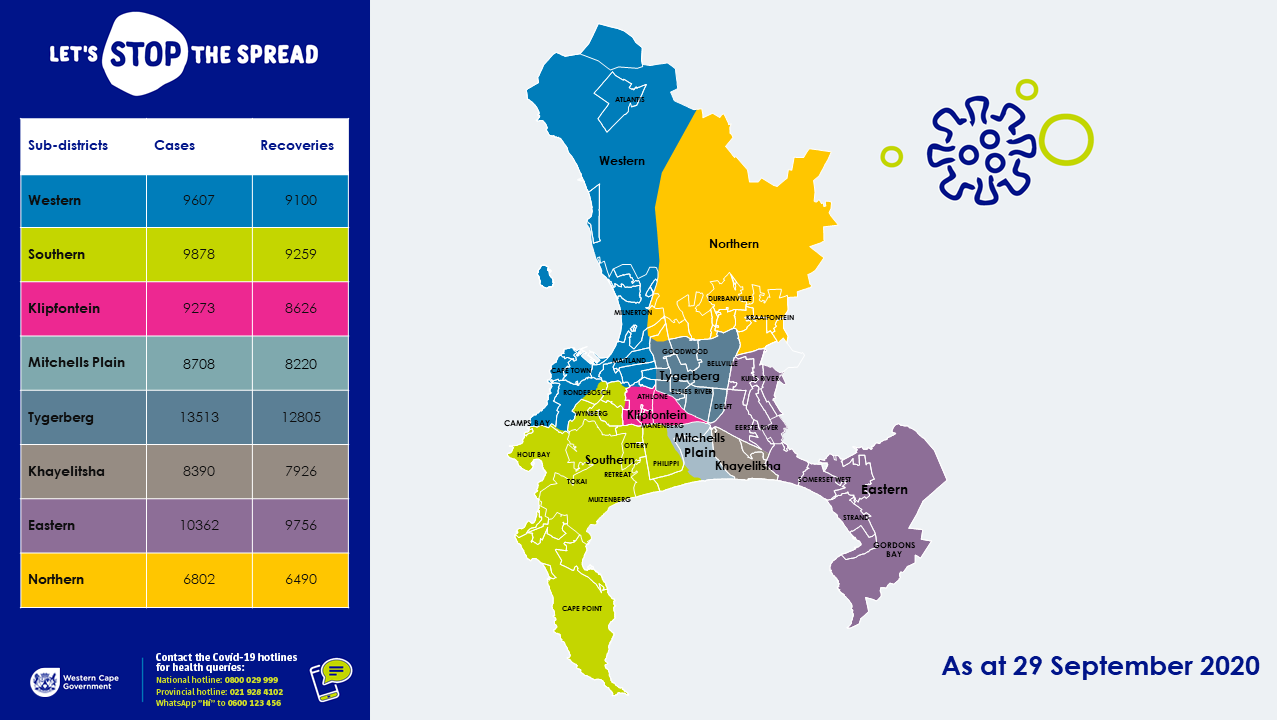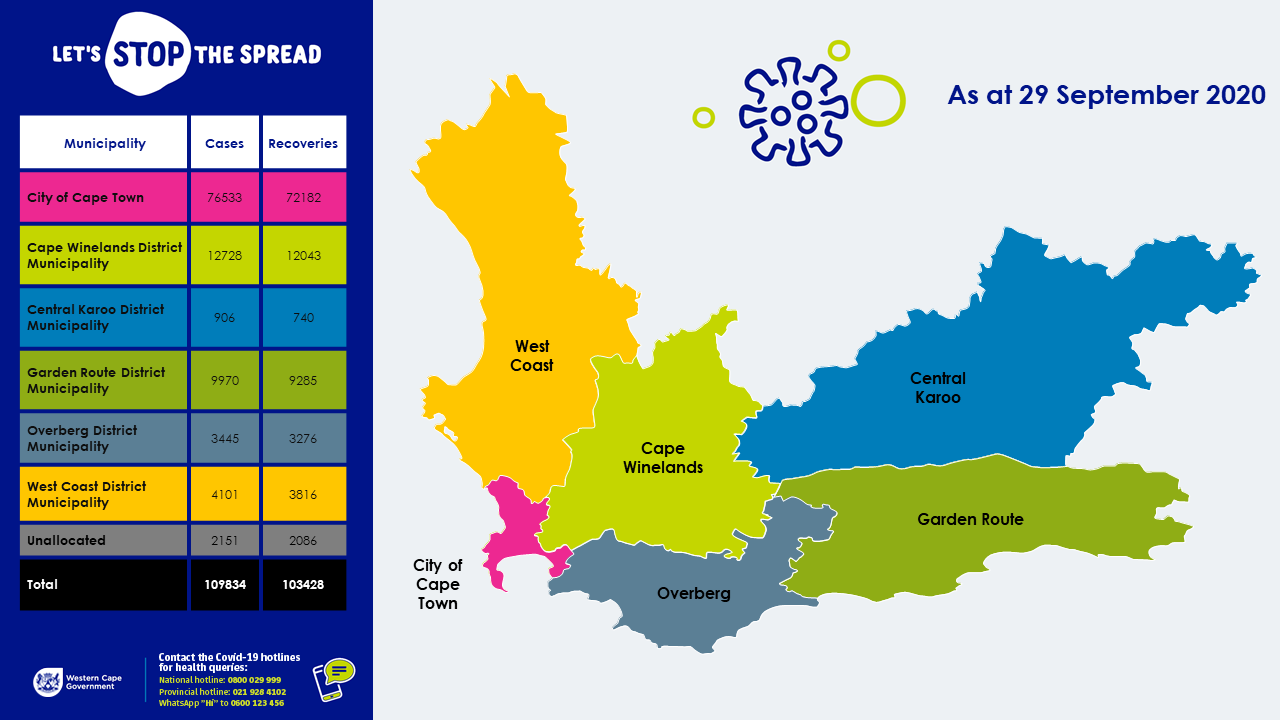 Jobs data shows significant impact on economy
The Quarterly Labour Force Survey Data for the period April to June, released by Stats SA earlier today, confirmed that the hard lockdown had a significant impact on employment in the Western Cape, and indeed, across South Africa.
While the expanded unemployment rate in the province remains the lowest in the country, 321 000 jobs were lost in the province between the first and second quarters of 2020. Compared to this time last year, 318 000 jobs have been lost.
Among the hardest hit sectors for the province were manufacturing which reported a loss of 85 000 jobs, trade which showed a decline of 68 000 jobs, finance which was down 67 000 jobs, construction which recorded a decline of 66 000 jobs and private households where 45 000 jobs were lost (all year on year).
"These figures are a sobering confirmation of the extreme impact that the lockdown has had on the livelihoods of South Africans, including residents of the Western Cape," says Winde. "It is for this reason that the Western Cape Government has continually lobbied for the safe reopening of our economy, to save jobs and to avoid a second pandemic of unemployment. We have also provided support and advice to business to help them open and operate safely and provided online training sessions in our weekly #GoDigital webinars.
"Our focus and energy as a government is now firmly on how we move forward safely towards recovery, how we assist the private sector as our primary employment creator to move forward safely, and on finding ways to save jobs in some of our key employment industries.
"In the short term, from a government perspective, we are currently exploring a number of ways to quickly increase employment. Among these, we are working with municipalities and departments to increase the number of EPWP projects in the province and we are focusing on reducing red tape to speed up investments and projects which will create jobs.
"Last week, we also announced R27 million in relief funding for small businesses in both the formal and the informal sector, which have been heavily impacted by the pandemic. Applications for this fund close on 12 October, and more information can be obtained here.
"The return of international tourism from 1 October will have a positive impact on job creation in the Western Cape. However, with just days to go until our borders are due to open, there is still no indication from the national government of which countries will be on the no-fly list. This list must be published with urgency, so that airlines and travelers alike are able to take informed decisions and so that businesses in the province can prepare to safely host visitors during the summer season. While international travel is welcomed, stakeholders across the board must put the safety of visitors and residents alike at the forefront of their planning and response strategies. Together, we can move forward safely."
'We bring you the latest Garden Route, Karoo, Hessequa news'