GEORGE NUUS - Nadat houtpale met vlaggies waarby plastiese houers in die grond aangebring is op 'n oop stuk veld in Loeriepark hul verskyning gemaak het, het dit behoorlik gegons oor wat aan die gang is.
Sommige inwoners het selfs gespekuleer dat dit 'n nuwe behuisingsprojek is. Dit blyk egter dat dit bloot plaaslike kinders is wat dit as 'n minigholfbaan gebruik.
Vrae het ook ontstaan aan wie die grond op die hoek van Standerstraat en Vyfdelaan behoort. Dit is reg oorkant die Genevafontein-aftreeoord.
Jandré Bakker, hoof van kommunikasie van die Wes-Kaapse departement van vervoer en openbare werke, het Dinsdag aan George Herald bevestig dat die eiendom tans geregistreer is in die naam van die Wes-Kaapse regering en daarom onder die voogdyskap is van die provinsiale departement van vervoer en openbare werke.
"Tans is daar 'n behoefte geregistreer teen die eiendom deur die departement van onderwys. Die eiendom word dus tans gereserveer vir hulle gebruik in die toekoms. Met nadere ondersoek is vasgestel dat plaaslike kinders die terrein as 'n minigholfbaan gebruik."
Die vlaggies het ook adv. Gert van Niekerk, 'n VF Plus-raadslid van George, wat in die omgewing woon, se aandag getrek. Verskeie inwoners het hom gekontak en hy het self gaan kyk na die "geheimsinnige bordjies" wat oornag verskyn het.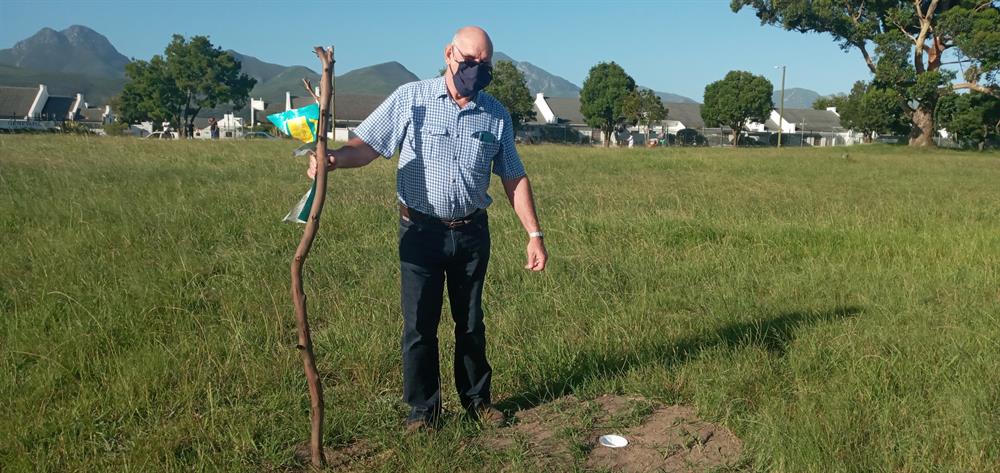 Adv. Gert van Niekerk, 'n VF Plus-raadslid van George by een van die houtpaaltjies en plastiese houers. Foto: Eugene Gunning
Volgens hom het die munisipaliteit en die wyksraadslid vir die gebied nie kennis daarvan gedra nie. Ook nie die burgemeesterskomiteelid wat sulke aangeleenthede hanteer nie. Hy het aanvanklik gedink dit is dalk iemand wat byvoorbeeld grondmonsters wil neem.
Toe hy Dinsdag meegedeel is, wat dit is, het hy geantwoord: "Ek kan net heerlik lag dat die geheim oor die misterieuse vlaggies opgeklaar is."
'n Woordvoerder van die George-munisipaliteit het vroeër gesê die anti-grondbesettingseenheid doen roetine verbyritte op oop erwe soos hierdie. Volgens hulle is die merkers en koppies vir mense wat hulle eie gatjies maak om gholf te speel.
Die munisipaliteit dra nie kennis van enige ander aktiwiteit op die grond nie. Die woordvoerder het alle navrae na die Wes-Kaapse provinsiale administrasie verwys.
IN SHORT:
It is buzzing about wooden poles with flags and plastic bowls that is in a open space in a residential area. Residents wanted to know what is happening. Adv. Gert van Niekerk, VF Plus member of the George city council, that stays in the area wanted answers. In the meantime it came to light that it is local children that uses it as a mini golf course.
'Ons bring jou die nuutste George, Tuinroete nuus'