GEORGE NEWS - The brazen escape of three robbery suspects earlier this week was short-lived as they were arrested by the Hawks' Serious Organised Crime Investigation team less than an hour later.
The armed cash in transit heist that occurred in Oudtshoorn at approximately 11:15 on Monday 19 July saw a Fidelity Cash Solutions vehicle robbed at the Atlantic Oil fuel station opposite the Bridgton Police Station in Oudtshoorn.
According to George Herald's sister newspaper, Oudtshoorn Courant, eyewitnesses saw three men wearing balaclavas getting out of a vehicle and overpowering the guards delivering money at the fuel station's FNB ATM.
The security guards were disarmed and the suspects fled in a getaway vehicle with one Fidelity service firearm as well as an undisclosed amount of money.
Southern Cape police spokesperson, Captain Malcolm Pojie, later confirmed that three suspects were arrested less than an hour after the incident at the Blanco turn-off to George on the Outeniqua Pass.
According to Hawks spokesperson, Zinzi Hani, their George-based team was headed to the crime scene in Oudtshoorn when they spotted a silver Nissan Sentra matching the description of the vehicle involved in the incident.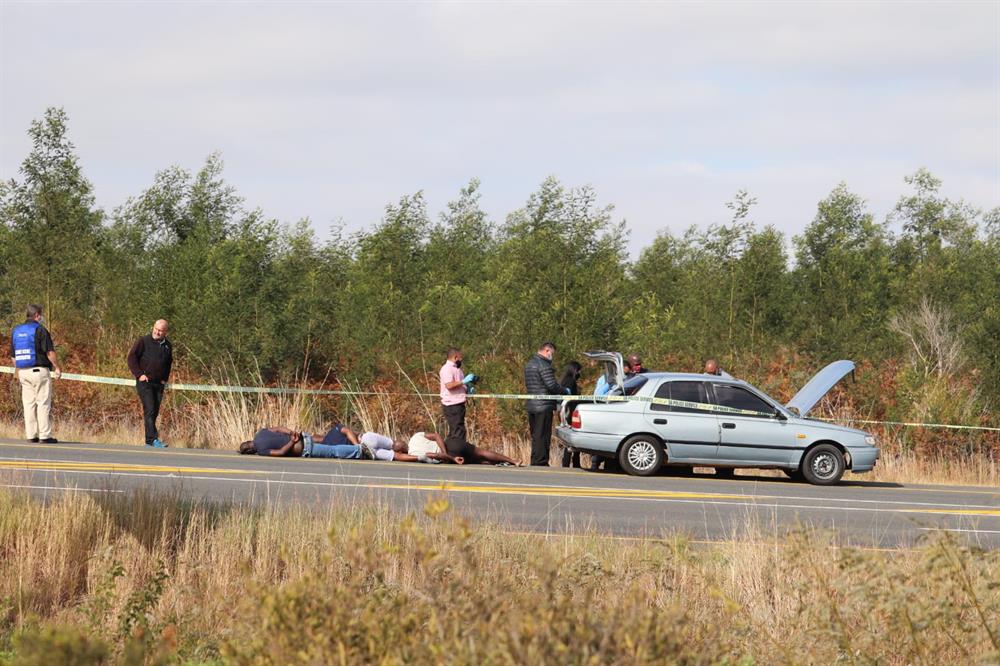 The scene on the Outeniqua Pass shortly after the suspects were apprehended.
"They stopped the vehicle that was travelling towards George on the Outeniqua Pass and arrested the three occupants. A search of the vehicle led to the discovery and seizure of two 9mm pistols, which included the Fidelity service pistol that was stolen in Oudtshoorn, and the money bag containing the stolen cash," she said.
The three suspects were arrested in the Outeniqua Pass on their way from Oudtshoorn to George.
The trio, aged between 26 and 41, were expected to appear in the Oudtshoorn Magistrate's Court on Wednesday 21 July on charges of robbery with aggravating circumstances. At the time of going to print no further information was available.
Wahl Bartmann, CEO of Fidelity Services Group, said his guards were able to give the police a detailed description of the three suspects which led to their swift arrest.
"Fortunately no one was injured in the incident and the money bag was retrieved without any loss. This is a great example of how private security can work effectively with the police. We commend all the parties responsible for the arrests," Bartmann said.
Police and members of the Hawks Serious Organised Crime Investigation team on the scene of the arrest on Monday afternoon. Photos: Capt Malcolm Pojie
'We bring you the latest George, Garden Route news'