GARDEN ROUTE NEWS - The Garden Route has passed the peak of the second Covid-19 wave and cases and hospitalisations remain on a downward trend, according to Dr Keith Cloete, head of Health in the Western Cape.
Cloete said in an online digital conference on Tuesday 12 January that all hospitals remain under pressure, but Covid hospitalisations have stabilised.
In the George area the average occupancy rate stands at 61%. Occupancy in the Covid general beds is 59%. Covid and PUI (persons under investigation) currently occupy 35% of all available acute general hospital capacity.
Mediclinic George nursing manager Jeanita le Roux said the number of Covid-19 admissions at the hospital started dropping slightly from Tuesday 12 January after an utterly challenging December and first week of January.
"The second wave of the pandemic has definitely led to more admissions than the first wave, but the situation has started to calm down in comparison to December and the beginning of January."
Le Roux said with limited resources and available staff, they could not always provide all levels of care, and alternative arrangements had to be made to ensure the best care to patients.
Due to good communication with the Health Department regarding the number of new cases in the city, they were able to regularly adapt their plans to help as many patients as possible.
"We got in temporary personnel from over the country. They came on a two-weekly basis and this was a great help to our staff."
Mediclinic lost one staff member to Covid and currently, one staff member is positive. "Our staff have been stars up till now. Their dedication, passion and love for their work have definitely carried us through. Unfortunately they are now getting exhausted and are especially emotionally drained."
According to Dr Cloete, 46 health care workers at state hospitals in the Garden Route, or 2,52%, are currently infected.
George Hospital lost one staff member, Sr Chantal Cherry, to Covid-19 during December and 12 are currently positive.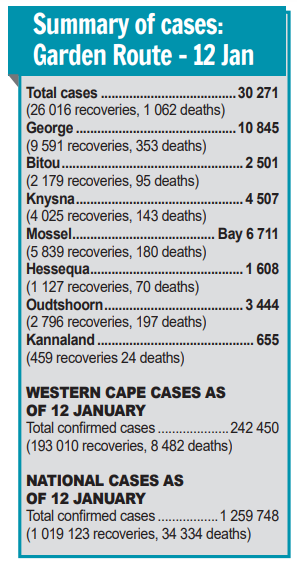 Number of new cases stabilising
Otto said the number of new cases recorded in the last seven days has essentially not increased, compared with the previous seven to 14 days.
In the week up to Tuesday 12 January, 1 962 new cases were recorded compared with 1 960 the previous week. The average cases per 100 000 of the population for the district is 577. This is slightly lower than the Western Cape average of 616.
As of 12 January, the district has 3 193 recorded active cases and George 901, the highest in the district.
Of the 30 271 Covid-19 cases recorded in the Garden Route district since the outbreak last year, a total of 1 062 Covid deaths have been recorded by 12 January. This is a 3,46% death rate.
Twenty-three Covid deaths were recorded in one day from Monday 11 January till Tuesday 12 January, the latest figure available at the time of going to print. George has recorded 345 Covid deaths to date.
'We bring you the latest Garden Route, Hessequa, Karoo news'