Video
GEORGE NUUS EN VIDEO - Nadat daar baie verwarring was of kinders hierdie week skool toe gaan of nie het die Wes-Kaapse departement van onderwys besluit om voort te gaan om die kinders by skole toe te laat.
Volgens Johan Smit, skoolhoof van Laerskool Outeniqua, het die afgelope paar dae baie goed verloop. Hy het aan George Herald gesê: "Die positiewe wyse waarop ons gr. 7-leerders die nuwe "normaal" by Laerskool Outeniqua binne twee dae aanvaar het, het werklik hul verwagtinge oortref.
"Alhoewel die gesigte agter die maskers en sosiale distaniëring nog vir 'n rukkie vreemd gaan wees, geniet die leerders dit om terug in die klas en tussen hul maats te wees.
Onderwysers en leerders is baie positief met die klasgroepe wat kleiner is en meer individuele aandag kan aan leerders gegee word wat dit nodig het. Ons is ook baie dankbaar vir die positiewe ondersteuning wat ons van ons ouers kry met die toepassing van ons skool se Covid-19-maatreëls.
"Ons sien daarna uit om ons gr. 6-leerders terug te verwelkom op 6 Julie."
Kyk 'n video hieronder: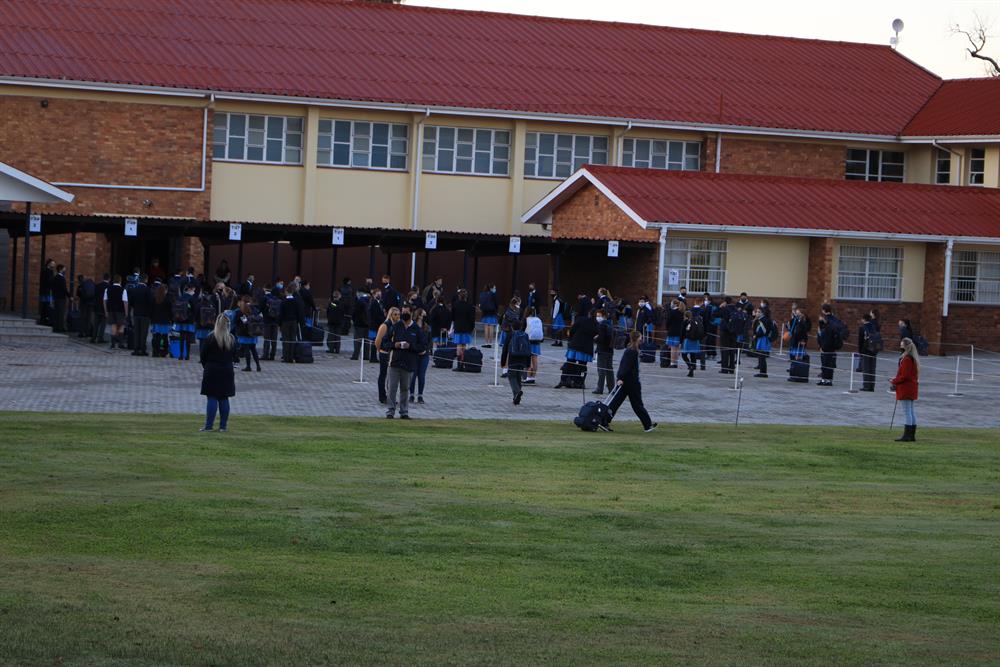 Die kinders het ordelik aangetree by hul verskillende merkers op Maandag 1 Junie. Hier word hul temperatuur getoets en vrae gevra voordat hulle klasse toe kan beweeg.
Hoe dit werk
Afrikaans- en Engels-leerders sal by verskillende hekke aanmeld. Daar is ook merkers wat aandui hoe ver hulle van mekaar moet staan.
'n Leerder mag nie die skool sonder 'n masker betree nie. By die hek sal leerders se hande ontsmet word, waarna hulle in spesifieke rye moet staan. Elke leerder se temperatuur sal gemeet word, waarna elkeen vyf vrae moet beantwoord.
As leerders nie die temperatuurlesing of vrae 'slaag' nie, sal hulle na 'n kwarantynklaskamer geneem word.
Daar gaan ook sekergemaak word dat die leerders heeltyd hul sosiale afstand handhaaf. Ouers moet die kinders by dieselfde hek oplaai as waar leerders afgelaai is.
Voordat die kinders die skoolhekke binne gaan word hul hande ontsmet. Hulle moet ook 1,5 m uitmekaar staan.
Elke leerder se temperatuur word gemeet.
Die kinders het ordelik aangetree by hul verskillende merkers op Maandag 1 Junie.
'Ons bring jou die nuutste George, Tuinroete nuus'