Update
GEORGE NUUS - Pacaltsdorp-polisie ondersoek 'n saak van roekelose en /of nalatige bestuur ná twee mense Sondagoggend, 1 Maart omstreeks 01:50 in 'n motorongeluk beseer is.
Volgens Suid-Kaapse polisiewoordvoerder, sers. Chris Spies, dui voorlopige inligting daarop dat twee voertuie, 'n silwer Opel Astra en 'n wit VW Golf gebots het.
"Een van die voertuie het getol en 'n VW Polo, wat op die sypaadjie gestaan het, getref. Die bestuurder van die Astra en sy vroulike passasier is albei ernstig beseer en per ambulans na die hospitaal geneem," sê Spies.
Die vrou het weens beenbreuke verskeie operasies ondergaan, maar sy en die bestuurder is intussen ontslaan en sterk tuis aan. Dit wil voorkom of die Astra vanuit George in die rigting na Pacaltsdorp gery het toe die Golf voor die Astra by Club Rush se parkeerarea ingedraai het en die Astra die geparkeerde Polo getref het.
Volgens Spies het die bestuurder van die Golf die toneel verlaat voor die nooddienste se aankoms.
Teen druktyd kon die polisie nog nie bevestig of hulle steeds op soek is na die bestuurder van die Golf nie.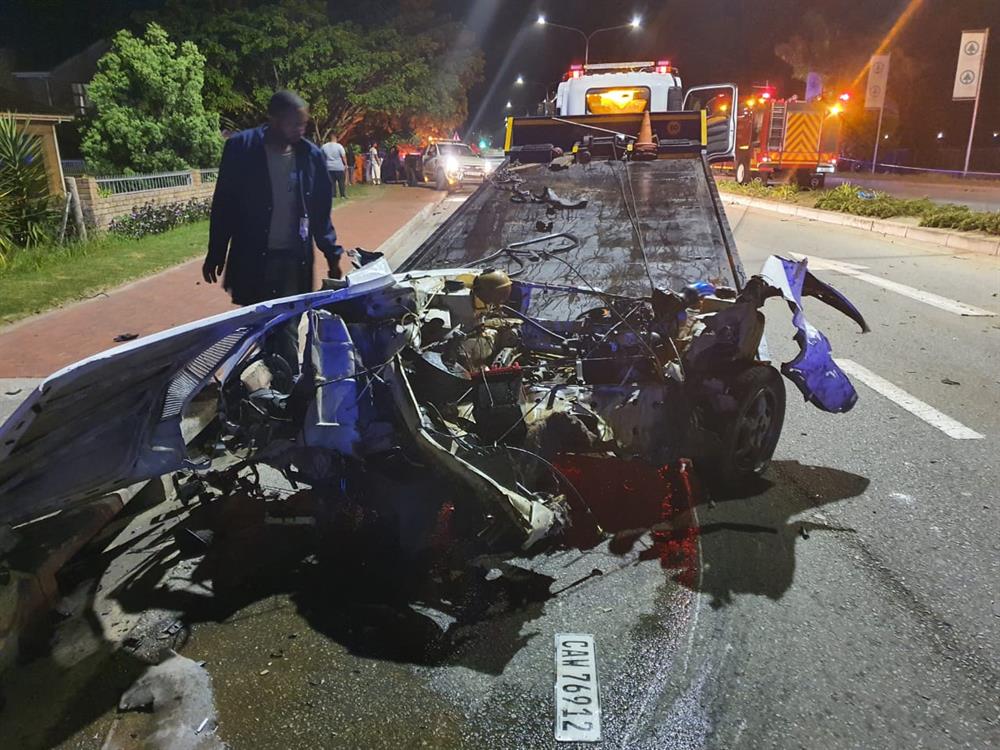 'n Wrakstuk word van die toneel verwyder.
Enigeen met inligting rondom die voorval word gevra om die ondersoekbeampte, sers. Vicky Gibson by 044 803 9133 te skakel of Stop Misdaad by 086 00 10111.
Die ander deel van die Golf wat in twee geskeur is tydens die ongeluk.
Die Astra het blykbaar getol en 'n VW Polo wat op die sypaadjie gestaan het, getref.
Vorige artikel: Accident in Beach Road
'Ons bring jou die nuutste George, Tuinroete nuus'