Update
GEORGE NEWS - It was all smiles at a final meeting of the Victoria Bay Homeowner's Association (HOA) and representatives of the community. They met last week in town to discuss the way forward and resolve issues that arose after the HOA in recent weeks initiated earthworks at the entrance to the popular beach.
Representatives of the community have been questioning the reasons for the work, fearing that the intention was to limit the public's access to the beach.
At Tuesday's meeting the plans of the HOA were presented by draftsman Brian Salten. Nomawethu Jantjies-Gushman and Kholosile Langa, ANC-members, as well as Virgill Gericke of the PBI who chaired the meeting, welcomed the outcome. The plans include a helicopter pad that could be used in emergency situations.
After the meeting HOA chairperson Neil Schalkwyk said the community representatives have given the green light. "They now understand what we originally wanted to do."
The proposals will soon be submitted to the Garden Route District Municipality.
Gericke described it as a milestone that could be used in other similar situations. "We have eventually found each other."
He warned, though, that what eventually happens on the ground should not differ from the plans that the HOA presented.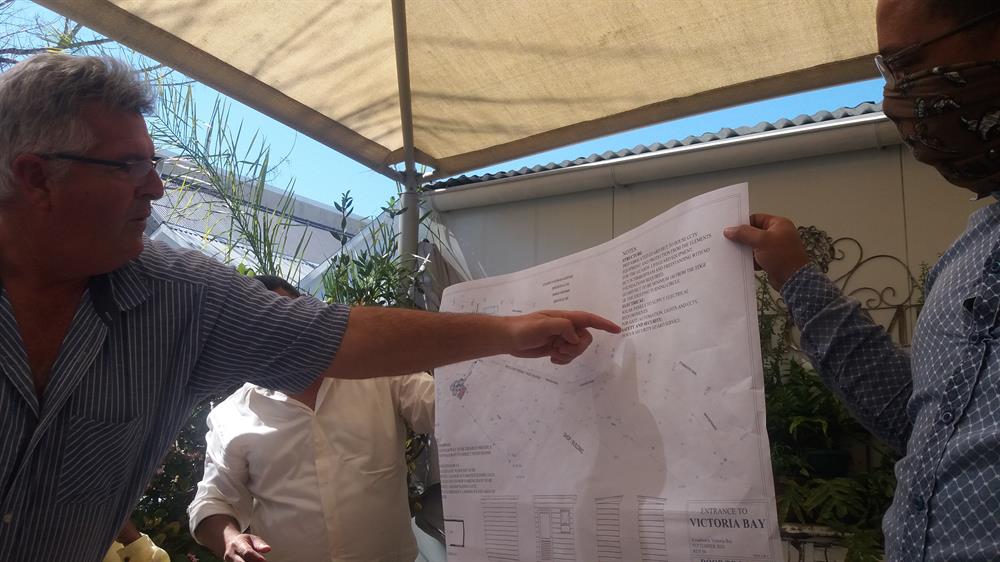 Draftsman Brian Salten (left) made a presentation on behalf of the Victoria Bay HOA to representatives of the community. Photos: Eugene Gunning
Previous articles: