GEORGE NEWS - During the last year a total of 536 dogs and cats were adopted from the George branch of the Garden Route SPCA (GRSPCA).
"In George we went from an average of 15 to 20 adoptions a month the previous year to an average of 44 adoptions per month this year. I'm also proud to say that we've had a 100% success rate with our horse adoptions. All nine horses we had in our care have been successfully adopted," said GRSPCA manager, Salomé Bruyns, during their AGM on Saturday 25 July.
A small number of people attended the AGM at the education centre at the George branch while other members joined the meeting online via Teams.
According to Gerda Reynders of the Mossel Bay branch, a total of 113 animals were adopted from their branch. "Our inspectors did 5 426 calls this year of which 911 were after hour calls about animals in need. We are also glad to report that our adoption rate has doubled monthly since May this year," she said.
Some members attended the meeting at the education centre at the George branch. Other members joined the meeting online via Teams.
Sick animals and sterilisation
The GRSPCA is open to take in animals 365 days of the year. During the last year 271 dogs, 51 cats, 152 cattle, 61 pigs, 11 horses, one chicken and 13 domestic birds were admitted to the George branch as strays.
Between the George and Mossel Bay branches a total of 1 795 animals were sterilised and many sick and injured animals were treated in their clinics.
"Primary veterinary care, sterilisation and education are the three most important tools that we have to prevent animal cruelty. We have also started our sterilisation drive with the aim to raise enough money to sterilise 1 500 dogs by 9 August," Bruyns said.
Feeding campaign
"With the donations made toward our feeding campaign at the beginning of lockdown we were able to hand out over 10 tons of food to animals whose owners have been affected by Covid-19. With your support we will continue to hand out food," said Bruyns.
Their very popular animal face masks that can be bought at their offices and charity shops, have been selling like hotcakes.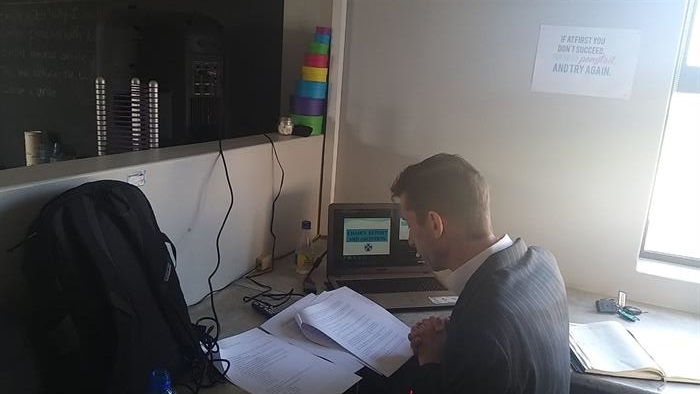 Outgoing chairman Bruno Macdonald during the AGM on Saturday.
New committee
The new committee was also elected at the AGM on Saturday. Members of the committee are: Dr Michele Gratz, Sean Snyman, Ethne Mcfarlane, Kerrin Titmas, Andrew Gregory, Vanessa Barnard, Jeanetta Marais, Denise Lloyd, Gaby Drews and Louis Struwig.
MySchool
MySchool is one of South Africa's biggest fundraising programmes and allows you to make a difference just by shopping. Every time you use your MySchool card at any of the affiliated stores, a percentage of your purchase will be given back to a charity of your choice.
"We kindly request that all our supporters get their MySchool cards and add us as a beneficiary. For those who already did, thank you," said Bruyns.
This cow was rescued by GRSPCA assisted by the George Fire Department on Monday night, 27 July. It took three hours to lift the cow out of a muddy ditch in Thembalethu, using a winch.
'We bring you the latest George, Garden Route news'