Advertorial
GEORGE BUSINESS NEWS - People and companies around the world are fast coming to terms with the new reality that this global pandemic has thrust upon us.
We're yet to fully understand the long-term impacts that it will have on our communities and families, but we're seeing a changing world unfold before our eyes with every new development and we all have a responsibility to do what we can to minimize the damage that this historic event is inflicting on our world.
At Oakhurst Insurance and dotsure.co.za (part of the Badger Holdings Group of companies), we don't take this responsibility lightly.
We know that we need to do what we can, to protect the physical, psychological and financial well-being of our people, their families, our community and our customers alike.
"We are prioritizing safety. We have, and always will, put the health, safety, and security of people first. Our approach is grounded in our company's purpose, which ensures that we continuously strive to provide Soft Landings for our customers, employees and make a difference for people in our communities". - Simon Phage, CEO of Oakhurst Insurance
Protecting Employee Health and Well-being
We have followed guidance from the health authorities and our government in implementing the necessary safety protocols and adjusted our way of working to protect everyone's safety and well-being. Since the coronavirus outbreak began, we have:
• Implemented additional cleaning and sanitization routines.
• Provided masks and personal hand sanitizers to each of our employees.
• Implemented strict behavioural protocols, including temperature and symptom monitoring, three times daily.
• Restructured our office spaces to enforce social distancing well beyond the legally required 1,5meter threshold.
• Reinforced hygiene and exposure guidelines with our employees daily and put in place strict procedures for isolating and monitoring potentially impacted employees and those that they have had direct contact with.
We are continuously looking for more ways to improve the health and safety of our workforce, but are also acutely aware that we have an equally great responsibility to ensuring that we are able to provide them with a sustainable source of income, and that our organisation can weather the economic storm that is currently battering our nation's economy.
Thus far, we have been able to avoid a single retrenchment or salary reduction, but this has only been possible as a result of our dedicated workforce going above and beyond the call of duty to work selflessly in service of our valued customer base.
Although we have cautiously approached re-entry into our buildings, we have done so without compromising the health and safety of our employees. Although we now have significant representation on premises, more than 40% of our staff are still working from home.
Sadly, despite our best efforts and meticulous commitment to our healthcare protocol, we have had staff test positively for the virus. Those that have been infected are reportedly recovering well and we wish them and their families all the best in this time of healing.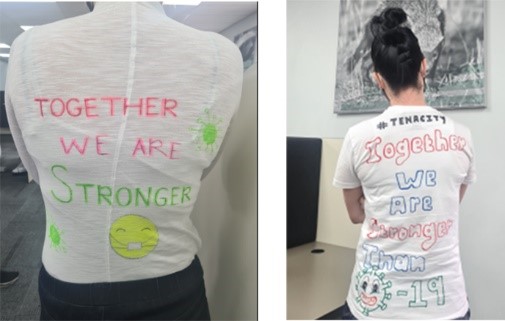 Our tenacious staff made T-shirts to show that they are #strongertogether in the fight against Covid-19.
Protecting our Customers
As an Essential Financial Services Provider, we have ensured that our customers remain very well looked after, and, despite all the challenges, have managed to maintain excellent levels of service.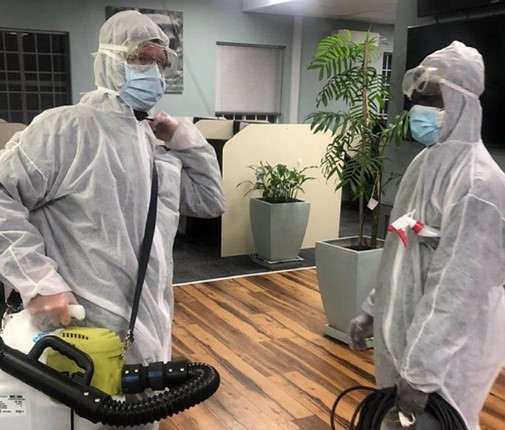 All our offices are deep cleaned on a daily basis.
Supporting Our Communities
The Soft Landings Foundation, (the philanthropic arm of Oakhurst Insurance and dotsure.co.za) has contributed over R1 million to various charity initiatives and feeding schemes in our communities this year. It's in times like these that we need to step up our efforts to help those in need.
Since the beginning of the national lockdown, we've fed over 158 000 of our most vulnerable community members through our feeding scheme. We have donated hundreds of masks and other forms of personal protective equipment to the George Hospital and to over 150 veterinary practices across the country.
Our employees and partners have given freely and generously, and we are committed to continuing this necessary work in good times and in bad.
Although these are daunting and uncertain times for all, we are quietly confident that with the support of our employees, customers and community, we can continue to provide a safe place to work and earn an income for hundreds of Garden Route locals. Our CEO, Simon Phage, had these words of encouragement and assurance to share:
"We are constantly monitoring the evolving situation and adapting our efforts and responses. We are working with stakeholders and various government departments, to focus on recovery. We are confident that we, and the communities we proudly call home, will rebound by working together."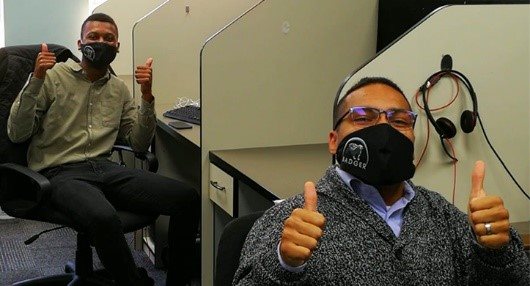 Four thumbs up for wearing their masks.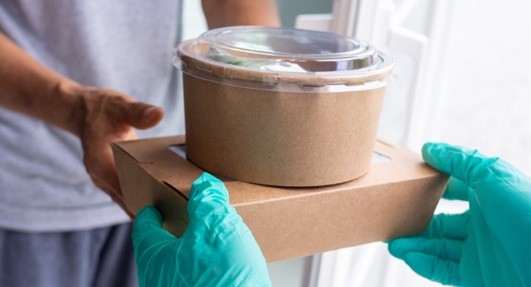 Our Soft Landings Foundation helps to feed community members in need.
'We bring you the latest George, Garden Route news'