Sponsored Content
BUSINESS NEWS - The South African Reserve Bank (SARB) has cut the repo rate five times since the start of the pandemic, delivering a cumulative 3% in rate cuts. We are therefore finding a large portion of retirees and even businesses struggling to get more than a 4% interest yield from cash, in comparison to a 7% to 8% percent yield before the pandemic.
This is resulting in retirees not being able to survive on the interest they are earning.
As we enter 2021, we find that the areas of the market offering the most potential for income-seeking investors remain very out of favour.
Government bonds continue to offer significant value on a risk-adjusted basis to clients seeking income returns, where real yields remain elevated relative to global bond markets and in light of an all-time low repo rate.
We expect the domestic economy to continue to face deep structural headwinds, but to nevertheless gradually recover from depressed levels as activity normalises and low interest rates stimulate incremental demand.
That said, we believe the PSG Income Fund is a great example of a solution that has provided suitable returns for investors seeking interest income to meet their income needs.
Income funds typically invest in longer-dated instruments than money market funds, and investors should be aware that they incur incrementally more risk than cash-only solutions in doing so. However, they have no equity exposure and therefore tend to be less volatile than funds with equity exposure over time (https://www.psg.co.za/files/asset-management/fund-fact-sheets/PSG-Income-Fund-Class-E.pdf).
This fund is suitable for investors who:
• have a low-risk appetite
• require an income
• have an investment horizon of one year and longer
While past performance is no guarantee of future returns, the historical return of the PSG Income fund as at the end of December 2020 can be seen below. It generated a return of 9.83% over the last 12 months with no equity exposure.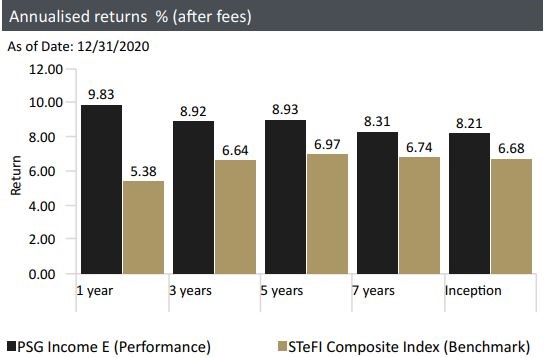 Source: Morningstar, detailed fund fact sheet (minimum disclosure document) available at https://www.psg.co.za/files/asset-management/fund-fact-sheets/PSG-Income-Fund-Class-E.pdf
In conclusion, investors and businesses with cash in the bank or fixed deposits that are expiring soon, can consider an income fund as an alternative. A qualified financial adviser can help you in assessing if doing so is the right decision for you or your business.
Our office details in the Garden Route:
PSG Mossel Bay Diaz
Sioux Building
16 Sioux Street
Mossel Bay
PSG George Central
Dynarc House, 2nd Floor
31 Courtenay Street
George
Follow us online:

'We bring you the latest Garden Route news'