GEORGE NEWS - George Lakes Yacht Club hosted the 2018 SA Eden district inter schools sailing regatta at Island Lake last weekend.
Nine high schools and five primary schools from Mossel Bay, Knysna and George were in action. The high schools fleet had 31 boats and the primary schools fleet had 16.
Only one race could be completed on Saturday due to a very light, patchy breeze. Ashley Layland, from Milkwood Primary in Mossel Bay, won this race on her Tera Pro ahead of the Optimist of Sean Vonk (Glenwood House Preparatory).
In the high schools fleet, first place was contested by team mates from York High, Georgou Divaris and James Hellstrom, both on Lasers. At the finish Hellstrom was seconds ahead.
Much improved sailing conditions on Sunday allowed six races to be completed. In the primary schools fleet, line honours were contested by team mates from Milkwood Ashley Layland and Oliver Holden, both on a Tera Sport. However, the Optimists of Sean Vonk and Conrad Holm (Outeniqua Primary) were close behind, to contend for the race wins. Holden got a race win and Holm got two, but then Vonk got three to secure the overall win in this fleet, ahead of Holm and Holden.
In the high schools fleet it was Georgou Divaris who dominated, getting five of the six race wins of the day, only conceding one to James Hellstrom. Third place was contested by the Laser Radials of Lameck Jason (Knysa High) and Robyn Hellstrom (York High). Hellstrom was the most consistent securing the final podium position, and was the first girl in this fleet.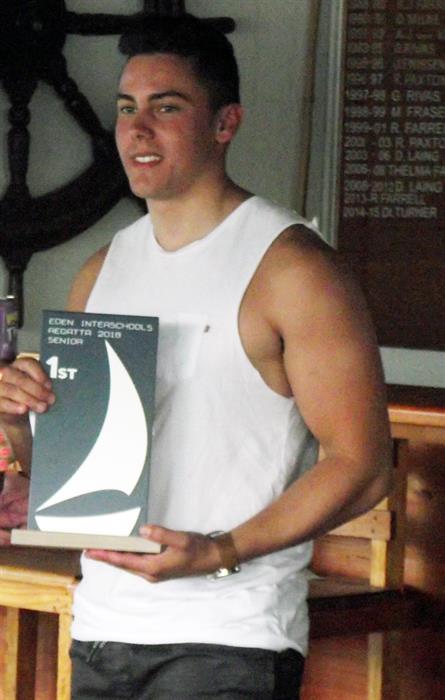 Georgou Divaris, sailing for York High, was the overall winner in the high schools fleet. Photo: Evelyn Osborne
With the first three positions and six in the top ten, it was York High who retained the High Schools trophy for the third year in succession. Second place went to Knysna High, ahead of Sao Bras (Mossel Bay).
In the primary schools fleet Milkwood Primary and Glenwood House Preparatory tied for first place and were awarded the trophy as joint winners. Pacaltsdorp Primary finished in third place.
George Lakes Yacht Club extended its grateful thanks to its primary sponsors Sotheby's International Realty (George) and Raubenheimers Attorneys, as well as sponsors George Wildlife Park, PNA, Sportsman's Warehouse, Elevate Trampoline Park, Artisan Joinery, Sanguine Spa-College, 3@1 Business Centre and the Lego Foundation.
For more information about GLYC, see its website, www.glyc.org.za.
The start of a race on Sunday for the primary schools fleet The Optimists of Sean Vonk from Glenwood House Preparatory (centre) and Conrad Holm from Outeniqua Primary (right). Photo: Rob Holden
All the participants in the 2018 Eden inter schools sailing regatta at Island Lake last weekend. Photo: Rob Holden
'We bring you the latest George, Garden Route news'