GEORGE BOWLS NEWS - Gillian Young, talented young bowls player of the Eden and Outeniqua bowling clubs, became the Western Cape Open u.20 champion in a tough and highly competitive tournament.
It's a feather in the cap for Eden Bowls that both the players in the final round were members of George bowling clubs.
The top four singles players from Eden, Western Province, Overberg and Winelands and the top two players from West Coast and Central Karoo were invited to participate in the Western Cape u.20 Open Singles Championship which was held in Worcester. This tournament is the ultimate competition for the juniors in the Western Cape.
Eden was represented by Gillian Young (Outeniqua Bowling Club), Joshua Dumzela and Lee-Holin Juries (George Bowling Club) and Kyle Squires (Mossel Bay Bowling Club).
At the end of the play-off section, the top four players to go through to the semi-finals were Young (Eden), Dumzela (Eden), Jason Fouché (Western Province) and Deighton Johannes (Boland). Up to this stage neither Young or Dumzela had lost a game.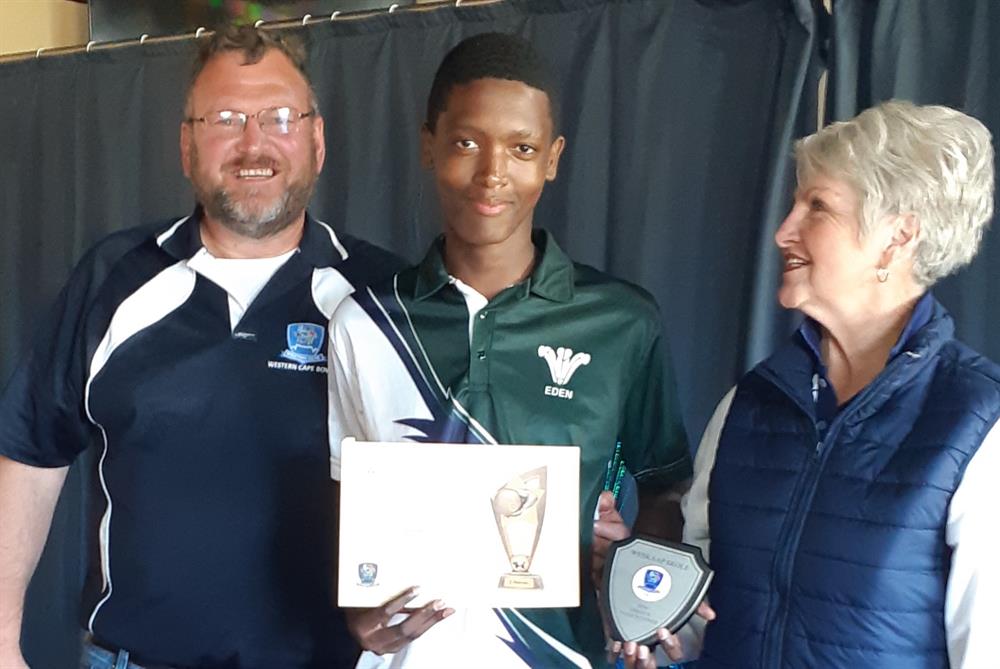 Joshua Dumzela (centre) earned silver. With him are Theuns Coetzee (chairman Western Cape Bowls) and Rosa Cloete.
Young faced Johannes and Dumzela played Fouché in the semi-final. After tough games both the Eden players came out victorious and faced each other in an Eden vs Eden final.
Young beat Dumzela convincingly 21-5 and emerged as the Western Cape u.20 Open Singles champion. The four semi-finalists were awarded Western Cape colours for lawn bowls.
Lee-Holin Juries qualified to play in the plate section of this competition and was placed third.
'We bring you the latest George, Garden Route news'