GOLF NEWS - Gauteng North closed the gap on log leaders Central Gauteng with a commanding win on day two as North West pulled ahead in the battle for promotion in the South African Mid-Amateur Inter-Provincial Tournament at King David Mowbray Golf Club.
A-SECTION
Gauteng North were fired up to keep their campaign on track after beating Western Province and Southern Cape on day one and went on the early attack with a clean sweep in the foursomes against KwaZulu-Natal.
Koenie Erasmus, Sean Baker and Corne van Deventer – playing at eight, six and five – put points on the board for the coastal side, but the bottom order made sure the Daisies kept the advantage.
Former number one ranked mid-amateur Louis Moolman took down Ashwin Krishen 4 & 3 and Jacques van Tonder at number one guaranteed 6 points for Gauteng North when he defeated IPT veteran Gavin Sole 4 & 2.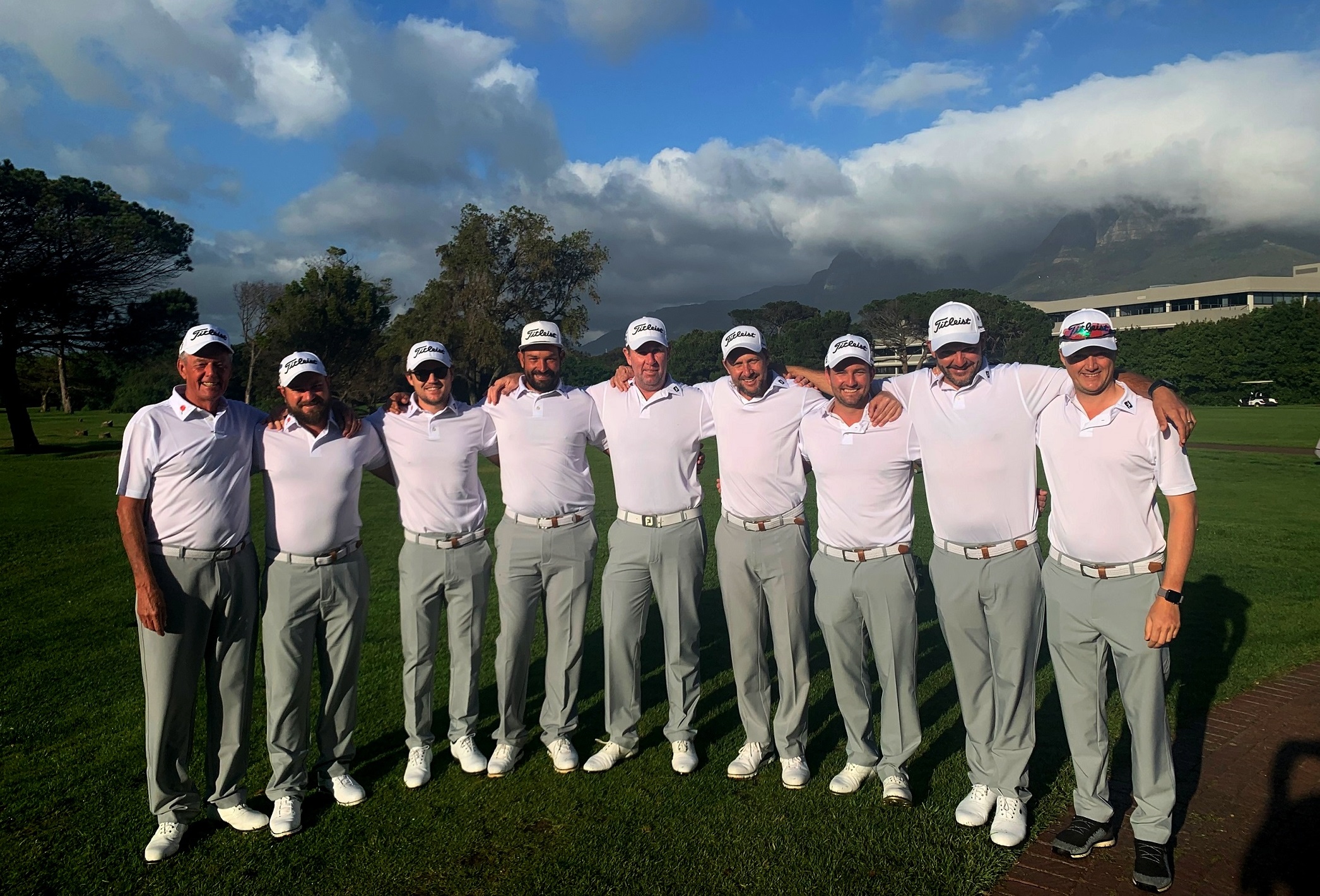 Gauteng North defeated KwaZulu-Natal on day two to rise to second in the A-Section log in the South African Mid-Amateur Inter-Provincial Tournament at King David Mowbray Golf Club; credit GolfRSA.
The win was in the bag when Alex van Heerden downed Graham Dickinson 3 & 1, but Lean Boezaart and Gustav Verster both won their games 1-up to push the final result to 9 – 3.
The victory took Gauteng North to second in the log on six points behind log leaders Central Gauteng, who survived two tightly-contested battles to keep their unbeaten record alive.
The defending champions rallied from 2-all in the foursomes against Southern Cape and Free State, but while they routed the Garden Route side 7.5 – 4.5, the Lions had to pull out all the stops to score a narrow 6.5 – 5.5 win against Free State.
Last year's B-Section winners were not about to roll over in the afternoon session and taking a 3-1 lead into the singles against Southern Cape, Free State put up a huge fight.
Travis Fraser, Neil Homan, Kevin Sharp and Wendell Bossenger managed to win their games to get Central Gauteng to 6 points, and Rory Garton halved with Pieter Swartz to secure the win.
Southern Cape, though, couldn't find the extra gear.
Lourens Erasmus and Ivan van der Merwe won their games, and halves from Josef Fourie, Heindrich Erasmus and Jacques Schutte helped Free State clinch the match 6.5 – 5.5 to score their first points in their A-Section debut.
While Central Gauteng face off against the local favourites Western Province, Free State will be looking to do more damage when they take on Ekurhuleni and Gauteng North in a three-way match on Wednesday. KwaZulu-Natal and Southern Cape have a third round bye.
B-SECTION
North West shrugged off a first round loss and came out guns blazing to hit the front in the promotion battle with 5 points on the log after scoring resounding victories over Limpopo and Border.
Taking a 3 – 1 lead over Limpopo and 4 – 0 over Border into the singles, North West never took their foot off the pedal.
Meleko Patric Maichotlo Patric Maichotlo, Patrick Sefodi, Johan Krugel, Christo Peens and Beyers Smith racked up wins and Albert Britz and Conrad de Swardt both halved to give North West a commanding 9 – 3 victory over Limpopo.
Border didn't take the foursomes beating lying down.
Udesh Pillay, Christopher Dean Snyman and Ben Jonas won their games and evergreen Norman Phillips halved with Albert Britz to bank 3.5 points, but it was too little, too late. Meleko Patric Maichotlo, Johan Krugel, Christo Peens and Beyers Smith scored four victories to secure an 8.5 – 3.5 result for North West.
Rather fittingly, after both teams took a beating, Border and Limpopo drew their match.
Meanwhile Boland kept their promotion hopes alive by downing a feisty Northern Cape 8.5 – 3.5 and moved to fourth in the log behind Limpopo.
Eastern Province – currently second on the standings on 4 points – re-joins the action on Wednesday with matches against Northern Cape and Border and a rested Mpumalanga tackle the log leaders, while Boland and Limpopo enjoy a rest day.
A-SECTION RESULTS – ROUND 2
Gauteng North 9 vs KwaZulu-Natal 3
Central Gauteng 7.5 vs Southern Cape 4.5
Central Gauteng 6.5 vs Free State 5.5
Southern Cape 5.5 vs Free State 6.5
A-SECTION LOG – ROUND 2
(Pos-Union-Played-Won-Drawn-Lost-Points-Matches won)
1 Central Gauteng (4, 4, 0, 0, 8, 31.5)
2 Gauteng North (3, 3, 0, 0, 6, 24.5)
T3 Western Province (2, 1, 0, 1, 2, 12.5)
T3 KwaZulu-Natal (3, 1, 0, 2, 2, 12.5)
5 Free State (2, 1, 0, 1, 2, 12)
6 Southern Cape (4, 0, 0, 4, 0, 18)
7 Ekurhuleni (2, 0, 0, 2, 0, 9)
B-SECTION RESULTS – ROUND 2
North West 9 vs Limpopo 3
North West 8.5 vs Border 3.5
Limpopo 6 vs Border 6
Boland 8.5 vs Northern Cape 3.5
B-SECTION LOG – ROUND 2
(Pos-Union-Played-Won-Drawn-Lost-Points-Matches won)
1 North West (4, 2, 1, 1, 5, 28.5)
2 Eastern Province (2, 2, 0, 0, 4, 14.5)
3 Limpopo (4, 1, 1, 2, 3, 22)
4 Boland (3, 1, 1, 1, 3, 19)
5 Mpumalanga (2, 1, 1, 0, 3, 12.5)
6 Northern Cape (3, 0, 1, 2, 1, 14)
7 Border (2, 0, 1, 1, 1, 9.5)