GEORGE FOOTBALL NEWS - Black Cats FC from George collected vital maximum points at home when they defeated FC United from Knysna 4-3 in their eighth Safa Eden SAB Regional League game over the weekend.
Their winning match at their home stadium in Lawaaikamp, propelled them to the top of the log with 22 points after 7 wins and 1 draw, reviving their league title hopes. Breathing down their neck are the players of Benfica from Mossel Bay with 20 points after 6 wins and 2 draws.
Black Cats' Luyanda "Fire" Laho was indeed on fire scoring a hat-trick for his team. The team's other goal was scored by Siphamandla "Malobolono" Hlangabeza. Sithembele Nokilana scored two goals for FC United and Msimelelo Keyizana scored one.
Black Cats started the match at a fast pace creating goal-scoring opportunities on the strength of Mzwanele "Sangweni" Jwaqa in the centre of the field who impressed with accurate passes.
FC United Fihlani Asongezo (back) fights for the ball against Shane-Lee Windvogel of Black Cats.
FC United attacking player, Msimelelo "Major" Keyizana, tried his luck with a long range strike just outside the box, but Black Cats goalkeeper "Aphelo Skiet" saved the day.
FC United received the first free kick of the game but their shot went wide. Another promising attack from Keyizana was launched but Skiet blocked it.
Black Cats launched a dangerous attack from the left side of the field looking sharp on the ball when Laho aimed a powerful strike but his shot was blocked by the FC United goalkeeper, Sinesipho Mbangi. Both sides were playing the ball on the ground chasing the first goal of the game.
Lucky Veiver of Black Cats delivered a beautiful cross-kick on the left side of the field but his dangerous ball was saved by Mbangi.
Mivuyo Sheshido Ngubo of Black Cats sent a marvellous cross-kick from the right side of the field where Laho received the ball but his powerful shot hit the right pole of the goal.
Sinesipho Booi (left) of FC United battling for the ball against Viwe Mawindi of Black Cats FC.
Hlangabeza scored the first goal of the game putting Black Cats in the lead 1-0 with a beautiful shot from the left side of the field that Mbangi was unable to block.
FC United came back looking for an equalising goal but missed the target. Laho scored the second goal of the match with a corner kick to make it 2-0.
FC United retaliated with a strong attack and they received a free kick just outside the box. Nokilana scored a beautiful set-piece and the exciting first half ended 2-1.
Second half
The second half was immediately on fire with FC United creating opportunities. After a few missed chances, Keyizana scored the equalising goal to make it two all.
Black Cats came back in full force and Laho broke the net scoring the third goal to make it 3-2. FC United defenders were working hard defending the speed of Black Cats' strikers, but Laho pushed the score to 4-2 by breaking through the FC United back line.
The FC United players tried their best to come back into the game and eventually Nokilana scored the team's third goal with a marvellous set-piece just outside the box. Both teams were playing attacking football during the last moments of the game with Black Cats employing the speed of Zovuyo Maduna up front.
Black Cats' are playing two games in Mossel Bay this weekend. Their first game is against Oriented Birds at 12:00 followed by their game against United Brothers at 16:00. All the citizens of George wish Black Cats excellent games and best of luck! Go guys!
Black Cats FC players collected crucial points at home. Back from left: Viwe Mawindi, Luyanda Laho, Mzwanele Jwaqa, Lucky Veiver, Lunga Jantjies and Shane-Lee Windvogel. Front from left: Mivuyo Ngubo, Mivuyo Manzi, Aphelo Skiet, Tsepo Mbenyana and Siphamandla Hlangabeza.
SAFA Eden Regional League weekend results:
Young Pirates FC 1-3 Oriented Birds FC
Young Pirates FC 0-1 United Brothers FC
Eastern City 4-2 United Brothers FC
Oriented Birds FC 4-2 Eastern City
Young Blues FC 2-2 FC United
FC United 3-4 Black Cats FC
Black Cats FC 2-1 Knysna Celtics FC
Young Blues FC 4-2 Knysna Celtics FC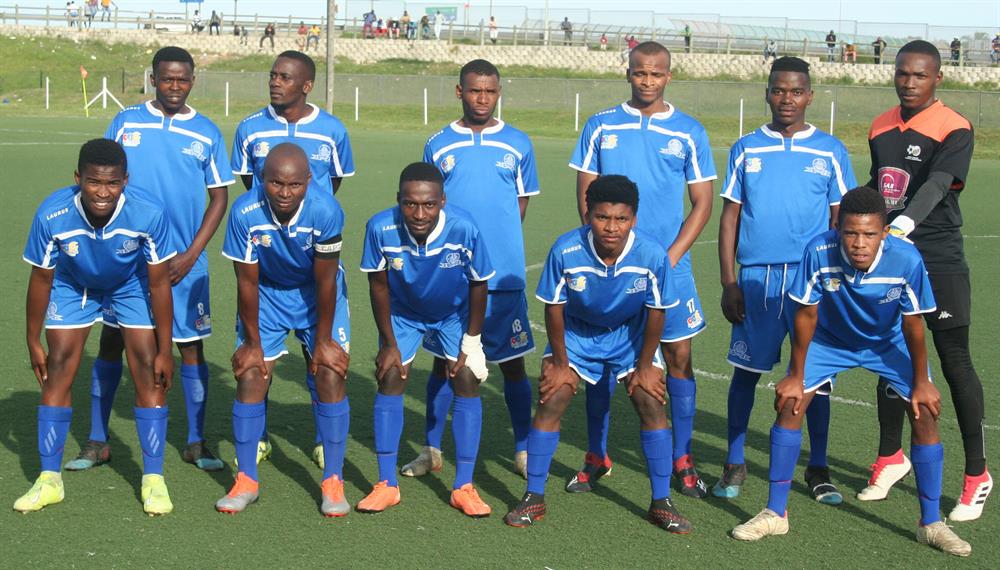 The FC United team are back from left: Mase Zanokuhle, Mbele Lwandile, Fihlani Asongezo, Khebezane Mandisi, Booi Sinesipho and Sinesipho Mbangi. Front from left: Kule Azemahle, Msimelelo Keyizana, Molosi Dumisani, Nkohla Chulumanco and Sithembele Nokilana.
'We bring you the latest George, Garden Route news'