GEORGE CRICKET NEWS - New Dawn Park Cricket Club won their first trophy when they defeated Hartenbos by eight wickets to win the Promotion League Division 2 competition last Saturday.
They will now be promoted to Division 1 next season.
Hatenbos, who batted first, was in a solid position at 62/2 (in the 16th over) but Neil Beulen (6/15) produced a match-winning bowling performance as Hartenbos lost their last seven wickets for only 10 runs to be dismissed for 72.
New Dawn Park (76/2) only needed 13,1 overs to reach the winning target.
The summarised score card is:
New Dawn Park beat Hartenbos by 8 wickets:
HARTENBOS (72 all out) (Jaydee Bester 20, Neil Beulen 6/15, Danvor Muller 3/10). NEW DAWN PARK (76/2 in 13,1 overs) (Whaydon Plaatjies 21, John Baardman 11*, André Kruger 1/24, Thomas Boucher 1/28).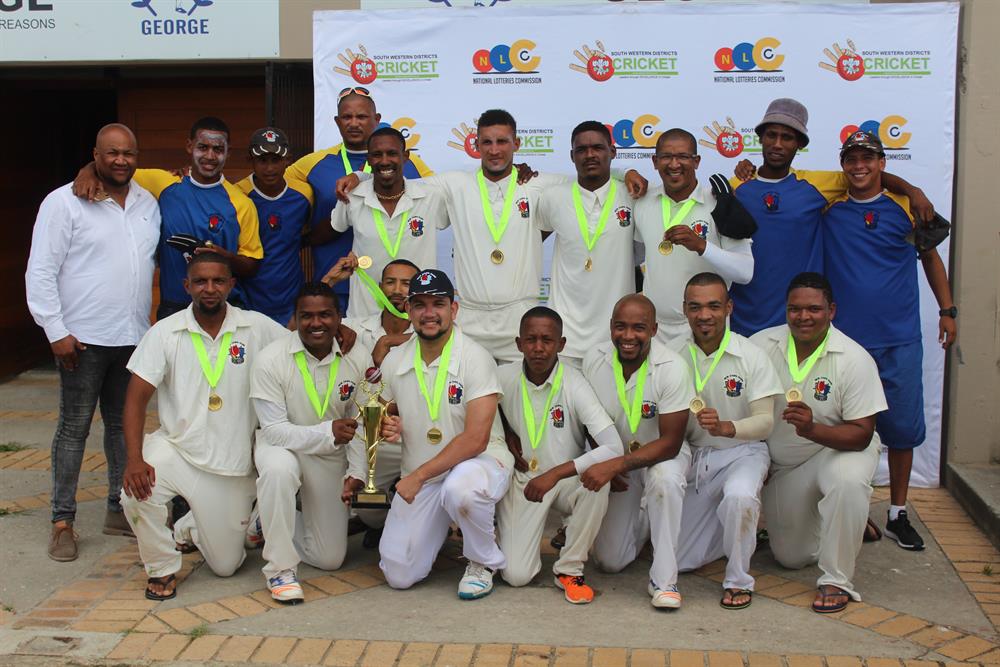 The victorious New Dawn Park team are, back, from left: Andrew Jantjies (non-independent director: SWD Cricket), Cuan Swartbooi, Curlin Stoffels, Bradwin Stoffels (coach), Joce Lawerlot, Dane Kleinhans, Neil van Beulen, Dimitri Carelse, Howard Koeries and Jared Joubert. Front: Marcell Basterman, Roberto Davids, Raymondo Campher, Danvor Muller (captain), Melvin Baadtjies, John Baardman, Steward Webber and Whaydon Plaatjies.
'We bring you the latest George, Garden Route news'