PROPERTY NEWS - In the excitement of purchasing a new home and getting it painted and decorated, one important consideration is often overlooked - security.
New homeowners are especially vulnerable to security risks, as they are just beginning to learn about their new home and neighbourhood. Ensure peace of mind by optimising your home's security.
Arm yourself with these essential security tips for first-time home buyers:
Suss out the location
Before you decide to make an offer on a house, you need to consider the safety of the neighbourhood.
Buyers should keep an eye out for key indicators of a good neighbourhood, such as an active neighbourhood watch group, regular security patrol of the area, well-lit streets and pathways, as well as little to no signs of vandalism. No neighbourhood will ever be completely crime free, but you certainly do not want to buy a home in an area that has a high crime rate. For this reason, it is essential to conduct sufficient research into the neighbourhood's crime statistics and overall safety.
Liaise with local authorities like the local police station, who can provide you with the latest crime statistics for the area, or a knowledgeable local agent who can also provide you with information. You will have a clearer indication of the security measures you need to consider, should you purchase a home in that neighbourhood.
Get to know your neighbours
Many other security measures can be taken once you've moved in. One is getting to know your neighbours. A neighbour whom you have built a good relationship with is more likely to keep watch over your home when you're away from home than a neighbour you have barely had interaction with. If there is a neighbourhood watch group, join it. If there isn't, you might want to start one - this will help you to network with residents and keep you abreast of the latest happenings in the neighbourhood.
Getting involved in the community helps you to be aware of your surroundings and offers greater insight into the safety precautions that one should take.
Get to know your neighbours.
Limit easy access to your home
Once you've moved in, inspecting each of the home's entry points is crucial. Online statistics reveal that criminals generally target homes with multiple entry and exit points, as well as homes that have easy access to main roads. Conduct a walk-through of your house to identify the areas that need special attention.
Ask a neighbour to assist in helping to identify any security flaws or bad habits they notice which you may have overlooked.
Test the functioning of the windows and doors to assess how easy or difficult it may be for an intruder to gain access into your home. Ensure proper control over the keys to your home by changing the locks in your house. You are probably not the first person to live in the home and it is possible that someone might also have a copy of the keys to your house, which is why a lock change is essential.
For additional safety, consider using deadbolts to secure any access points you may be concerned about.
Don't advertise your home's belongings
Be discreet about the contents of your house and limit direct visibility into your home.
For example, if you have a glass sliding door, draw the curtains or install blinds to prevent pre-break-in surveillance.
Statistics indicate that 75% of perpetrators in South Africa target homes based on the perceived value of its contents rather than the level of security. If you buy any appliances or exclusive furniture, take the necessary measures to hide the "evidence." For example, if you have just purchased a new flat-screen television, don't leave the box lying outside on the curb where it can easily be spotted. Rather shred the box into smaller pieces and dispose of it in your trash can.
Don't advertise your home's belongings.
Install a security system
Trying to pick up the pieces after a house break-in is a lot more traumatic than preventing one in the first place.
For this reason, it is essential to focus on prevention and consider the options for securing your home.
The installation of a security system is a popular option among many homeowners, as it is considered an effective way to secure a home.
An active security system can help to notify you immediately if an intruder has gained entry to your property and is especially helpful in the event of you being out of town.
Most home security systems, once triggered, provide an instant notification by transmitting a signal to the relevant 24-hour monitoring centre. By doing so, security dispatchers can immediately inform you of the alarm and head out to your home to inspect the property, as well as alert the local emergency or police services.
For maximum security, it is important to also consider arming your home's entry points with extra reinforcement measures like steel doors, burglar guards and/or a secondary door lock.
Home DIY security systems
Installing a security system can be expensive but if you're on a tight budget consider the purchase of a DIY home wireless alarm system. Wireless alarm systems can be purchased from any hardware store and are an affordable option for those who don't want to pay for installation or monthly monitoring, while still offering a level of security.
When triggered, a siren will alert you and other residents in your neighbourhood.
Consider adding additional reinforcements
Secure your home from the outside with additional security measures like razor wiring or electric fencing as a secondary safety barrier on your property's walls.
The visual appearance of these extra reinforcements is likely to be deterrent to a potential intruder and will cause a delay for criminals who try to enter or exit your property.
A guard dog is also a highly effective deterrent to criminal activity.
A dog will not only help to discourage prowlers from targeting your home, but can also alert you of any strange activity occurring on your property.
Online crime statistics reveal that intruders particularly dislike pet dogs who live indoors.
Burglars don't like drawing attention to themselves and will go to extreme lengths to avoid being seen or heard. This is often the reason why intruders tend to poison any pet dogs that they encounter during a house break-in. For pet dogs who live indoors, this is much harder to do, as the dogs aren't as easily accessible to criminals who are wanting to distract or poison them.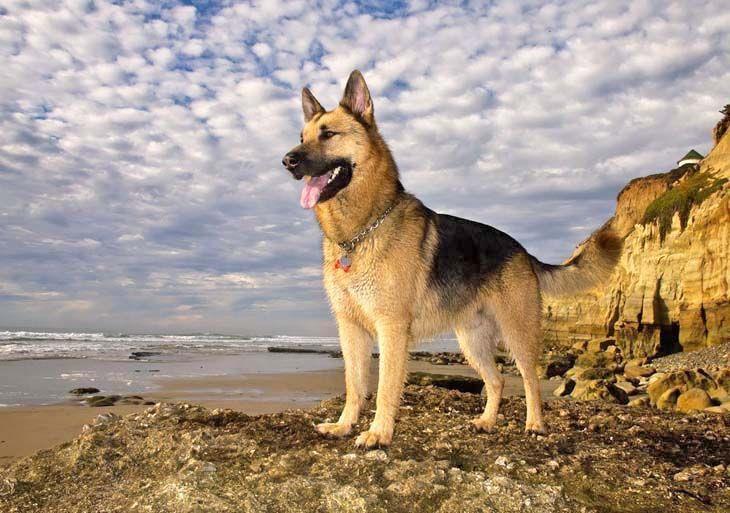 A guard dog is also a highly effective deterrent to criminal activity.
Know your local emergency services
It is important to be familiar with the local authorities closest to you who can assist in the event of a home emergency.
These are emergency services like the local South African Police Services, the nearest hospital / emergency centre, your local general practitioner, as well as the fire brigade.
Knowing the location of these emergency services, their contact details, as well as the easiest route to get to these centres, is crucial.
Working this information into your home security and safety plans around the house is also useful so that your loved ones are familiar with these services and have easy access to this information.
Emergency numbers every homeowner should know
Nationwide emergency response – 10111:
You can dial the telephone number from anywhere in South Africa at any time to speak to a call centre operator who will assign your complaint to a Flying Squad patrol vehicle, or to the local police station, who will attend to the incident.
National ambulance / fire brigade services – 10177:
You can dial the telephone number from anywhere in South Africa at any time in the event of a medical emergency, which can also be used in conjunction with both the fire and police department – depending on the type of emergency.
Poison centre - 0800 333 444:
You can dial the telephone number from anywhere in South Africa at any time in the case of poisoning to speak to an operator who will be able to assist with the immediate steps to take before heading to the hospital.
What to remember when calling an emergency number
Try your best to remain calm and to speak as clearly as possible. It is also important to ensure you also have the relevant details on hand, like:
The nature of the emergency.
Your exact location of the incident (including nearby landmarks).
Your contact name and number.
Any injuries that the emergency authorities need to be aware of.
It is also vital that you do not hang up until you are told to do so.
'We bring you the latest Garden Route, Hessequa, Karoo news'