PROPERTY NEWS - From packing china dishes to boxing up crystal glassware, these delicate and oh-so-fragile items deserve the utmost attention when moving to a new home.
Not only are they monetarily valuable, but they may be sentimentally significant as well.
Whether they're vintage china plates from your grandmother or crystal champagne flutes from your wedding, the last thing you want is for these treasures to break during the moving process.
For moving valuable items, it is advisable to hire a specialised moving company to handle the packing and transportation. However, this isn't always possible. If you've decided to pack and move your china, crystal and other fragile glassware on your own, you'll need to take certain steps to keep your items from breaking. If you do decide to enlist professionals to help, you'll still need to take important precautions to protect your belongings.

Before you pack
While moving to a new home is a chaotic time, it's important to keep fragile china and breakable glassware top of mind before packing even begins. Here are a few tips to help you prepare:
Make an inventory
Before the packing begins, start by creating an inventory of all your valuable glassware and dinnerware. You can do so by taking photographs and writing down exactly what you have. If any of your crystal glassware or china dinnerware already has scratches or chips, note these imperfections as well. This inventory will make it easier to file a claim against your moving company, if they happen to damage or lose your items. It will also make it easier to file a claim with your homeowner's insurance in case something breaks during the move.
Look into insurance options
Speaking of insurance, it's important that you consider all your options. Those moving without professional movers will need to look into their homeowner's insurance policy to see what exactly it covers and (more importantly!) doesn't cover. While many policies cover belongings while they are inside the home, they may not cover items while on the truck. If this is the case, you should consider purchasing an additional moving insurance policy from an insurance company. Many of these moving insurance policies cover goods for a period of up to 90 days while in transit or storage. In addition to considering outside insurance, those hiring a professional moving company should ask about their valuation coverage options. All moving companies should offer different levels of liability, including a basic Released Value Protection option and a more comprehensive Full Value Protection option.
Invest in the right moving supplies
Moving supplies can make or break (literally) your move, so make sure to invest in the right ones. Supplies to consider purchasing for packing china and crystal include: quality corrugated boxes for glassware, cellular dividers, foam pouch inserts, cushioning material, packing tape, newspaper or packing paper, a sharpie marker and items for padding, such as blankets or pillows.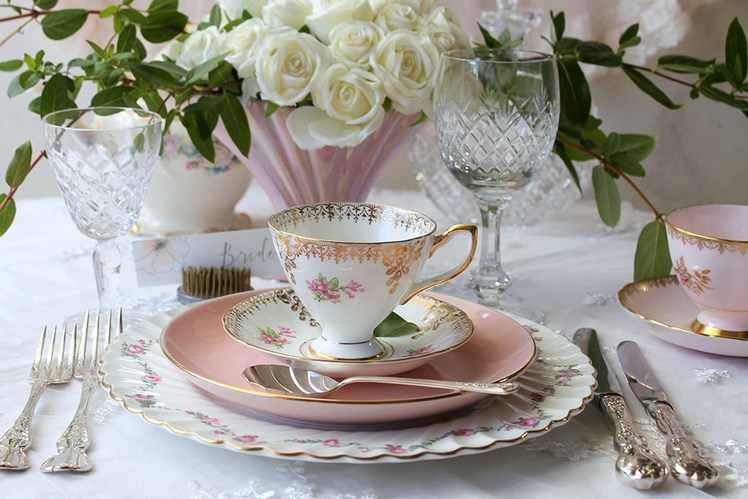 You'll need to take certain steps to keep your items from breaking.
Packing crystal and fragile glassware
Assemble corrugated moving boxes
Make sure that all corrugated boxes are sturdy enough to handle the move. Separate the boxes into two categories: plates and glassware.
Protective layer at the bottom
Before you begin packing dishware, first line the bottom of your corrugated boxes with a layer of protective cushioning.
Cardboard dividers
Place these partitions inside the boxes where you intend to put your glassware. Once inserted inside the box, these dividers will provide a great way to separate and protect all your fragile crystal glasses.
Larger items are packed first
Place larger, heavier china plates and dishware at the bottom of each box. Having these first-tier items on the bottom will prevent them from crushing your smaller items.
Place medium items on top of large items
Once heavier pieces are in a box, begin stacking medium-weight china on top. Each item in the second tier should also be surrounded by padding and cushioning. These items may include small bowls and salad plates.
Lightweight items are packed last
Third-tier items should consist of your lightweight china, such as saucers, tea cups or flatware. Once packed inside the box securely, you should fill any empty space with extra padding, such as blankets or packing paper.
Wrap glassware items in protective cushioning
When packing glassware (think: highball glasses, wine glasses, flutes, mugs and cups), wrap and secure each item with a protective layer, such as bubbled cushioning or foam pouch inserts. Stuff packing paper inside the glassware's opening as well for extra protection.
Fill empty spaces with protective cushioning
Once you've put each individual piece of glassware inside a partition, fill in the surrounding space with extra cushioning to prevent items from shifting while on the road.
Wrap dinnerware in protective cushioning
When packing fine china, such as porcelain plates and bowls, wrap each item individually in packing paper and/or several layers of bubbled cushioning. Secure with packing tape.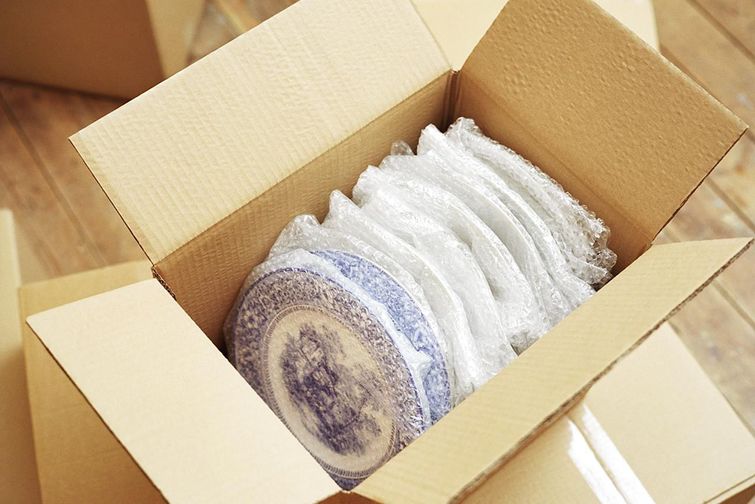 Wrap dinnerware in protective cushioning.
After packing
Label all boxes
After packing up the boxes, take a marker and label each box as clearly as possible. Make sure to write "FRAGILE" with an indication of which side should be facing up (for example: "FRAGILE! THIS SIDE UP ↑"). Each box should also be labelled according to its corresponding room and contents, so that you and the movers will know exactly where to place the box when unloading.
Place inventory lists inside boxes
If you have the time, place a piece of paper inside each box with a list of its contents. This will make it easier to find things after you've moved.
Make sure your belongings are packed securely
Pick up the box and gently shake it. If you notice anything moving, you'll need to stuff the box with more protective padding. This will help everything stay in place while your belongings are in transit.
Secure boxes with packing tape
Finally, tape and secure all boxes. Make sure that all openings are closed and taped up to prevent items from falling out of the boxes during the move.
We bring you the latest Garden Route, Hessequa, Karoo news'