NATIONAL NEWS - The Western Cape Minister of Community Safety, Albert Fritz, yesterday (20 April 2021) launched a Youth Safety Ambassador Programme (YSAP) at West End Primary School, Lentegeur.
The launch was attended by Adv. Yashina Pillay, Head of Department of the Department of Community Safety, as well as Mr Alan Meyer, Chief Director: Education Districts and other officials from the Western Cape Education Department, as well as representatives of the Provincial Legislature.
According to a media statement by the Western Cape Government:
"Under the leadership of Minister Albert Fritz, the Youth Safety Ambassador Programme will see 1000 Safety Ambassadors placed at different partner institutions such as schools, municipalities, NGOs and other locations around the province as youth violence prevention facilitators.
"This project forms part of the Violence Prevention component of the Provincial Safety Plan.
"Safety Ambassadors will work closely on initiatives and interventions identified by Area-Based Teams, which are localised, multidisciplinary bodies set up to initiate and implement violence prevention interventions in those communities where the data and evidence shows the highest proportion of murder and violence takes place.
"Minister Fritz said, "I am very excited to be launching this project today. It is the culmination and result of many months of hard work, starting with a much smaller pilot project from which we have learned many lessons in regard to how we ensure that such programmes have the desired impact. This project pulls together a number of different partners, from municipalities around the province, to the WCED, to NGOs and other placement institutions."
"The Youth Safety Ambassador Programme also seeks to ensure that all the young people involved will be able to access opportunities for further career and personal development through training and other elements built into the programme. The idea of placing them in schools and communities is to ensure that their time is taken up by constructive, productive activities in which they are also expected to be role models for other young people.
"Minister Fritz added, "The Safety Ambassadors will earn a monthly EPWP stipend for the duration of the contract which will run for six to twelve months. It is expected of them to show the necessary commitment and dedication to the objectives of the programme.
"My department is investing a lot of resources into this programme, including further opportunities for upskilling that will enable them to access other personal and professional development opportunities once their contracts come to an end.
"We have put in place a structured management system to ensure that the young people received the necessary support, but they must also play their part by showing the necessary determination to succeed and thrive."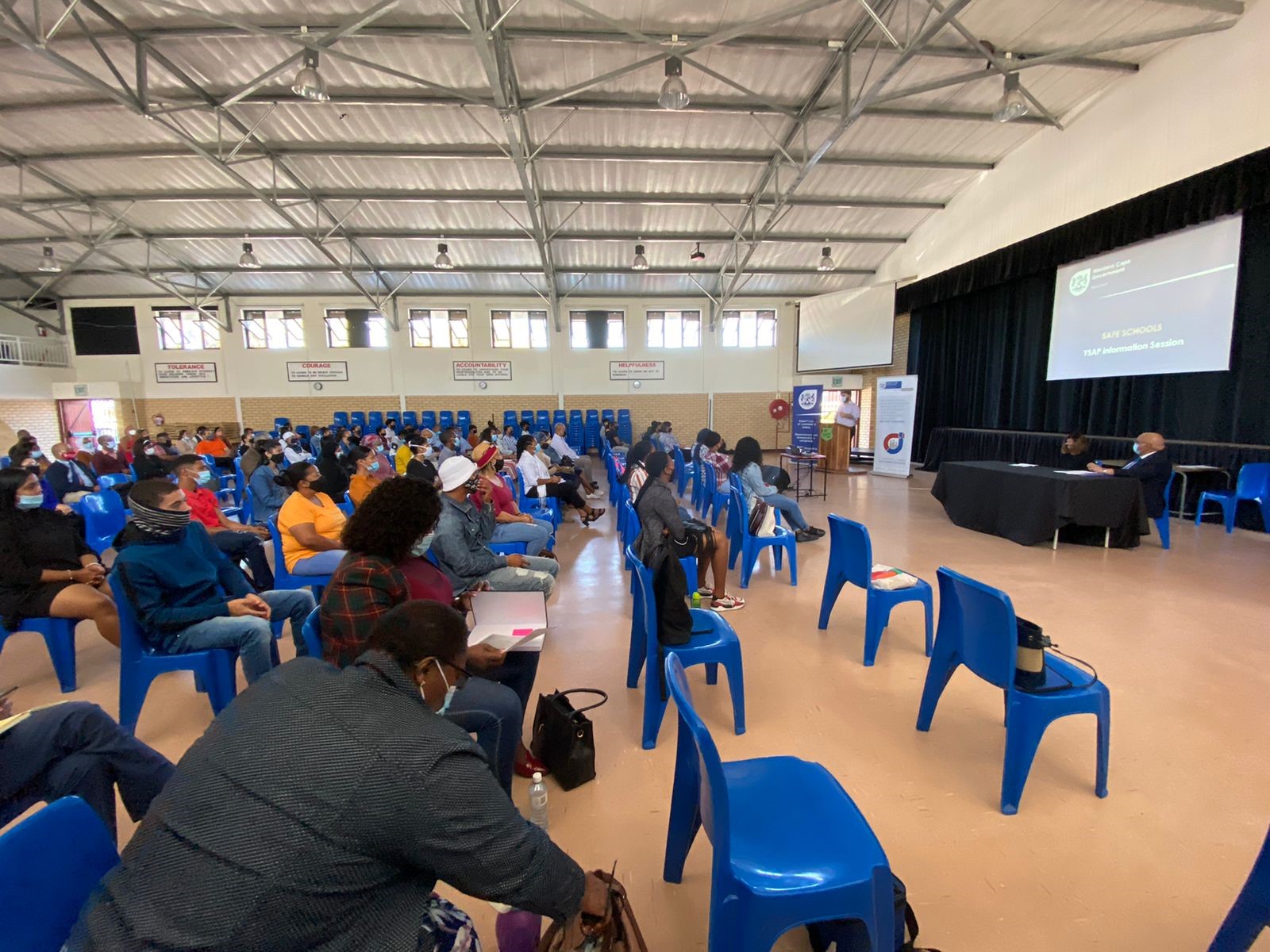 The programme was launched at West End Primary School, Lentegeur. Photo: supplied
'We bring you the latest Garden Route, Hessequa, Karoo news'